Ather Energy targets speedy growth in million-two-wheeler-strong Goa
Goa, one of India's most popular tourist destinations, has a two-wheeler population of over a million; it is targeting speedy adoption of electric two-wheelers.
Ather Energy targets speedy growth in million-two-wheeler-strong Goa
Ather Energy targets speedy growth in million-two-wheeler-strong Goa
Ather Energy targets speedy growth in million-two-wheeler-strong Goa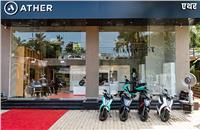 One day after it opened its biggest showroom in Coimbatore and its third in Tamil Nadu, smart electric scooter OEM Ather Energy has inaugurated its first Ather Space retail outlet in Goa. Set up in association with Eveer Auto at the new city centre in Porvorim, Pilerne, the showroom displays the Ather 450X and the 450 Plus, both available for test rides and purchase.
Eveer Auto is the first major electric dealership in the city which offers state-of-the-art sales and service facilities. After factoring in the revised FAME II subsidy, the Ather 450X costs Rs 145,129 and the Ather 450 Plus Rs 126,119 in Goa. These prices are expected to further reduce once the state government subsidy guidelines are issued.
Goa currently has a two-wheeler population of about a million comprising around 70% of the total vehicle parc in the state. In February 2021, the Goa government announced various incentives designed to drive EV adoption and a target of 30 percent of total vehicle registrations to be EVs by 2025. The government has set up a dedicated EV cell and is offering incentives up to Rs.30,000 for electric two- and three-wheeler buyers, no road tax or registration fees on the purchase of e-two-wheelers. The government is also pushing for all commercial two-wheelers operating in Goa to switch to electric by December 31, 2025.
Ather Energy, one of the few OEMs in India which also invests in building EV charging infrastructure, has installed two fast-charging points, Ather Grid, at Porvorim and in Panjim. All Ather Grid locations will be strategically located in key areas of the city, making them easily accessible to EV owners throughout Goa. Ather Energy says it intends to add 8-10 more charging points in Goa, while also assisting customers with the installation of home charging solutions in apartments and buildings.
Strategic partner in BLive
In August 2021, Ather Energy inked a strategic partnership with BLive, the official EV Tourism partner of Goa Tourism Development Corporation to drive EV adoption. BLive has set up 5 charging stations for Ather Energy across Goa under the 'BLive EV Zones' brand. It further plans to strengthen its presence by setting up 15 charging stations at prominent places across the state by end-2021.
Given the extent of two-wheeler mobility in Goa, Ather is understandably bullish about its growth prospects in Goa. According to Ravneet Phokela, Chief Business Officer, Ather Energy, "Goa is India's most popular tourist destination, and every tourist is usually seen exploring the city on a two-wheeler, making Goa a strong two-wheeler market. Given the influx of people visiting Goa from other states, it has a lot of potential to lead India's EV revolution. We are delighted to be working with Eveer Auto, who have been extremely supportive in establishing our new experience centre and in making everything possible with ease. The test ride requests and pre-orders have been good from Goa since the launch of Ather 450X and we expect a strong consumer demand with the recent FAME II revision.``
The ICCT has estimated that in the span of 12 months, a single EV on the road can save an average 1.5 million grams of CO2 from being emitted. That's the equivalent of three return flights from Goa to Delhi. Ather Energy and the Goa government will be hoping local residents and tourists alike will plug into eco-friendly commuting.
RELATED ARTICLES