Ather Energy guns for sales in Tamil Nadu, opens showroom in Coimbatore
Tamil Nadu second state in India where Ather has on-ground operations in three cities; set to expand to a few more cities by the end of the year.
Rajdurai's E-Vehicles, Coimbatore says the market response is robust. It has delivered 400 e-scooters and has customers from Trippur, Erode, Salem and Pollachi.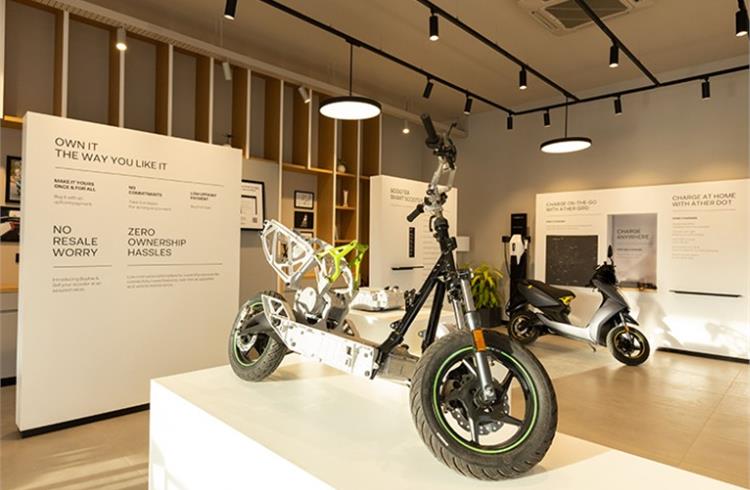 Ather Energy guns for sales in Tamil Nadu, opens showroom in Coimbatore
Ather Energy guns for sales in Tamil Nadu, opens showroom in Coimbatore
Smart electric scooter manufacturer Ather Energy has opened its biggest showroom yet in Coimbatore, marking its third Ather Space Experience Centre in Tamil Nadu (after Chennai and Trichy) and its 16th across India.
Set up in association with Rajdurai's E-Vehicles, a leading two-wheeler service company, the showroom will display the Ather 450X alongside the Ather 450 Plus. After factoring in the FAME II revised subsidy, the ex-showroom price of the Ather 450X is Rs 146,296 and Rs 127,286 for the Ather 450 Plus in Coimbatore. These prices are expected to further reduce once the state government subsidy guidelines are issued.
The EV start-up has been fast growing its retail presence across the country. The Ather Space in Coimbatore is the latest after the one inaugurated in Nashik, Maharashtra, its third in the state, on August 22. In the past eight months of 2021, Ather has increased its India retail footprint to multiple cities, including Mumbai, Pune, Hyderabad, Kochi, Ahmedabad, New Delhi, Trichy, Visakhapatnam, Jaipur, Kozhikode, and Indore.
As in all Experience Centres, the one in Coimbatore enables visitors to explore and learn vital details of EVs, electric scooters and their components aptly enabled by a cutaway section of an Ather scooter on display.
Betting big on sales in Tamil Nadu
Ather Energy, which has a strong footprint in Tamil Nadu, is bullish on increased demand coming its way from EV buyers in the state, which was among the earliest in India to introduce an EV policy designed to drive adoption and manufacture of EVs.
Tamil Nadu offers incentives to EV OEMs ranging from full reimbursement of state GST paid on vehicle sales to exemptions from electricity tax for manufacturing units and a 15-20% subsidy on land cost. There's also full exemption from motor vehicle taxes for BEVs until 2022, as well as creation of EV parks in major auto manufacturing hubs and locations.
Ather Energy, which kicked off its operations from Chennai in 2019, commenced manufacturing from a state-of-the-art smart manufacturing factory in Hosur in February 2021.
The company is seeing a groundswell of demand for its e-scooters, particularly in Tamil Nadu where it plans to further increase its retail presence. According to Ravneet Phokela, Chief Business Officer, Ather Energy, "Since we entered Chennai, we have been getting a lot of requests for test rides from other cities of Tamil Nadu, especially from Coimbatore. We began deliveries in the city a couple of months ago and have received a tremendous response so far. Tamil Nadu is the second state where we have on-ground operations up and running in three cities and we are already looking to expand to a few more cities by the end of the year."
Vaishnavi, managing director of Rajdurai's E-Vehicles, says the market response is robust. "We are delighted to partner with Ather Energy to drive EV adoption in Coimbatore. Ather Energy has built a sustainable, high quality and well-performing EV from scratch along with the supporting charging infrastructure. We have been receiving a great response from customers and have already clocked 400 deliveries. We also have customers from Trippur, Erode, Salem and Pollachi."
ALSO READ: Ather Energy working on sub-Rs 100,000 electric scooter
VIDEO: Tarun Mehta & Ravneet Phokela reveal aggressive growth strategy
<>
RELATED ARTICLES