Ather Energy expands retail footprint into Kerala
Electric scooter makes opens showroom in Kochi, which has 5 fast-charging points; free charging at Ather Grid till end-March 2021 for all-electric four-and two-wheelers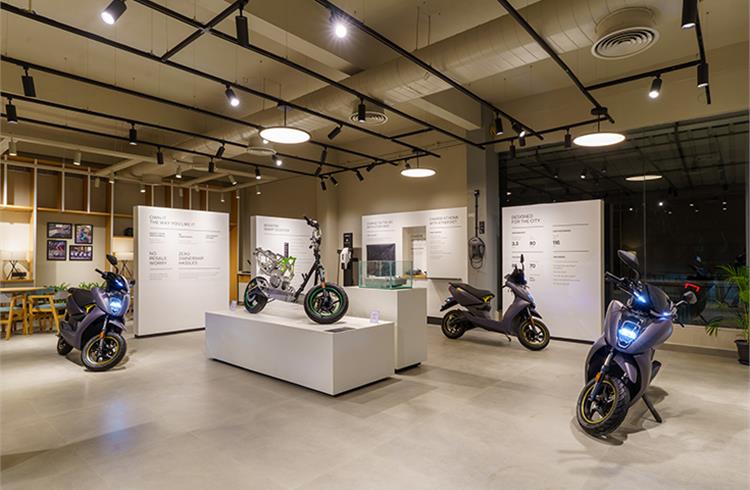 Bangalore-based Ather Energy, which opened its brand-new smart manufacturing plant in Hosur, Tanil Nadu last month, is fast expanding its retail footprint across the country. The latest on the retail showroom front is a new showroom in Vytilla, Kochi, Kerala in association with the Palal Group.
This follows the opening of its first showroom in Pune and Ahmedabad in February, and in Mumbai in January 2021. Ather Energy had, a year ago, announced plans to take Ather Space, its flagship experience centre format, across key cities like Hyderabad, Mumbai, New Delhi and Pune, amongst other Tier-1 cities. To fast track this expansion, Ather had invited dealer partners to set up these experience centres across these cities.
The Ather 450X is available for test rides and purchase at Ather Space, which is designed to be a dynamic, tactile, and interactive marketplace where customers can get familiar with every aspect of the e-scooter as well as a close look at the components in the form of a stripped-bare unit on display. There's also a digital display to understand the ownership models introduced by Ather like the Assured Buyback program, Exchange and Lease programs.
Ather Energy has installed Ather Grid points in Kochi and has installed 5 fast-charging points, so far. These charging points are in locations like French Toast (Panampilly and Kacheripady), Grand Mall (Edappally), Jogo Infinite (Perumanoor), Center Square Mall (Rajaji Junction) and Ather Space Kochi.
To boost adoption of EVs in the city, Ather Energy says it will provide free charging at Ather Grid till end-March 2021 for all-electric four-and two-wheelers. The company plans to add 10-12 more charging points to strengthen Ather's charging grid network.
While the Ather 450X is priced at Rs 161,426 in Kochi, the upgraded version of the Ather 450 (called Ather 450 Plus) with a top speed of 70kph and a range of 70km in Eco mode costs Rs 142,416. The Ather 450 Plus offers 4G connectivity, onboard navigation and other connected features but does not have Bluetooth connectivity and the Warp Mode.
Commenting on the expansion into Kerala, Ravneet Phokela, Chief Business Officer, Ather Energy said: "Kochi has always been on top of the list for expansion because of the awareness and acceptance of EVs in the market. We are pleased to partner with the Palal Group to support our expansion plans with a new experience centre in Kochi. Their extensive experience and proven expertise in the automotive retail sector will complement our efforts towards building an experience for our fans and customers"
Geevarghese Varghese, Director, Palal Group, commented: "The Palal Group is delighted to partner with Ather Energy. Kerala as a market is very advanced and understands the importance of an EV and people are tech savvy and easily adapt to the latest technologies. The response till date has been excellent and we are sure that Ather will redefine two-wheeler industry in coming years. A high-performance electric two-wheeler was missing in this market and with the launch of 450X here, the void has been filled."
Also read:
Ather Energy's new plant in Hosur goes on stream

RELATED ARTICLES