Worldwide car industry analysis, India could overtake Germany in 2-3 years
The latest figures show are in and they offer a fascinating insight into the future of the industry.
Last year was tumultuous for the global car industry, with its biggest market, China, contracting for the first time in nearly 30 years.
Shockwaves from this drop are still being felt around the globe, amplified by subdued sales in the US, Germany and the UK. Of course, there were also winners in the global car sales game – India is closing the gap on Germany and Brazil recorded significant growth.
SUVs remain the sector to trade in, contributing one in three global sales, with each of the four main sub-segments experiencing growth. And despite overall poor sales in China, demand for luxury cars and some imported brands was buoyant.
The electric cars' market continues to grow significantly, albeit from a small base, and two of the most famous nameplates in the car business – the Porsche 911 and Ford Mustang – strengthened their hold on their respective supercar and sports car/coupé markets.
All these figures were supplied by industry analyst Jato Dynamics and are based on preliminary data for 53 markets, which account for 85 percent of the global total.
SUVs prove rugged as roll continues
This is the story of SUVs and their growing popularity. The formula of a raised driving position, rugged styling and practical passenger/ luggage spaces appeals around the globe, especially in markets with rough roads.
"But this positive result means difficult times for the regular popular segments: compacts, subcompacts, mid-size and especially MPVs," says Munoz.
Sales of pick-ups, including US 'trucks', are booming not only in North America, but in Brazil and Thailand, too. Jato believes that the SUV boom is long-lasting and stable, not like other short-lived market trends.
China slump accounts for gloom, but spike brings cheer to Brazil
With the established global economies stuttering, the good news last year came from emerging economies such as Brazil, Russia, Thailand, Indonesia and India, which continues to close on Germany. "The better economic and political mood, along with renewed key models including SUVs, boosted these markets," says Felipe Munoz, Jato's global analyst.
Did India pass Germany as the world's fourth biggest market for car sales?
"Not yet, but that is getting close," says Jato, "and is expected to happen in the next two to three years." India, with a population of more than one billion increasingly affluent possible car buyers, has huge growth potential. The same cannot be said for Germany, with a population of 83 million and a high percentage of car ownership already.
Europe's mixed year
A challenging year in Europe was characterised by Brexit, controversy over diesel emissions and production shortages of new WLTP-compliant engines – all of which had a negative effect.
The European market, as a result, remained static, mirroring the US, with sales ending 2018 at 15.6 million units.
This bigger picture was made up by declines in the UK and Italy and increases in France, Spain, Poland, the Netherlands and Hungary.
Contributing to the trend for growing SUV sales, European car buyers lapped up a record 5.4 million SUVs, a 19 percent increase.
"Part of this boom is explained by the arrival of more models, more small SUVs and a big boost from the Volkswagen Group," says Jato.
Nevertheless, European SUV sales still have a long way to go to match the US and China, making up just 35 percent of the European market.
Ford Mustang retains place as top sports car while Mazda MX-5 slips
A sector market to define, but the Ford Mustang retained its best-selling sports car/coupé crown, well ahead of the Dodge Challenger and Chevrolet Camaro in a market that totals 377,000 units worldwide. However, the growing influence of SUVs is being felt even in this sector, where sales fell 13 percent in 2018.
The Porsche Boxster/Cayman had a healthy year, but the Mazda MX-5 lost a little of its lustre and sales dropped 19 percent.
It might well be noteworthy that there was only one new entrant: the fabulous Alpine A110.
Are car enthusiasts still in love with the Porsche 911?
"Yes, the 911 was again the world's top-selling supercar," says Jato. However, global sales fell by 5 percent to 102,000 units largely because US enthusiasts bought 17 percent fewer powerful two-seaters or 2+2s.
Chinese car buyers are still to fall in love with supercars, so booming demand in Germany, where sales were up a dramatic 30 percent, confirmed it as the world's second-biggest market.
Geely and Toyota shine in China as mix of models backfires for GM
Geely was the outstanding success story in China, having jumped a few spots in the country's top 10 car makers to third overall.
The launch of its near-premium brand Lynk&Co had much to do with the success, but a strong range of Geely-badged SUVs also helped.
Another winner was Toyota – again thanks to SUVs, but also to compact and mid-size saloons. GM, which remains well positioned as China's number two, suffered with the wrong mix of models, including less popular SUVs, but also launched new three-cylinder engines that Chinese buyers feared were not sufficiently powerful. And PSA still suffered for the lack of modern cars, a hangover from its past focus on cheap, affordable models.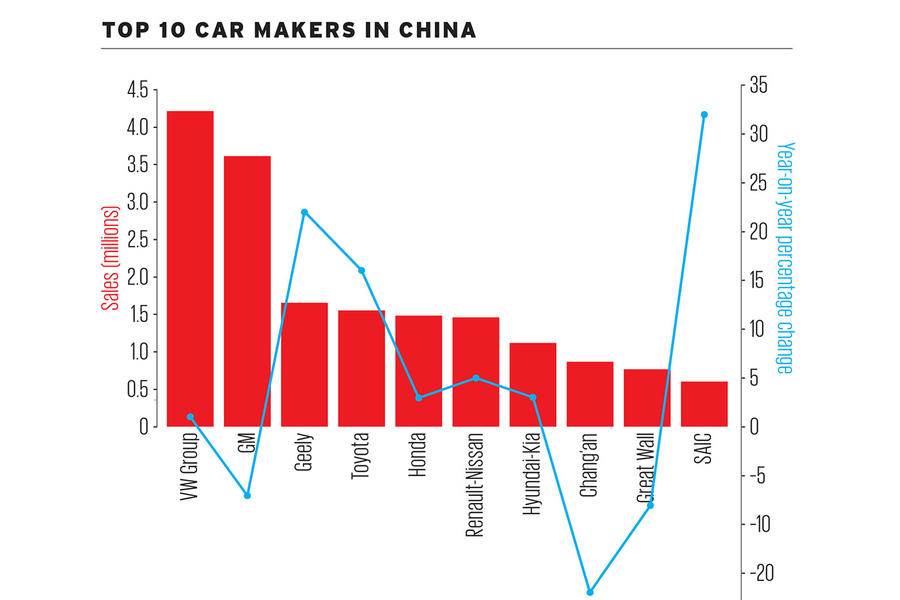 Pick-ups and SUVs tighten their grip on static US market
The US market may have remained static last year, but the proportion of trucks and SUVs rose once again. They now compose 62 percent of US sales – no wonder Ford is pulling out of the saloon market.
"Overall, the market didn't grow, but the popularity of SUVs (+10%) and trucks (+4%) hasn't stopped," says Jato. "The consumer there doesn't want small cars and saloons."
The three main domestic brands as a whole retained their market share – the fall of GM and Ford offset by Fiat Chrysler Automobiles, whose Jeep and RAM brands were popular.
But the biggest winner was Tesla, thanks to Model 3, which finally took off in the second half of the year.
Tesla aims to recreate Model 3 success outside the US
Tesla finally moved into the more volume-priced segment with the Model 3, and sales duly took off. Most important, it made a non-combustion-engined vehicle a viable alternative in the US.
"The question is whether this car will find enough consumers in Europe and Asia," says Jato.
The Model 3 has been launched just when the Model S is ageing, but also at a time when premium rivals are arriving in the EU market.
Which types of SUV are proving the most popular?
Jato's figures show that all of the SUV sub-segments posted growth last year, but the most dynamic one was the B-SUV compact crossovers.
The Renault Captur, Honda HR-V and multiple compact Chinese cars contributed to global B-SUV sales rising by 11 percent to 6.6 million units, as new models from Hyundai-Kia, PSA and the VW Group boosted the market.
However, it is C-SUVs – such as the Ford Kuga and Peugeot 3008 – that are the world's most popular, and they dominate the market in China and Europe.
EVs move into the mainstream
As the world shifts towards battery-electric powertrains, EV sales almost doubled to 1.27 million units last year – a 72 percent increase.
The rise is largely down to China, where affordable city cars such as the BAIC EC are being promoted by central and local government, and the US, where the Tesla Model 3 went on sale. "China is firmly established as the world's biggest market for EVs and many local car makers are taking advantage," says Jato. They are encouraged, adds Jato, "because brand names mean less to BEV buyers, giving lesser Chinese nameplates a head start".
Electric power to the rescue as faltering economy ends China car boom
"The most affected segments by the downturn of the economy were the MPVs, down 20 percent, and sub-compact saloons, down 22 percent," says Jato.
Bucking the global trend, SUVs also declined, by 3 percent, while small saloons fell by 6 percent.
In contrast, mid-size, executive and luxury saloons, sports cars and city cars performed better – the latter trend linked to the popularity of electric powertrains.
Global luxury: boom, bust or ticking over?
Jato includes the large saloon and SUV segments in its luxury classification together with supercars. The 2018 market was 1.75 million units, down by 3 percent after demand dropped in the US, China and Germany.
Surprisingly, given the woes in the volume market, the UK posted an increase of 2 percent.
Winners: Cadillac, Lexus, Volvo, Tesla, Lincoln: new products, winning design and more SUVs.
Losers: Mercedes, BMW, Maserati, Land Rover, Porsche, Audi: key products aged and model changeovers affected output
Big, bold Caddies keep Europe's luxury contenders at bay in China
China's love affair with Cadillac's brash, large saloons shows no sign of ending – the US brand outselling its nearest competitor, BMW, by three to one last year.
"American car design is more appealing than Europeans in this segment: they are bigger and have more chrome," says Munoz.
Surprisingly, Mercedes lost ground to Porsche, largely because the ageing S-Class is out of favour.
Given that the Chinese traditionally are not great consumers of sports cars, Porsche's success might be a watershed, especially since the 718 family did well.
Lexus also recorded a huge boost in popularity, with the new LS saloon hitting a styling sweet spot with China's car-buying public.
"Thanks to the arrival of several new players, this segment continues to grow fast, so the downturn of overall market is not visible in this segment," concludes Munoz.
Losers: global markets that shrank in 2018 and why
Turkey (-35%): Economic and political uncertainty have adversely impacted the new car market by eroding car-buyer confidence.
Argentina (-11%): A depreciating economy and currency make imported cars more expensive. "Inflation is growing, consumer confidence decreasing," says Jato.
Mexico (-7%): Mexicans often take out car loans of up to five years, says Jato, but such trends are changing. "All markets have their peak, and Mexico is not an exception," says Munoz.
Main image courtesy: Bosch
RELATED ARTICLES