VW's MEB electric car platform: full details revealed
Volkswagen details Modular Electric Drive Matrix platform in full ahead of its debut with the I.D. hatchback next year
VW's MEB electric car platform: full details revealed
VW's MEB electric car platform: full details revealed
VW's MEB electric car platform: full details revealed
VW's MEB electric car platform: full details revealed
VW's MEB electric car platform: full details revealed
VW's MEB electric car platform: full details revealed
VW's MEB electric car platform: full details revealed
VW's MEB electric car platform: full details revealed
VW's MEB electric car platform: full details revealed
VW's MEB electric car platform: full details revealed
VW's MEB electric car platform: full details revealed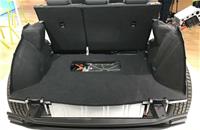 Volkswagen has given an in-depth technical preview of its all-new electric vehicle platform, making its production debut next year with the ID hatchback.
Cars will be produced at the brand's German plants in Zwickau, Braunschweig, Salzgitter and Kassel, with €1.2 billion (Rs 10,171 crore) being invested at Zwickau to become the first pure MEB plant and largest competence centre for e-mobility in Europe and €1.3 billion (Rs 11,017 crore) of a total €6 billion (Rs 50,852 crore) being invested at the other three sites.
The first car to go on sale will be the two wheel-drive only ID, costing less than a high-end Golf diesel. In the UK this will put the price of an entry level model at around £25,000 (Rs 23.85 lakh) before any government grant. Pre-orders of the ID will start at the end of 2019, with deliveries early in 2020.
There will be three Lithium-Ion battery pack sizes available. The entry level ID hatchbacks will have a range of 205 miles on the WLTP cycle with the next size up giving over 400 miles. Battery packs built up from individual cells into modules and can be scaled with more or less modules to create larger or smaller packs for the ID family. The range given by the largest spec battery is still under wraps. The target for larger vehicles is over 350 miles (563km) on one charge.
Volkswagen is also premiering the Volkswagen Wallbox home charging system. All vehicles will be capable of accepting fast [rapid] charging at 125kW taking an 80 percent charge in 30 minutes.
As part of its "Electric for All" campaign, the Volkswagen brand aims to sell 150,000 electric cars including 100,000 ID models made in Germany by 2020. 10 million vehicles will be produced in the first product life cycle "creating massive economies of scale." Volkswagen aims to sell one million EVs by 2025. By 2021 the plan is to be producing 1,500 ID family vehicles per day, the equivalent of almost 550,000 a year. By the end of 2022, four of the group's brands will be ramping up to 27 models.
The centre for battery manufacture will be at Braunschweig and Salzgitter will produce motor rotors and stators and become the Battery Cell Centre of Excellence (CoE). A laboratory line is being established there, followed by a battery pilot production line.
In a press release, head of the E-mobility production series, Christian Senger, said, "The ID will be a milestone in technological development. It will be the first fully electric car with full everyday utility that millions of people will be able to afford."
Senger later told Autocar there will also be two plants in China as well as plants in North America and the Czech Republic where Skoda models will be produced. "Within the first 12 months, there will be four plants running, producing four brands, Volkswagen, Skoda, Seat and Audi.
VW to offer Tesla-style over-the-air software updates
MEB based cars will offer the interior space of a car one segment up thanks to the underfloor battery location and lack of centre tunnel.
The ID will have a rear mounted motor driving the rear wheels with the DC to DC converter stepping the 400-volt high power battery down to 12 volts, with a high voltage electric heating system mounted at the front where the engine would sit in a front-wheel drive car.
Some larger ID models will have all-wheel drive with an additional front–mounted motor with space freed up by moving some components like the DC to DC converter to the rear. There will be a large head-up display for instrumentation and the plan is to also equip I.D. cars with an augmented reality holographic-type menu system for connectivity and other functions.
There will be an all-new electrical architecture. "VW iOS" and ID cars will be online at all times, boosting connectivity and allowing over-the-air software and feature updates via a Volkswagen "back end" digital platform for security. Apps will also be securely updated via the digital platform and cars will be able to run third party apps such as Apple Carplay and Android Auto. The system will connect using 4G and have hardware in place to support higher speed 5G when the system is ready.
Driving down cost is essential to get people to buy into EVs, said Senger. "The reason electric vehicles are not selling exponentially, is because they cost more than a conventional car. Soon after 2020 they need to cost the same as a conventional car, or less.
Cost reduction on MEB will come not just from volume production and scale of economy improving the cost of batteries (which account for 40% of an EV's total cost), but by paring down costs throughout the vehicle. Costs in other areas of an MEB vehicle will be half that of the existing e-Golf.
The rising cost of conventional cars will also bring cost parity. "The cost of combustion engine cars is rising because of emissions," said Senger, adding that diesels will become less viable first, followed by petrol.
Senger believes the EV market will ultimately have to stand on its own two feet without government incentives. "Subsidies are not sustainable," he says. "The business plan must be based on no subsidies, then e-mobility can grow."
Senger acknowledges that in the future, dealers will have far less opportunity to make money from servicing and maintenance as there will be much less to do on electric cars compared to conventional cars. He insists though, that the Volkswagen Group dealer networks will be looked after. "We believe are future is together with our dealers," he says.
Volkswagen will guarantee a minimum of 70 percent usable battery capacity for seven years and Senger says there are a number of options available when batteries get older. One is to change the battery, another is to swap out failing individual modules and another is the re-use of batteries for stationary energy storage, an area which Senger believes will become huge in the future. Senger expects that beyond 2025, batteries will be 97 percent recyclable with only 3 percent going for scrap.
11kW Wallbox chargers will be supplied with ID cars at a cost of €300 (Rs 25,421). Volkswagen Group is also a partner with Ionity, together with Ford Europe, Daimler and BMW to develop high power charging networks across Europe. The plan is for 400 charge sites across Europe delivering 2,400 charge points per 70 miles (112km) by 2020, equating to an average of six charge points per site. Future proof chargers will be capable of charging at up to 350kW and up to 920-volts.
RELATED ARTICLES