Volkswagen mulls low-cost EV in India, one-billion-euro investment
The world's second largest car maker is charting a plan for low-cost EVs on the new MEB21 platform which would necessitate a billion Euro investment to localise. The decision to invest will be taken in November.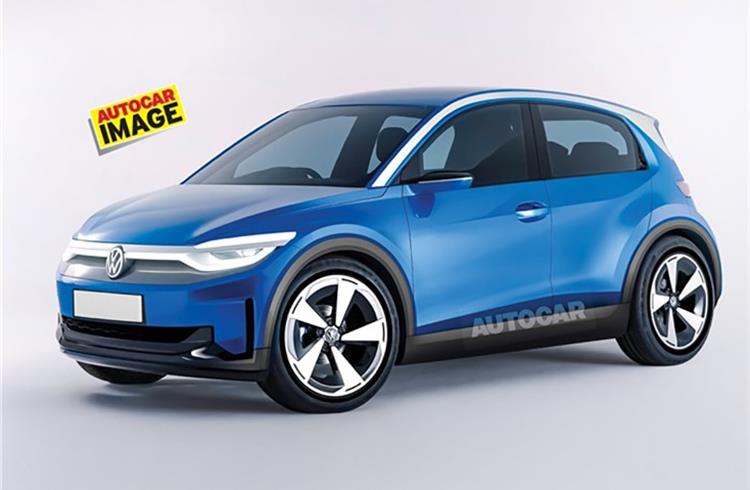 New bespoke electric platform (MEB21) will spawn a family of entry-level EVs.  
Thomas Schafer: "We are exploring two alternatives for India and the teams are working on a strong business case."
After successfully implementing project 'India 2.0', which resulted in the launch of the Taigun SUV and Virtus sedan, Volkswagen, the world's second-largest carmaker, does not see itself investing any more in locally produced ICE vehicles. Instead, it wants to leapfrog into the electric vehicle (EV) world with its future investments, said Thomas Schafer, CEO of the Volkswagen brand, to Indian media ahead of Munich Motor Show 2023.
"For an ICE model, if we start industrialising now, it will take three years from now but is that the right way to spend your money?" he queried and added, "Is it not better that we use our funds for what is best for the future, which is EVs? Then at least you have one foot in the game and you are going forward. India is focusing on the future (EVs), why do we step back then?" opined Schafer.
Plugging into EVs in full earnest, making the right India market move
On its part, the Volkswagen brand is set to have a portfolio of 11 electric vehicles by 2027, which is the biggest portfolio amongst the global mainstream car makers.
According to Schafer, the Group has lined up an investment of 180 billion euros (Rs 15,81,840 crore) in the next five years and every country, including India, is staking a claim for their share. He said the Group will have to adhere to sound capital allocation of this significant investment and "India has a ticket to be a part of this investment. The ticket is defined by the business case – volumes, localisation plans, how many brands are part of it, is it just the two of us Skoda and Volkswagen, or is Audi also a part of it? If we industrialise, then you are easily looking at a billion-euros investment," explained Schafer.
What exactly is the right step for India which is a difficult market to crack is still being discussed. "There are multiple challenges on cost and scale. We are exploring two alternatives for India and the teams are working on a strong business case. My wish would be to localise MEB21 – make a good business case, with a localised battery, export from India and ramp up our volumes. That could be fantastic but we have not yet cracked it as yet." he explained.
Till that time, the company will rely on imports of premium models at the top end of the market like the Tiguan, seven-seat Tayron and the ID4 which should be launched in the next 12-24 months.
ALSO READ:
Volkswagen Group is becoming a design-driven company: Group CEO Oliver Blume
Exclusive – VW, Skoda in talks with Mahindra for low-cost EV
Volkswagen Group to optimise EV costs with in-house component development
RELATED ARTICLES