Toyota rolls out second-generation Mirai FCEV
New platform allows for an extra (third) hydrogen fuel tank to be added, contributing to a 30 percent increase in the car's driving range to around 400 miles / 650km
This is the second generation of Toyota's ground-breaking, zero emission hydrogen fuel cell electric sedan.
New platform allows for an extra (third) hydrogen fuel tank to be added, contributing to a 30 per cent increase in the car's driving range to around 400 miles / 640 kilometres.
New Mirai built on Toyota's modular GA-L platform, enabling improved system packaging and a more spacious, five-seat cabin.
Completely redesigned fuel cell system facilitates significant reductions in the size and weight of all principal components.
Toyota is targeting a 10-fold increase in global Mirai sales with the second-gen model.
Toyota rolls out second-generation Mirai FCEV
Toyota's new fuel cell stack and fuel cell power converter (FCPC) have been developed specifically for use with the GA-L platform.
Toyota rolls out second-generation Mirai FCEV
Toyota rolls out second-generation Mirai FCEV
Toyota rolls out second-generation Mirai FCEV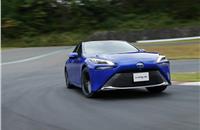 Six years after it introduced the Mirai hydrogen fuel cell electric vehicle (FCEV), Toyota today launched the second-generation Mirai, which takes FCEV technology to a higher level and offers a more rewarding driving performance. A comprehensively redesigned fuel cell system, intelligent packaging and aerodynamic efficiency help extend the driving range to around 400 miles / 640 kilometres, with no other emissions than pure water.
Packaging has also been significantly improved with new Mirai built on Toyota's modular GA-L platform. A more efficient and well-balanced arrangement of the new FCEV powertrain – notably with the fuel cell stack moved from beneath the cabin to the front compartment – has allowed for a more spacious, five-seat interior with improved legroom for rear seat passengers.
The new Mirai also displays more attractive vehicle proportions: overall height has been reduced by 65 mm to 1,470mm, and there is a 140mm increase in the wheelbase (2,920mm). With the rear overhang extended by 85 mm, overall vehicle length is now 4,975mm. A 75mm increase in the track width and the use of larger, 19 and 20-inch wheels add to the lower and more dynamic stance and visual sense of the new Mirai's lower centre of gravity.
GA-L platform enables efficient repackaging
Adopting the GA-L platform has allowed the fuel cell stack and drivetrain components to be repackaged in a way that makes more efficient use of space. The result is a more spacious, five-seat cabin and a better chassis balance. Perhaps most significantly, it enables three high-pressure hydrogen tanks to be fitted, increasing fuel capacity and the car's driving range – by 30 per cent.
The tanks are arranged in a 'T' configuration, the longest running longitudinally and centrally beneath the vehicle floor, with two smaller tanks set laterally beneath the rear seats and luggage compartment. Together they can hold 5.6kg of hydrogen, compared to 4.6kg in the current Mirai's two tanks. Their position contributes to the car's lower centre of gravity and avoids compromising load space.
The new architecture also permits the all-new hydrogen fuel cell to be moved from its current location beneath the floor to the front compartment (equivalent to the engine bay), while the (more compact) high-voltage battery and electric motor are positioned above the rear axle. As explained below, powertrain layout has been optimised to give new Mirai a 50:50 front:rear weight distribution.
The tanks have a stronger, multi-layer construction and are highly weight-efficient – the hydrogen accounts for 6 per cent of the combined weight of the fuel and tanks.
New fuel cell stack
Toyota's new fuel cell stack and fuel cell power converter (FCPC) have been developed specifically for use with the GA-L platform. The designers have been able to bring all the elements together in the stack frame (including the water pumps, intercooler, air conditioning and air compressors and the hydrogen recirculation pump) with each part made smaller and lighter, while at the same time improving performance. The stack case itself has been made smaller by using Friction Stir Welding, reducing the gap between the fuel cell and casing.
The fuel cell stack uses a solid polymer, as in the current Mirai, but has been made smaller and has fewer cells (330 instead of 370). Nonetheless, it sets a new record for specific power density at 5.4 kW/l (excluding end plates). Maximum power has thus risen from 114 kW to 128 kW. Cold weather performance has been improved with start-up now possible at temperatures from as low as -30˚C.
By concentrating the system connections within the case, fewer components are needed, again saving space and weight.
Focusing on innovation and improvement in every component has delivered a 50 percent weight reduction yet a 12 percent increase in power. New measures include relocation of the manifold, reducing the size and weight of the cell optimising the shape of the gas channel separator and using innovative materials in the electrodes.
The unit also incorporates the Fuel Cell DC-DC Converter (FDC) and modular high-voltage parts, while achieving a 21 per cent reduction in size compared to the current system. Weight has been cut by 2.9kg to 25.5kg. Advanced technology has contributed to the space-saving, with Toyota's first-time use of a next generation silicon carbide semiconductor material in the intelligent power model (IPM) transistors. This enables an increase in output and lower power consumption while using fewer transistors, which in turn allows the FCPC to be made smaller.
The same size and weight-saving approach has been applied to other parts of the FC stack. The air intake is designed for low pressure loss and contains sound-absorbing material so that noise from the air inlets is unnoticeable in the cabin. The exhaust uses a resin pipe and is designed to allow for a large amount of air and water to be discharged; a larger-capacity silencer contributes to the quieter cabin. The complete air system is almost 30 per cent smaller than in the current Mirai and weighs more than a third (34.4 per cent) less.
New lithium-ion battery replaces nickel-metal hydride unit
The new Mirai is equipped with lithium-ion high-voltage battery in place of the current model's nickel-metal hydride unit. Although smaller in size, it is more energy-dense, giving higher output and superior environmental performance. Containing 84 cells, it has a 310.8 rated voltage compared to 244.8, and a 4.0Ah capacity, versus 6.5Ah. Overall weight has been reduced from 46.9 to 44. kg. The output has improved from 25.5kW x 10 seconds to 31.5kW x 10 seconds.
The battery's smaller dimensions have allowed it to be positioned behind the rear seats, avoiding intrusion in the load compartment. An optimised air-cooling path has been designed, with discreet inlets either side of the rear seats.
Going beyond zero emissions to 'negative emissions'
Toyota says the new Mirai cleans the air as you drive, going beyond zero emissions to 'negative emissions'. A Toyota innovation, a catalyst-type filter is incorporated in the air intake. As air is drawn into the vehicle to supply the fuel cell, an electric charge on the non-woven fabric filter element captures microscopic particles of pollutants, including sulphur dioxide (SO2), nitrous oxides (NOx) and PM 2.5 particulates. The system is effective in removing 90 to 100 per cent of particles between 0 and 2.5 microns in diameter from the air as it passes into the fuel cell system.
RELATED ARTICLES