Toyota deploys vehicle maintenance solution for Grab
1,500 Toyota cars in Grab's Singapore fleet will be equipped with in-vehicle data transmission device called 'TransLog' that would track the running condition of the vehicle and notify accordingly.
Toyota deploys vehicle maintenance solution for Grab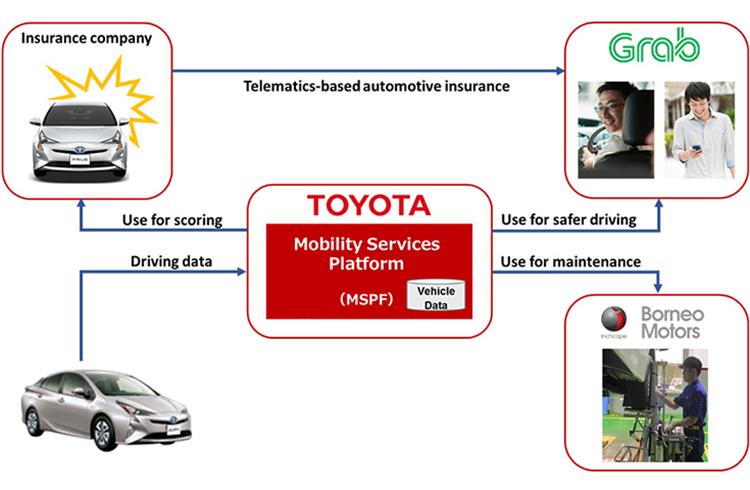 Toyota deploys vehicle maintenance solution for Grab
Toyota deploys vehicle maintenance solution for Grab
L-R: Russell Cohen, head of regional operations, Grab Holdings and Susumu Matsuda, president, Toyota Motor Asia Pacific
Toyota Motor and Singapore-based ride-hailing service Grab have announced a deeper collaboration among them, with the introduction of 'Total-care service' for Toyota's vehicles operating in Grab.
The solution is aimed at enhancing the platform safety and also provide driver partners with the cost-efficient and timely maintenance schedule. Grab will incorporate 1,500 Toyota cars in Singapore with an in-vehicle data transmission device called 'TransLog'. The collected data will be sent to a mobility services platform, which is an information infrastructure developed by Toyota for vehicle connectivity.
Through this device, a timely notification will be sent to the driver if the tyres or the brakes are wearing and whether it is due for maintenance. The data collected through this service can be used to develop telematics-based insurance products which could reduce the cost of insurance premiums for Grab drivers.
The partners say maintenance schedules for each vehicle will be fully optimised, based on driving and vehicle condition data. Intensive Care Stall (ICS) has been implemented at Borneo Motors (BMS), the authorised Toyota dealer in Singapore.
Making use of TPS know-how, ICS achieves ultra-efficient maintenance services, reducing vehicle downtime and maintenance costs.
At the event, Russel Cohen, Grab's regional head of operations claimed that by implementing Toyota's efficient operation practices, the ride-hailing vehicles saw five times more mileage than privately-owned cars. He announced that they would be increasing the share of Toyota vehicles on Grab's fleet across Asia by 25 percent by 2020.
Ming Maa, president of Grab, said: "We are excited to work with Toyota to roll out the Total-care Service to our Grab Rental fleet. The ability to meld data analytics with vehicle maintenance will make our rental fleet even safer for our driver-partners, and go toward achieving our goal to raise transport safety standards in the region."
Shigeki Tomoyama, Toyota executive vice-president and president of Toyota's in-house Connected Company, said: "The Total-care Service will help enhance the operational efficiencies of ride-hailing companies and provide even safer, more secure, and better-quality mobility services for drivers and end-users. Starting from Singapore, we aim to gradually expand this initiative globally, including other Southeast Asian countries."
Also read: Yamaha makes strategic investment in Grab, partners motorcycle ride-hailing service
Toyota invests $1 billion in Grab, looks to advance mobility as service strategy
RELATED ARTICLES