Torsus reveals updated Pratetorian bus range
The 37-seat Praetorian coach (prices starting from Rs 1.18 crore) is designed to transport personnel and equipment safely across the world's harshest environments.
Torsus reveals updated Pratetorian bus range
Torsus reveals updated Pratetorian bus range
Torsus reveals updated Pratetorian bus range
Torsus reveals updated Pratetorian bus range
Torsus reveals updated Pratetorian bus range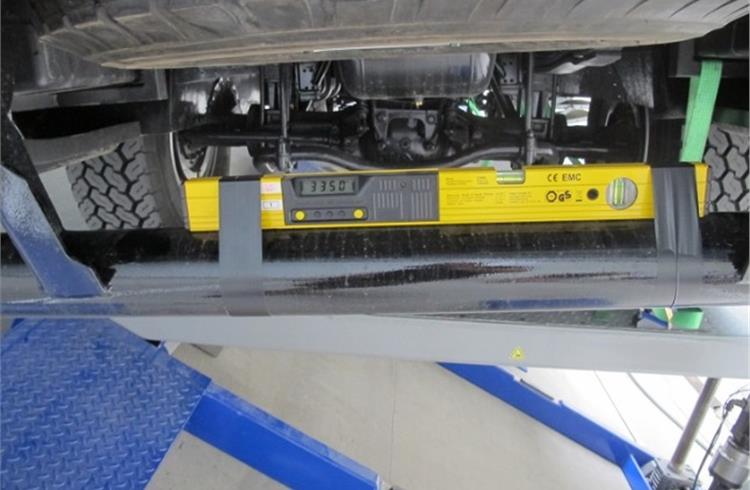 Torsus reveals updated Pratetorian bus range
Torsus reveals updated Pratetorian bus range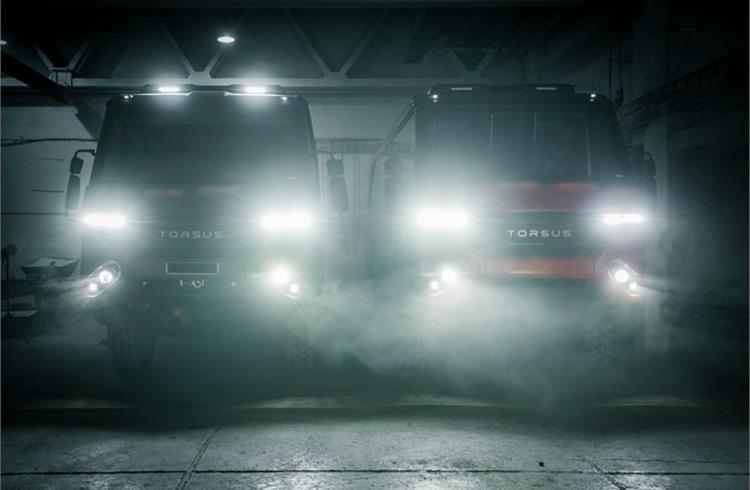 Torsus reveals updated Pratetorian bus range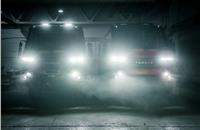 Czech Republic-headquartered Torsus, the manufacturer of the world's toughest, heavy-duty off-road buses has revealed the comprehensive range of all-new 2021 technical updates for its flagship vehicle, the Praetorian.
The 37-seat Praetorian coach (prices starting from Rs 1.18 crore) is designed to transport personnel and equipment safely across the world's harshest environments. The 4x4 off-road bus is based on an upgraded, heavy-duty MAN chassis. It is powered by a six-cylinder MAN diesel engine with 286bhp and 1,150Nm of torque, as well as a heavy-duty 4x4 off-road transmission – sufficient for the bus to easily climb a 65 percent incline. It features Michelin XZL off-road tyres specifically designed for emergency response and tactical vehicles to the military-grade elastomeric coatings engineered for maximum durability and impact resistance applied to body parts.
Vakhtang Dzhukashvili, CEO, Torsus said: "At Torsus, we live by and set the highest standards for ourselves and our world-beating 4x4 buses. Our mission is to ensure our 4x4 heavy duty buses conquer the world's most daunting driving environments, safely transporting people and equipment to locations no other vehicle could ever reach. Achieving this requires rigorous attention to detail coupled with our obsession with delivering nothing but the best. That means we constantly strive to improve our vehicles and make sure they feature the most relevant and beneficial new technology through our ongoing process of product development. By listening to customer feedback, we make certain we are always on-point with our updates and improvements."
Yulia Khomych, director of Strategy, Torsus said: "Our expert engineering and manufacturing teams have helped us to manage the challenges of the past year. The 2021 model year represents the very best of Torsus - it represents resilience, determination and our desire to succeed in the face of adversity. Like many businesses, the past 12 months have been challenging, but it is testament to our team that we have been able to produce an upgraded product and reach our key strategic targets."
Interestingly, in a recent exclusive interaction with Autocar Professional, Dzhukashvili had revealed that the company had received interest from the Indian market and it was also exploring setting up a base in the country.
Tech updates
Torsus says its Praetorian buses are designed to cope in highly challenging conditions from disaster evacuation to fire fighting and from motorsport to operations command. Optimum lighting is essential in such circumstances, which is why its engineering team has replaced the halogen lights previously found on the Praetorian with highly energy-efficient all-new LED headlights, which provide significantly enhanced illumination. Roof-mounted lights are also offered for even greater levels of visibility and safety.
The company partnered WAS to develop the new lighting system. WAS has almost 4,000 different lamps for automotive applications and it has supplied Torsus with its ultimate W149 driving lamps. Both focussed and diffused lighting units are fitted, each providing 4100 lumen, which is more than triple the illumination provided by a halogen high beam car light and perfect for driving safely off-road in darkness. When stationery, the Praetorian roof and side mounted 991 SIGNAL SL 1000 lumen work lights provide 360-degree illumination for the crew to carry out their tasks quickly and safely in the most demanding situations.
On the inside, the company has worked closely with Webasto, to upgrade its air-conditioning system that will protect occupants in places where outside temperatures rise as high as 50-60deg Celsius inside the vehicle, which is within the operating parameter of the air-conditioning system fitted to the Praetorian.
A detailed work was carried out to enhance air distribution to individual luggage rack outlets for more airflow volume and increased nominal air conditioning cooling capacity. The industry-leading 21.52 kW system can cool down a full bus of 35 occupants from 60deg Celsius to 30deg Celsius in just three minutes, and incredibly, can drop the temperature from 60deg Celsisu to a comfortable 20deg Celsius in under 15 minutes. In fact, so effective is the air-conditioning unit; it can even keep the engine cool should it, for example, become in danger of overheating when climbing sand dunes.
EU-complaint
To comply with the latest EU regulations, Torsus has redesigned the operating system of the Praetorian's passenger door, facilitating the smooth opening and closing in less than 8 seconds. To ensure optimum safety, the door automatically closes once the vehicle speedometer reaches 3kph. The incorporated sensors eliminate the risk of passengers or obstacles being trapped in the doorway. All-new pneumatic extending and retracing footsteps and new entrance bars make it more convenient and safer for passengers to enter and exit the vehicle than before. And an updated emergency evacuation system has also been integrated into all doors, which feature both interior and exterior emergency release buttons and roof hatches.
The new range of buses is also fitted with a highly efficient bus stop brake system. Operated by the touch of a button, it utilises the air service brake equipment of the rear axle with a pressure of 3.5 bar and negates the need for the service brake or parking brake to be applied during frequent stops.
Torsus says it is also about to enter production with first vehicle equipped with fully mechanical doors in the middle section and rear swing doors. This will provide an unmatched versatility offering in fields such as leisure, camping, safari and tourism, and enable customers to create a vehicle that meets their needs and desires perfectly.
Safety outside and inside
The 2021 range of Praetorian buses are designed to offer its occupants optimum protection in every condition and circumstance, even in the unlikely event of a vehicle fire. A powerful, new, automatic, fast-acting fire suppression system developed by industry leaders in fire protection BlazeCut, has been fitted. As per mandatory legislative requirements the BlazeCut system automatically actuates in the fuel tank area when a fire occurs, extinguishing the blaze in seconds leaving very minimal damage to the vehicle and keeping occupants safe. However, Torsus has extended the coverage of the system to other areas of the vehicle, such as the engine compartment, at no additional cost to the customer. Two fire extinguishers are mounted inside the cabin, and new fire-resistant materials and fabrics have also been fitted.
Peter Zaicek, head of Production, Torsus said: "As the most adaptable and versatile 4x4 heavy-duty off-road bus on sale, the Torsus Praetorian is designed and engineered to excel in many different and extremely hostile environments across the globe. Ensuring the vehicle always delivers optimum performance, durability and safety in any location require extensive testing and development– not just of the vehicle but also of the ground-breaking equipment and technology it's fitted with."
RELATED ARTICLES