Tesla market cap hits $1 trillion on Hertz's 100,000 Model 3 order, best-seller in Europe
EV maker rides surge of positive market news and demand, becomes second fastest after FaceBook to hit the $1 trillion market cap.
The Tesla Model 3 has topped the European model rankings in September, with 24,600 units – a 2.6% market share.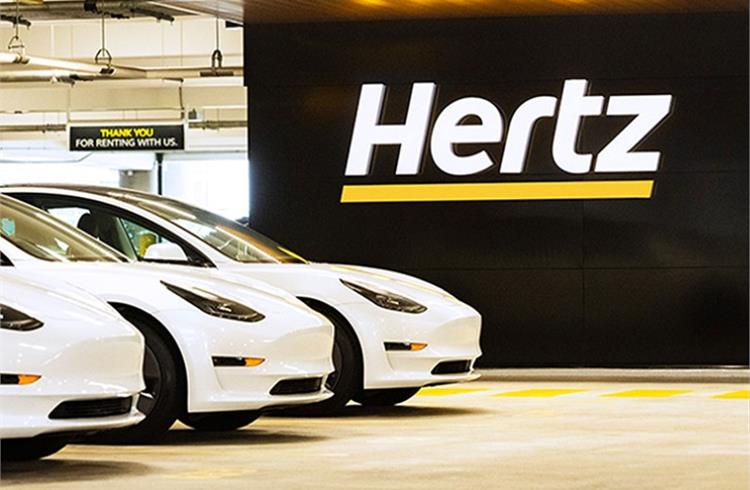 Tesla Model 3 electric vehicles at a Hertz airport location. (Photo by ER Davidson)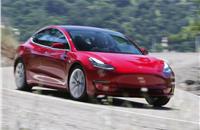 Tesla has won one of the largest orders for an EV maker globally. Global car rental major Hertz yesterday announced a significant investment to offer the largest EV rental fleet in North America and one of the largest in the world. This includes an initial order of 100,000 Teslas (Model 3s) by the end of 2022 and new EV charging infrastructure across the company's global operations. "Electric vehicles are now mainstream, and we've only just begun to see rising global demand and interest," said recently appointed Hertz interim CEO Mark Fields.
This news was a catalyst to propel Tesla's huge surge on the stock market. Bloomberg reported that Tesla's market cap touched $1 trillion (Rs 7,401,000 crore) on Monday, with the stock jumping 10% and hitting a record high of $999.
With this, Tesla has become the second fastest firm worldwide to hit the $1trillion mark, after FaceBook. The American EV maker took a little over 11 years to do so following its stock market listing in mid-2010. Tesla shares have risen by over 75% since mid-May this year, rising a surge of positive news. This includes its best quarterly performance to date (Q3 CY2021), with its net income, operating profit and gross profit all reaching record levels of growth. Revenue growth was up 57% YoY in Q3, with an operating income of $2 billion (Rs 14,802 crore). Tesla attributed its profit to vehicle volume growth and cost reduction. Then, there's the recent news of the electric carmaker's best-selling model, the Model 3, topping European car sales charts last month, and the big-ticket Hertz order.
Model 3 is Europe's best-selling car in September
Meanwhile, as a result of the EV boom, the Tesla Model 3 has topped the European model rankings in September, with 24,600 registered units – a 2.6% market share, according to JATO Dynamics. This is both the first time that an EV has led the market and the first time that a vehicle manufactured outside of Europe has occupied the top spot.
The strong performance of the Model 3 is in part explained by Tesla's intensive end-of-quarter sales push. September has historically been a strong month for the US manufacturer's registration results in Europe, on average accounting for 68% of its third quarter deliveries since 2018. Last month, registrations accounted for 74% of third quarter volume. Since its' entry to the European market, the Model Y has also performed well, securing second position in the BEV ranking.
Due to the success of these two models, Tesla leads the BEV market with a share of 24%, ahead of the Volkswagen Group with 22%, Stellantis with 13%, and Hyundai-Kia with almost 11%. Tesla also registered more new cars than established brands including Fiat, Nissan or Seat.
RELATED ARTICLES