Skoda IC engine knowhow to power 50 models across seven Volkswagen Group brands
Skoda given responsibility for next generation of internal combustion engines (ICE) across the VW Group; new EA 211 series ICE powertrains to go in 50 model lines, following the current 3-cylinder engine powering 3.5 million vehicles in the past 15 years
Skoda's technical expertise and experience has just been recognised with an important assignment, as the brand has been given responsibility for the development of EA 211 series combustion engines. The engines will power 50 model lines across seven brands within the Volkswagen Group.
Skoda will develop all EA 211 series internal combustion engines for the entire group. Thus far, the Czech carmaker has mainly developed naturally aspirated MPI engines of this series, but now it will also take responsibility for the development of TSI units.
The new responsibility builds on Skoda's previous roles. For example, it is already responsible for the development of the MQB A0 Global platform, which can use the EA 211 engines, while also developing drum brakes for the entire group. In addition, alongside the new generation Superb, the new Volkswagen Passat has also been developed in Mladá Boleslav.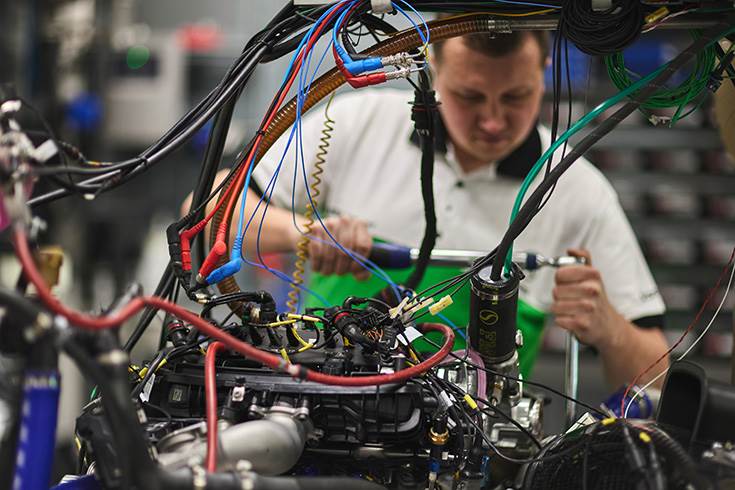 Engine-making tradition
Skoda's engine development tradition in Mladá Boleslav stretches back well over a century. The history of the development and production of IC engines in the town dates back to 1899, when Václav Laurin and Václav Klement built their first bicycle fitted with an auxiliary engine. As early as 1905, Laurin & Klement presented its first car, the Voiturette A, which was powered by a 1.0-litre liquid-cooled engine developed in-house.
With a few exceptions, the Czech carmaker used its own power units almost exclusively until it joined the Volkswagen Group. Even following the merger in 1991, Skoda continued to keep up its engine development and manufacturing tradition in Mladá Boleslav, despite engines developed by other group brands starting to appear under the bonnets of Skoda cars.
In 1997 production of the 1.0 MPI engine began in Mladá Boleslav, which the brand also supplied to other car companies in the group. The legendary 1.2 HTP unit of the EA 111 series, the predecessor of the current EA 211 series, was also developed in-house. In almost 15 years of production, this three-cylinder engine has found its way into more than 3.5 million vehicles from all of the Group's volume brands (in addition to Skoda, these include Volkswagen, SEAT, Cupra and Volkswagen Commercial Vehicles).
Production of the EA 211 engine series began in Mladá Boleslav in 2012 with the new 1.0 MPI type. Shortly afterwards, Skoda was put in charge of the complete development of MPI power units for the entire group. In 2014, Skoda opened a brand-new engine centre, which gave it the necessary capacity and cutting-edge technology to take responsibility for an entire engine series.
Johannes Neft, Skoda board member for technical development, said: "Taking responsibility for the development of the entire EA 211 engine series is confirmation of Skoda's high level of technical expertise. At the same time, this underlines the importance of the Skoda brand within the entire Volkswagen Group, as the engines in this series are used in 50 model lines of seven of its brands."
High efficiency, low consumption
Consequently, engineers in Mladá Boleslav are now going to gradually take charge of developing the future TSI engines of the EA 211 series in addition to the MPI units. Today the EA 211 model range is characterised by a high degree of variability – the engines can have three or four cylinders, range in size from 1.0-litre to 1.6 litres and currently cover a power output spectrum from 65ps to more than 150ps. The engines can use petrol, CNG or ethanol and are also available in mild-hybrid and plug-in hybrid versions.
The MPI units are naturally aspirated engines with indirect multipoint fuel injection, which are renowned for their robustness. The TSI engines, on the other hand, feature an exhaust pressure wave supercharger, which are powerful, high-torque engines that can power a wide range of models – including 1.0 TSI, 1.4 TSI (for plug-in hybrids such as the Superb iV), and 1.5 TSI found in vehicles from Fabia and Octavia, to the Karoq and Kodiaq. They offer drivers a combination of high performance and low fuel consumption, as well as excellent handling.
Skoda states that it will continue to improve and adapt these engines to the needs and regulations of dozens of global markets. The aim is to develop even more powerful and more fuel-efficient engines with lower emissions, with an emphasis on maximum reliability.
RELATED ARTICLES