Semiconductor shortage set to extend well into 2021: LMC Automotive
Normal 60-70 days' inventory levels of semiconductors for automakers are many months aways, given inter-industry panic buying.
Semiconductor shortage set to extend well into 2021: LMC Automotive
Semiconductor shortage set to extend well into 2021: LMC Automotive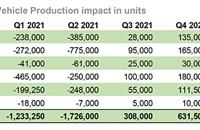 The ongoing global shortage of semiconductor chips that is haranguing the automotive industry and has continued to undermine light vehicle production in all global markets in the first half of CY2021 is set to extend well into the second half of this year.
According to LMC Automotive, while the impact in Q1 (1.2 million units) is a little less than it has forecast for March, the hit to light vehicle production in Q2 has tripled to over 1.7 million units. The automotive market intelligence company says: "Earlier signs in March had pointed to an easing in the scale of disruption. However,OEM production suspensions, shift pattern reductions, build-rate cuts and even producing sellable vehicles without chip-heavy options or content, have intensified in Q2."

Poor supplies of semiconductors – a crucial component which silently power modern infotainment systems, driver aids and multiple electrical components – have been affecting companies for over a year now. The problem stems from the hugely increased demand for personal computers, tablets and smartphones at the height of the Covid-19 pandemic, which largely diverted supply away from the automotive sector.
A passenger vehicle typically uses around 1,000 semiconductors and any slowdown in the supply chain means manufacturing operations can come to a grinding halt. Also, like many countries, India too has an over-reliance on the world's biggest supplier of microprocessors – Taiwan.
According to LMC, "Given the maturity of the semiconductor crisis, we still expect a degree of normalisation moving into H2 and, thus, some scope for OEMs to catch up earlier lost output. However, suggestions of inter‐industry panic buying of materials and continued strong demand for chips serve to highlight the risk that shortages and disruptions could continue to the end of this year."
Risk is therefore firmly on the downside for H2 2021 although this bolsters the 2022 light vehicle production outlook as potential inventory replenishment is pushed into next year and even 2023.
LMC concludes its latest industry update with, "Until a return to normal global inventory levels of a 60-70 days supply, a decoupling of traditional demand and supply patterns will exist, distorting segmentation and competitive trends.
ALSO READ
Semiconductor crisis to continue as chip makers perceive auto industry as low margin
RELATED ARTICLES