Revealed: New Husqvarna Norden 901 adventure tourer
Husqvarna Motorcycles says it has "built true off-road ability into an exceptional adventure travel motorcycle that keeps going when the tarmac roads end."
Revealed: New Husqvarna Norden 901 adventure tourer
Revealed: New Husqvarna Norden 901 adventure tourer
Revealed: New Husqvarna Norden 901 adventure tourer
Revealed: New Husqvarna Norden 901 adventure tourer
Revealed: New Husqvarna Norden 901 adventure tourer
Revealed: New Husqvarna Norden 901 adventure tourer
Revealed: New Husqvarna Norden 901 adventure tourer
Revealed: New Husqvarna Norden 901 adventure tourer
Revealed: New Husqvarna Norden 901 adventure tourer
Revealed: New Husqvarna Norden 901 adventure tourer
Revealed: New Husqvarna Norden 901 adventure tourer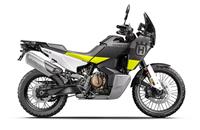 First revealed as a concept model at the EICMA 2019, the Husqvarna Norden 901 has finally hit dealer showrooms in Europe. Husqvarna Motorcycles says it has "built true off-road ability into an exceptional adventure travel motorcycle that keeps going when the tarmac roads end."
Inspired by Husqvarna Motorcycles' multi-terrain Rally machines, the tough yet lightweight Norden 901 is built to cover long distances across challenging, diverse landscapes. A smooth and torquey 899cc, 105 hp parallel twin engine powers the Norden 901 while balancer shafts minimise vibration. The engine is housed in a light steel trellis frame, prepared to carry rider, luggage, and passenger to the furthest points of the compass across any terrain, assisted by WP APEX suspension with long travel. Large diameter 21-inch front and 18-inch rear wheels roll easily over obstacles on the trail. For all its top-notch off-road ability, Husqvarna says the Norden 901 also offers unrivalled comfort and agility on tarmac.
The Norden 901 braking system is backed up by switchable Bosch Cornering ABS with Street and Offroad modes. Husqvarna Motorcycles' lean-angle sensitive Cornering Motorcycle Traction Control (MTC) is also there to assist, with particular attention having been paid to its levels of offroad assistance.
The Norden 901 has three selectable ride modes as standard (Street, Rain, Offroad) and an optional Explorer mode to deal with every circumstance the rider might meet. An Easy Shift function allows for clutchless changes up and down the six-speed gearbox while a Power Assist Slipper Clutch (PASC) maintains rear wheel composure. The 19-litre fuel tank provides an extended range of up to 400km.
Given the surge in demand for adventure biking in India, will the Husqvarna Norden 901 be introduced in India in the near future? Over to Bajaj Auto.
RELATED ARTICLES