Renault's K-ZE concept previews electric Kwid, to be sold in China first
Production model will have a claimed range of 250km; global model, which to be first produced in India, expected to come to India in the future.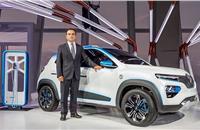 French carmaker yesterday, on the eve of the 2018 Paris Motor Show, revealed its 'A-segment, SUV-inspired, electric vehicle', the K-ZE. The K-ZE, which will get its official global unveil at the motor show today, is, essentially, the all-electric version of the Kwid hatchback sold in India.
The model is based on Renault and Nissan's joint CMF-A platform, currently used on the Renault Kwid sold in India. Renault said the architecture is heavily adapted for this new model, both for EV application and also Chinese and global markets. The whole sub-frame and the axles are, for instance, specific to this electric car.
Described as a global model, the production car will first go on sale in China in 2019, before making its way to other markets around the globe. India is one of the markets in consideration for the product.
Renault has not revealed full details as yet but claims the K-ZE has a range of 250km in the NEDC cycle. The car features double charging that will be compatible with domestic plugs and public charging infrastructure. The charging port is positioned on the right flank of the car.
The K-ZE's look is a development of the standard Kwid's now-familiar styling. The show car sports narrower headlamps, a restyled 'grille' with a larger Renault lozenge and a redone front bumper with a more pronounced scuff plate and larger fog lamps. Flashy (and seemingly larger) wheels as well as blue highlights across the body also help distinguish the K-ZE's look. At the rear, the show car also carries more detailed tail-lamps. Highlights within the cabin include a central touchscreen, a reverse camera and rear parking sensors.
Headed for world's largest EV market: China
The production K-ZE will be manufactured in China by e-GT New Energy Automotive Co, a joint venture with the Dongfeng Motor Group and Nissan, created "to develop and produce competitive electric vehicles for the Chinese market", according to Renault. Don't expect Renault to be in a tearing hurry to bring the e-Kwid to India, though. Inadequate charging infrastructure aside, costs are a major issue.
Renault engineers told Autocar India said that, at present, a typical EV costs at least 60 percent more to manufacture than its conventional engine-powered version. Until such time that Renault can rein in costs of components like battery packs (partially possible, if the Kwid EV clicks in China) the model is unlikely to come to India, soon.
The K-ZE will arrive in China first because it is the fastest-growing market for electric cars, said Renault. It is expected to arrive in Europe by 2021, with the final car expected to stay very close to the concept version revealed at Paris.
Chairman and CEO Carlos Ghosn said that Renault had been investing in EVs for over a decade, and that it was the only firm to make profit from EVs so far.
"Developed markets or developing market can get this car. For me, this is a real revolution. This is car is going to be extremely competitive on all markets in the world," Ghosn said.
"We know the competition is going to be fierce [in China]," Ghosn explained, "but we cannot do worse than today, because we have zero electric products today."
The K-Ze will get rear parking sensors, a rear-view camera and a central screen with connected navigation and services.
Carlos Ghosn said: "Groupe Renault was a pioneer and is the European leader in electric vehicles. We are introducing K-Ze, an affordable, urban, SUV-inspired electric model combining the best of Groupe Renault: our leadership in EV, our expertise in affordable vehicles and in forging strong partnerships."
Ghosn also confirmed that a hybrid Clio and a plug-in hybrid
Captur and Megane variants would arrive in Europe in 2020, but gave no details on range.The vehicles form the next stage in Renault's electrification strategy.
While Renault's electric Zoe remains at the forefront of electric car sales (only the Nissan Leaf sells more globally), the French car maker has remained quiet in recent years about its broader electrification plans. In that time, many of its mainstream rivals, such as Peugeot, Citroën and Ford, have announced their respective strategies.
RELATED ARTICLES