Nissan Australia to electrify a third of its volume
Led by the launch of the new Leaf in mid-2019, Nissan is preparing for the expected spike in electrification and electric vehicle interest and sales.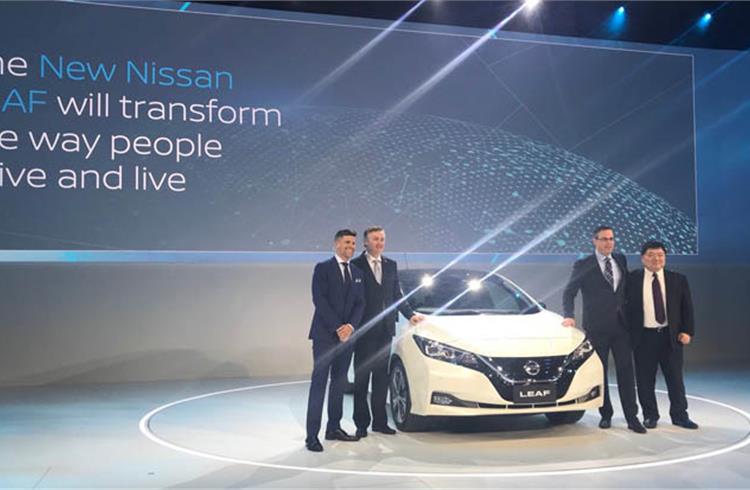 Nissan has announced that during the current mid-term plan, one third of its Australian volume will include electric technology. Led by the launch of the new Leaf, Nissan is preparing for the expected spike in electrification and electric vehicle interest and sales.
At an electrification thought leadership event in Sydney, Nissan spoke about the new Leaf and the future-orientated announcement. "Electrified vehicles will represent a third of Nissan volume in Australia during our mid-term plan," said Nissan Australia managing director, Stephen Lester. "By introducing more electric alternatives on several of our key models, we will make mass market electrification a reality. I have no doubt electric vehicles will be a success here, and sooner than many think, and Nissan is planning for this now to ensure we meet the future needs of the buyer."
Deliveries of the new-generation Nissan Leaf will begin in mid-2019, and that the Australian-spec model will feature e-Pedal, Apple CarPlay and Android Auto. The new Leaf will also provide an expected real world driving range of up to 270 kilometres per charge (WLTP combined cycle) thanks, in part, to the larger 40kWh battery. These new features, plus an increase in power and torque, its stylish new design and bi-direction charging capabilities, are some of the key drivers in attracting repeat Leaf buyers and potential new customers to Nissan's award-winning electric vehicle (EV).
"The new Nissan Leaf has the ability to transform the way we drive and live," said Lester. "The increase in power and particularly torque make this vehicle a lot of fun to drive, surprising many who get to experience it. A larger 40 kilowatt hour battery will keep the Leaf on the road for longer and with bi-directional charging capabilities, you could feed charge from the car to power your home."
Keeping range anxiety at bay
With range anxiety a major consideration for EV buyers in Australia, internal global research shows that current owners approach the re-charging of their vehicle's battery in the same way as their mobile phone.
"Charging is a simple act and many EV owners tend to charge their vehicle like they charge their mobile phones in preparation for the next day, by doing it overnight," said Lester. "A study by Zero Carbon Australia tells us that, on average, city-based drivers have a 38 kilometre daily commute, so daily re-charging is not necessary. Also, with a conscious mindset of overnight charging well in place thanks to mobile phones, most Australians are unlikely to have range issues."
Sold at 89 Nissan dealerships across the country – up from 12 when the Leaf was introduced in 2012 – Nissan will have the largest EV sales network in Australia, supported by EV installation experts JET Charge, Nissan's preferred charger installer at Nissan dealerships, and for customers is able to fit out homes with charging equipment.
"With more and more choice available, Australians are embracing electric vehicles, sales are going to grow, and Nissan is prepared for this growth," said Lester. "This means that the dealership has the expertise and infrastructure in place to charge and service a Leaf, is stocked with spare parts and accessories, and they have trained sales staff and service technicians. We also have the relationship with JET Charge who will support LEAF owners with charging infrastructure at their homes.
The new Nissan Leaf has an improved 110kW or power – up 38 percent versus the outgoing model – and 320Nm or torque, an increase of 14 percent over the first generation, adding a degree of exhilaration for the driver thanks to the instant acceleration. Charging times, depending on the charging connection, range between 24 hours to a less than 60 minute fast charge.
The Nissan Leaf, the world's most popular electric vehicle, has till now sold 360,000 units globally.
Also read: New Nissan Leaf leads EV sales across Europe
RELATED ARTICLES