New 2021 Nissan Qashqai breaks cover
Nissan's crossover will use a new platform, go hybrid-only and pack clever technology.
New 2021 Nissan Qashqai breaks cover
New 2021 Nissan Qashqai breaks cover
New 2021 Nissan Qashqai breaks cover
New 2021 Nissan Qashqai breaks cover
New 2021 Nissan Qashqai breaks cover
New 2021 Nissan Qashqai breaks cover
New 2021 Nissan Qashqai breaks cover
New 2021 Nissan Qashqai breaks cover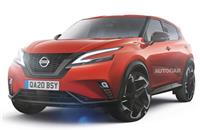 Nissan is building up to the launch of a new generation of its Qashqai best-seller and has revealed key details ahead of the car's debut early next year.
The third iteration of what the brand terms its "pioneering" crossover aims to build on its segment-leading success, with more than three million examples of the first two generations sold across Europe and five million globally.
It will use a new platform, is designed, engineered and built in the UK and, for the first time, won't feature a diesel engine. The Japanese manufacturer has released only disguised prototype shots and a preview image zoomed in on the headlight detail of the new model. However, the prototype images show that the overall profile of the new car is familiar. The front end has been inspired by the design of the new Juke, albeit with a less radical interpretation.
Nissan Europe product planning boss Marco Fioravanti claims the overall design objective has been to offer "the best stance in the segment", with a "more muscular yet dynamic image". A wider track, bigger-diameter wheels and a stronger shoulder line are claimed to enable this.
The new car is bigger than today's, but not significantly so to ensure that it remains a true C-segment model. It's 35mm longer, with 20mm of that length added to the wheelbase and the rest in the front overhang. It's also 32mm wider and, unusually, 25mm taller thanks in part to an increase in the Qashqai's ride height. The boot is 50 litres larger than the outgoing model's, too.
Underpinning the Qashqai is a new version of the Renault-Nissan-Mitsubishi Alliance's CMF-C platform, overhauled to enable greater electrification. Nissan says it allows a reduction in weight but an increase in stiffness – key to improving both efficiency and dynamics.
The platform uses a greater proportion of ultra-high strength steel than the old car's (up from 20% to 30%) and the underfloor structure is more rigid as Nissan aims for the highest possible safety rating in the imminent, more stringent crash tests. There is also structural bonding in key body joints to improve strength further. Overall stiffness is up 41% on the outgoing car.
Despite all this, Nissan has reduced the weight of the car's body-in-white by 60kg. Contributing to this is the use of composite materials for the bootlid and fuel cap, while using aluminium for the doors and bonnet has saved 21kg.
The suspension layout is familiar. For two-wheel-drive Qashqais with wheels up to 19in, a torsion beam rear set-up is used. Four-wheel drive models and those with 20in wheel get a multi-link arrangement.
Nissan claims the torsion beam set-up's new, vertically aligned spotting and dampers allow "a settled, composed ride, while maintaining excellent anti-roll performance". The multi-link set-up, now mounted to the sub-frame via bushes to reduce road noise, is said to offer a "best-in-segment balance between ride comfort and dynamic response".
Powering the new Qashqai is a slimmed-down, fully hybridised engine line-up that doesn't feature a single diesel. The standard engine choice is a 1.3-litre turbo petrol incorporating a 12V mild-hybrid system. Nissan claims a 12V system is "the best proposal for cost versus benefit", rather than a 48V system. It's available with 138bhp as a manual, front-drive-only model, or 155bhp equipped with a CVT automatic gearbox. A four-wheel-drive, CVT-only version tops the range.
Nissan says the new CVT gearbox, which replaces the dual-clutch transmission used in the outgoing model, offers the "best of both worlds", with the low-speed smoothness typical of a CVT combined with 'stepped' changes to reduce the 'rubber band' effect associated with that transmission type.
Also available, and expected to account for a significant proportion of sales, is a new e-Power hybrid variant. Details are scarce at this stage but it will put out 188bhp through the front wheels only. The e-Power system isn't a plug-in hybrid but instead uses an internal-combustion engine as a generator to charge a battery, which then drives an electric motor via an inverter. This is supposed to provide a similar driving experience to an EV around town. The system has proven popular in Japan, but Nissan claims it has been "adapted for European conditions".
The Seat Ateca rival's host of new tech features includes a more advanced ProPilot drive assistance package. This has more sophisticated sensors to allow, for example, the predictive forward collision warning to follow two cars ahead, rather than just the one immediately in front.
The autonomous braking has been tweaked for more smoothness, with an increased speed range, and the lane-keeping tech has been made smoother and more natural, while being able to self-steer in cornering forces up to 0.2g. Alongside a system that can automatically slow your car to the legal limit, there's one that reduces speed ahead of corners, junctions and so on.
Q&A: Marco Fioravanti, Nissan Europe vice president of product planning




Why no diesels for the new Qashqai? It was a core powertrain for the old one.
"As a region, we've already communicated our intention to progressively end our diesel offering. Today, it's still a part of the market, but we are overly confident that the customer is best served with petrol and hybrid. E-Power offers much more than a regular diesel: performance, refinement, comparable economy and accessibility."
Are there any plans for a plug-in hybrid version?
"It's not something we're offering. We are very confident the e-Power can offer better accessibility and cost [than a PHEV] and we're willing to maintain this level of accessibility known in Qashqai."
Would you follow other makers, such as Renault, in offering a coupé version?
"We don't see the need today [for a coupé-SUV Qashqai]. The audience of Qashqai is very wide. We think we have made the standard car dynamic and elegant."
Is there potential for a performance version, say, with Nismo branding?
"I cannot communicate anything about that today, but I am smiling. This is the key model in Europe and we are not closing the door. This is not the end of the story. This is the start. The lifecycle will be longer than before and there will be some surprises. Keep watching."
RELATED ARTICLES