Made-in-India Suzuki Baleno gets zero star in Latin NCAP test
Made-in-India Baleno with two airbags two airbags as standard gets zero star crash rating.
Made-in-India Suzuki Baleno gets zero star in Latin NCAP test
Made-in-India Suzuki Baleno gets zero star in Latin NCAP test
The New Car Assessment Programme for Latin America and the Caribbean, Latin NCAP, has released its latest results today, with very disappointing zero star performance for the Suzuki Baleno and one star for the Toyota Yaris. Although the Suzuki Baleno is built in India, these are not the cars sold in India but are exported to Latin America.
According to the automotive safety watdog, "the Suzuki Baleno made in India with two airbags as standard achieved zero stars. The popular compact car achieved 20.03% in Adult Occupant box, 17.06% in Child Occupant box, 64.06% in Pedestrian Protection and Vulnerable Road Users box and 6.98% in Safety Assist box.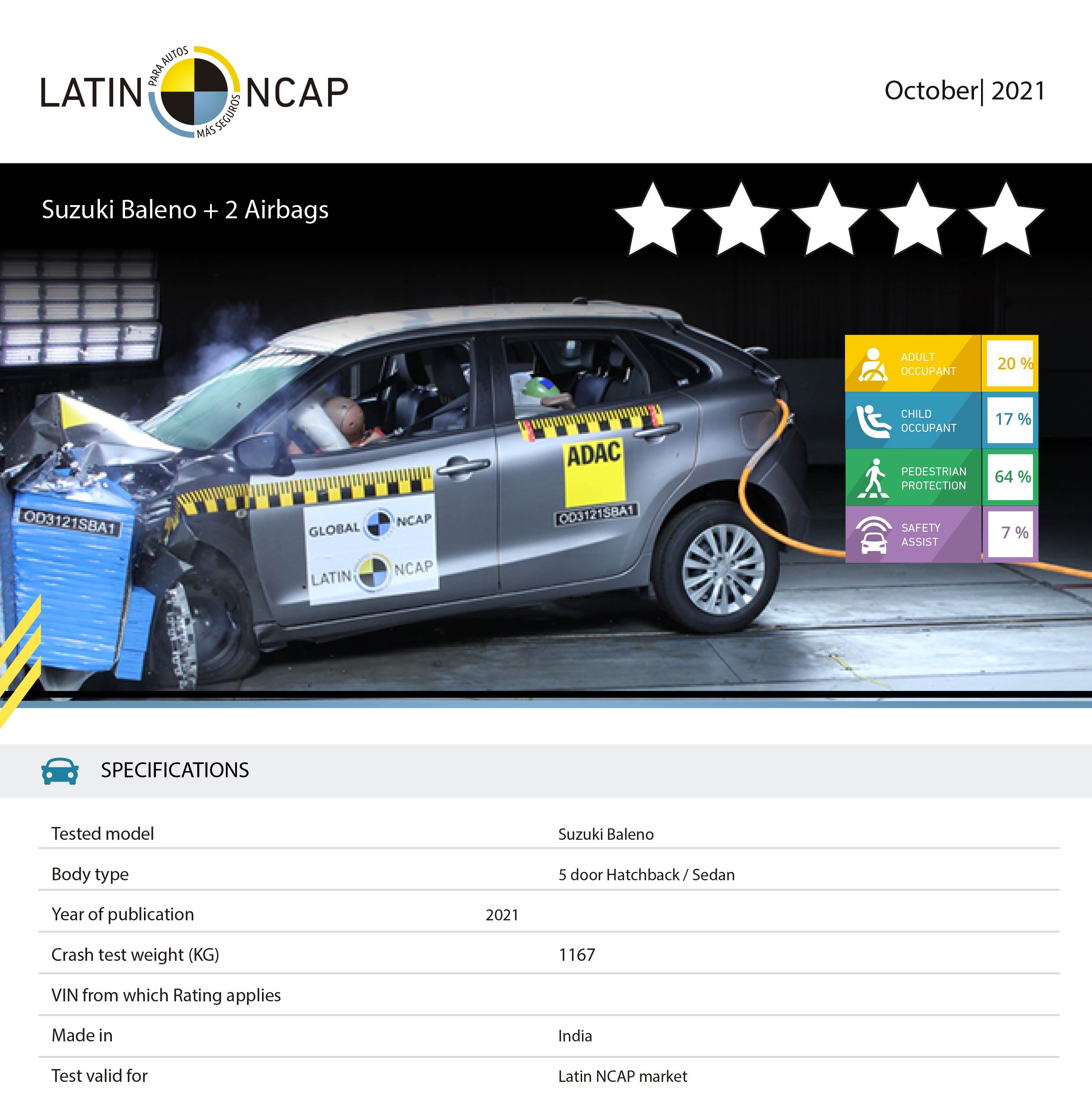 The zero stars result is explained by the poor side impact protection, low whiplash score due to the lack of UN32 proof for rear impact test, lack of standard side head protection airbags, lack of standard ESC and the decision of Suzuki of not recommending Child Restraint Systems (CRS) for the test. The Baleno was offered in Europe, 6 airbags and ESC as standard, while the model in Latin America is not offered with side body and side head airbags (curtain airbags) and ESC as standard. Suzuki refused to test the optional equipment to show its performance which opens the question of the effectives of those extra safety elements."
Testers notes
Frontal impact: The protection offered to the driver and passenger head and neck was good. Driver and passenger chest showed adequate protection. Driver and one passenger's knees showed marginal protection as they can impact with dangerous structures behind the fascia, the other passenger knee showed good protection. Driver tibias showed adequate protection, and passenger's tibias showed good protection. Footwell area was rated as stable. The bodyshell was rated as stable and is capable of withstanding further loadings.
Side impact: Head and pelvis protection was good; abdomen protection was adequate and chest protection was poor leading to zero points for this test. Side Pole Impact: was not performed as the car does not offer side head protection as standards. Whiplash: showed poor performance. the car can not prove the fillment of rear impact (R32) pre-requisites. AEB City: The car does not offer AEB City even as optional. Rescue sheet: not available.
<>
Alejandro Furas, Secretary General of Latin NCAP said: "Baleno's zero star is part of an ongoing disappointment, after the Swift's zero star rating some weeks ago. With specially poor safety performance in adult and child occupant protection on offer from Suzuki as standard to Latin American consumers. Even more surprising and disappointing is Toyota's first ever one star model, the Yaris. It is concerning that a decision made by Toyota Mexico is the main reason for this result but moreover the responsible of the decision of not offering now, as standard key safety equipment. As a result of the decision, key safety equipment such as side body and side curtain airbags are not available for all Latin Americans".

"Latin NCAP calls on Toyota and Suzuki to significantly improve the standard safety equipment on these models as soon as possible and for them to be tested to demonstrate the improvements. Basic vehicle safety, which is taken for granted in mature markets, is a right that Latin American consumers should claim without having to pay extra for them".

Stephan Brodziak, Latin NCAP Chairman said: "It is unfortunate to have another zero stars car from Suzuki, in this case the Baleno model, which in some countries is marketed as" Good, Nice, Baleno", to which we should add "Low safety". As for the Toyota Yaris is very disappointing that it has obtained only one star, as this car is so popular in our region, with a very high market penetration. In previous tests Toyota had a very good safety performance record, which is inevitably stained when designing with such low safety of one of the most accessible vehicles for consumers that the brand has, due to the risk involved in having a one star vehicle circulating on the streets of our region. We make an energetic call for both Suzuki and Toyota to be committed to the safety of the consumers in Latin America and the Caribbean, we do not want more zero and one stars cars circulating in our countries".
ALSO READ
India's Top 10 safest cars as rated by Global NCAP
RELATED ARTICLES