Lynk&Co 03 Cyan Concept is fastest four-door at Nurburgring
Lynk&Co's road-legal version of World Touring Car racer beats Jaguar XE SV Project 8 – albeit in concept guise
Lynk&Co 03 Cyan Concept is fastest four-door at Nurburgring
Lynk&Co 03 Cyan Concept is fastest four-door at Nurburgring
Lynk&Co 03 Cyan Concept is fastest four-door at Nurburgring
Lynk&Co 03 Cyan Concept is fastest four-door at Nurburgring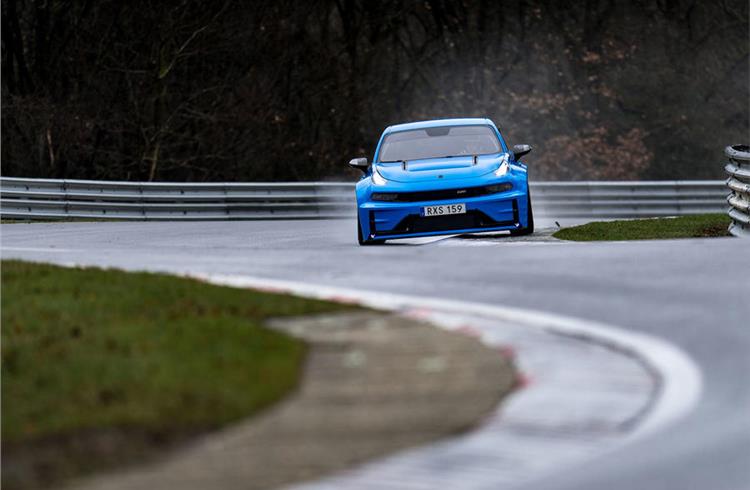 Lynk&Co 03 Cyan Concept is fastest four-door at Nurburgring
Lynk&Co 03 Cyan Concept is fastest four-door at Nurburgring
Lynk&Co 03 Cyan Concept is fastest four-door at Nurburgring
Lynk&Co 03 Cyan Concept is fastest four-door at Nurburgring
Lynk&Co 03 Cyan Concept is fastest four-door at Nurburgring
Lynk&Co 03 Cyan Concept is fastest four-door at Nurburgring
Lynk&Co 03 Cyan Concept is fastest four-door at Nurburgring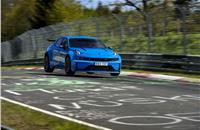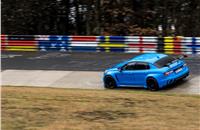 World Touring Car team Cyan Racing claims to have broken the front-wheel-drive and four-door lap records at the Nurburgring with its Lynk&Co 03 Cyan Concept.
A lap time of 7min 20.143sec marks a three-second improvement over Jaguar's limited-run XE SV Project 8, which broke its own four-door record just last month. However, that car was in full production guise, while Cyan's model remains a "mass production-based" concept for now.
The previous fastest front-wheel-drive record was held by the Renault Mégane RS Trophy R, which set a time of 7min 40.1sec ahead of its launch earlier this year.
The 03 Cyan Concept is a road-legal reworking of Geely-owned Lynk&Co's World Touring Car (WTCR) racer, and is being tested as part of a development programme for what the company calls "an extended performance offer".
The record-setting car was powered by a 2.0-litre turbocharged four-cylinder petrol engine producing 521bhp and 372lb ft, but it is not clear if this powertrain will reach any kind of production beyond racing.
The 03 Cyan Concept is claimed to accelerate from 0-62mph in 4.4sec and on to a top speed of 193mph. Its claimed average speed around the circuit was 106mph.
Like the touring car on which it is based, it features a prominent front splitter, wide wheel arches, carbonfibre side skirts and a large rear wing.
At the wheel for the record-breaking run was WTCR driver Thed Bjork, who said: "The record that we achieved here is something I rank on the same level as my racing titles and a highlight in my part of transitioning development from race to road cars."
Lynk&Co revealed the standard 03 last year as a China-focused four-door saloon that sits atop Volvo's CMA platform and offers a choice of conventional and electrified petrol powertrains.
Henrik Fries, Cyan Racing's head of automotive R&D, said: "While our main purpose for the many laps on the Nurburgring Nordschleife is development, the records that we broke are a true testament to the potential and capabilities of the Lynk&Co platform, as well as our engineering philosophy from more than two decades of motorsport and road car performance."
RELATED ARTICLES