Koenigsegg Gemera gets new 2300hp V8 hybrid powertrain
In production-spec, the Gemera will be available with two hybrid powertrains, each featuring a new radial-flux electric motor that alone produces 800hp and 1,250Nm.
When Koenigsegg debuted the Gemera in 2020, it came with a 2.0-litre turbo-petrol engine coupled with three electric motors producing 1,700hp. Now, the Swedish carmaker has finalised the customer specification of the Gemera, its four-seater 'megacar' – so named because it produces more than one megawatt of power (1,360hp).
In production-spec, the Gemera will be available with two hybrid powertrains, each featuring a new radial-flux electric motor that alone produces 800hp and 1,250Nm.
Koenigsegg Gemera powertrain
The Gemera now uses the 5.0-litre twin-turbocharged V8 petrol engine from the Jesko hypercar that comes coupled with an all-new electric motor nicknamed the 'Dark Matter' for its claimed high-power density. It is paired with an evolution of Koenigsegg's clutchless and flywheel-less nine-speed gearbox.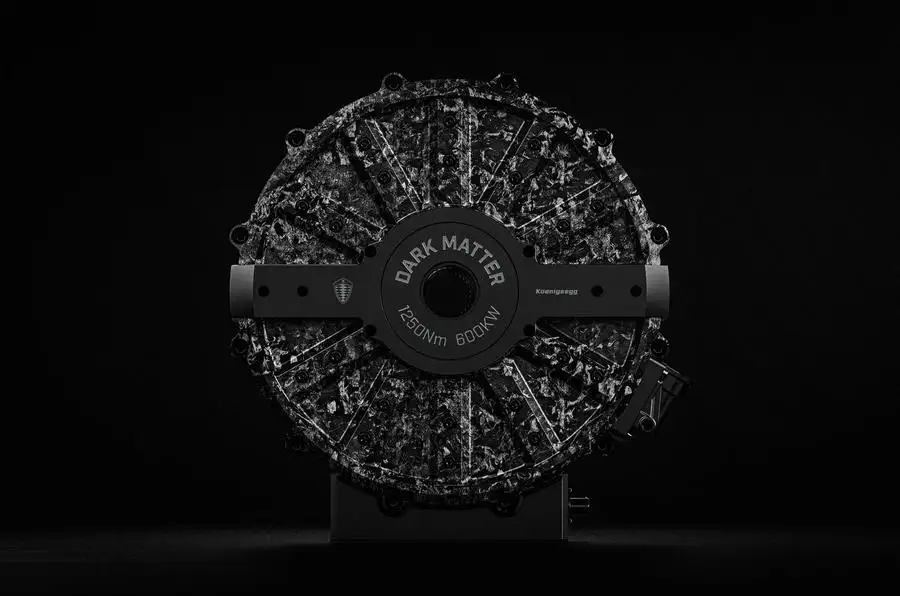 The new electric motor is nicknamed 'Dark Matter'
The combination reduces the powertrain's overall size and weight compared to the direct-drive system that was previously considered. That powertrain, which does duty on the Koenigsegg Regera, used what was effectively a fixed-ratio gearbox with three electric motors to power the car at low speeds, before the engine kicked in at around 3,500rpm. In the Gemera, the exhaust has been relocated above the engine – making it what the Swedish carmaker calls a 'hot V8' or HV8 – bringing a slight reduction in output to 1,500hp from 1,600hp in the Jesko (when running on E85 ethanol fuel).
Nonetheless, the final result is a massive uplift in the Gemera's overall power output: combined with the 800hp motor, the 'hot V8' powertrain can send 2,300hp and 2,750Nm through all four wheels.
The powertrain comprises a 14kWh battery.
The original 2.0-litre, three-cylinder turbo-petrol unit – nicknamed 'The Tiny Friendly Giant' by Koenigsegg for its relatively large output of 600hp – remains available in the production Gemera. However, the move to one electric motor, rather than three, means this powertrain now produces about 300hp less than originally planned, kicking out 1,400hp in total. That still makes the 2.0-litre Gemera one of the most powerful hybrids in production.
Both systems use a 14kWh battery and feature torque vectoring at each corner, boosting both agility and stability at speed.
Gemera to be brand's first GT
Company founder Christian von Koenigsegg said: "The Gemera HV8 is not only the most powerful and extreme production car on planet Earth, with an astonishing 1.11hp per 1kg, but it is also the most practical and user-friendly sports car ever created.
"Its incredible response, handling, engine sound, crisp transmission, spacious interior, and four-wheel drive systems combine to create an unprecedented and unparalleled driving experience, ready to set numerous records of performance around tracks and in straight lines."
The Gemera is Koenigsegg's first four-seater GT car.
The Gemera is also Koenigsegg's first foray into the GT market, the firm having only produced two-seat supercars up to this point. It features four seats and around 200 litres of storage space, putting it on par with most city cars for practicality.
Production begins at the Swedish firm's new Gripen Atelier factory next year, ahead of deliveries beginning in early 2025. Just 300 Gemeras will be built.
Prices have yet to be officially confirmed, though it's all but certain to begin above the £1 million mark (Rs 10.6 crore approximately), given the Gemera's boundary-pushing technologies and limited production.
Also See:
Pininfarina Battista Edizione Nino Farina unveiled
RELATED ARTICLES