Kia reveals 2021 Sorento SUV
Latest avatar of the Sorento, one of Kia's best-selling vehicles with nearly 1.5 million units sold since its introduction in 2002, introduced in the USA
Kia reveals 2021 Sorento SUV
Kia reveals 2021 Sorento SUV
Kia reveals 2021 Sorento SUV
Kia reveals 2021 Sorento SUV
Kia reveals 2021 Sorento SUV
Kia reveals 2021 Sorento SUV
Kia reveals 2021 Sorento SUV
Kia reveals 2021 Sorento SUV
Kia reveals 2021 Sorento SUV
Kia reveals 2021 Sorento SUV
Kia reveals 2021 Sorento SUV
Kia reveals 2021 Sorento SUV
Kia reveals 2021 Sorento SUV
Kia reveals 2021 Sorento SUV
Kia reveals 2021 Sorento SUV
Kia reveals 2021 Sorento SUV
Kia reveals 2021 Sorento SUV
Kia reveals 2021 Sorento SUV
Kia reveals 2021 Sorento SUV
Kia reveals 2021 Sorento SUV
Kia reveals 2021 Sorento SUV
Kia reveals 2021 Sorento SUV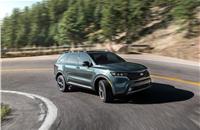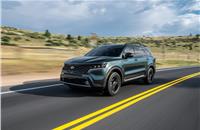 The new Kia Sorento SUV has rolled out in West Point, Georgia, USA. The new Sorento's exterior and interior have been designed in the US at Kia's Irvine, California studio. Crisp lines, bold fascias and distinctive details combine with an interior that exudes rugged elegance and features available Bose premium audio, panoramic sunroof and up to eight USB ports.
Since its debut in 2002, the Sorento is one of Kia's best-known and best-selling vehicles, becoming progressively more powerful, more attractive, better engineered and more technologically advanced in each new iteration. Not surprisingly, the SUV has sold nearly 1.5 million units. The 2021 model claims to set a new standard in the compact SUV segment as the only vehicle in its class to offer the best estimated fuel economy for a 3-row SUV with 37 mpg combined.
"Sorento has always been one of Kia's premier products," said Sean Yoon, president & CEO, Kia Motors North America & Kia Motors America. "Its combination of style, utility, safety and comfort have made it a perennial customer favorite. This stunning new Sorento sets the bar in the compact SUV class even higher and represents the pinnacle of Kia design and engineering. We're extremely proud to add it to our line-up of incredible automobiles."
The 2021 Sorento is expected to go on sale later this year and pricing will be announced closer to its on-sale date.
Wide target audience
The 2021 Sorento will be offered in five trims: LX, S, EX, SX, and SX-Prestige and available with either FWD or AWD. Initially available with three powertrains, including a turbo hybrid, a PHEV will be introduced in the next model year. The hero model is the X-Line SX-Prestige AWD, a variant that further demonstrates the transformation of the Sorento into a more premium and tech-oriented SUV. The X-Line SX-Prestige AWD trim includes:
- Standard torque-on-demand AWD with center locking differential and downhill descent control
- Increased ride height to 8.3-in. (1.0-in. increase over standard ride height)
- Exclusive bumper and exterior details, such as unique 20-inch alloy wheels and bridge-type roof rack
Built on new N3 platform
The 2021 Sorento gets Kia's modernised 'tiger nose', with new 'eyeline' DRL details and a wide grille extending into the headlight and hood structure. The hood edge wraps around the body side and integrates into the rear shoulder line, enhancing length and width. Standard LED headlamps and optional signature LED forward lighting includes daytime running lights. Headlamp and DRL modules are separated for a high-tech look
The 2021 Sorento is built on an all-new third-generation 'N3' platform that is a lighter, stronger and more flexible design than previous models. Features include:
- Increased wheelbase by nearly 1.4 inches for more interior space
- Body-in-white weight is reduced by 5.6% and overall weight is reduced by 3.1% (119 lbs.)
- Average tensile strength is improved by 4% compared to the previous Sorento
- Improved driving dynamics, including acceleration, ride and handling, and noise vibration and harshness (NVH)
- New aluminum bumper plate for improved durability
- Distribution of impact kinetic energy forces through multi-load-path body structure
- Versatility to accommodate alternate drivetrains, such as hybrid and plug-in hybrid (available in calendar year 2021)
Four engines: 2 ICE and 2 electrified
Four engines are offered on the 2021 Sorento, including two internal combustion powerplants and two electrified motors in both front-wheel drive (FWD) and all-wheel drive (AWD) configurations:
- 2.5-litre GDI 4-cylinder, 8-speed automatic transmission, 191 horsepower and 182 lb.-ft. torque, FWD or AWD
- 2.5-litreGDI 4-cylinder Turbo, 8-speed wet DCT, 281 horsepower and 311 lb.-ft. torque, FWD or AWD
- 1.6-litre GDI 4-cylinder Turbo Hybrid with 44 kW electric motor, 6-AT, 227 horsepower, 1.5 kWh battery, FWD
- 1.6-litre GDI 4-cylinder Turbo Plug-in Hybrid with 66.9 kW electric motor (available in 2021), 6-speed automatic transmission, 261 horsepower, 13.8 kWh battery, eEstimated 30-mile all-electric range, AWD
Tech-laden SUV
Like all Kia vehicles, the new Sorento is loaded with an extensive list of popular technology, including: 12.3-inch full digital meter cluster (a first for any Kia SUV); Surround View Monitor with four cameras to provide a 360-degree perspective around the vehicle; Blind View Monitor projects live video view of adjacent lanes in the instrument cluster and activated via the turn signal (a Sorento first) and 8 USB charging ports (6 in LX); 8-inch or available 10.25-inch high-resolution color touchscreen display; split-screen functionality; Sirius satellite radio. All this plus Kia's UVO connectivity. UVO & Smart Speaker Integration lets customers use Amazon-Alexa or Google-Assistant enabled smart speaker or device to remotely control some functions (such as remote start).
There are also 16 'Kia Drive Wise' Advanced Driver-Assistance Systems (ADAS) that are either standard or available.
RELATED ARTICLES