Kia design boss: "the post-SUV is coming"
Brain behind Kia's Opposites United design philosophy explains why traditional 4x4 days are numbered.
The EV9, available later this year, is a riposte to the trend of aero dictating EV design
Opposites United has won the latest crop of Kias high praise from consumers and critics
Canadian Habib has been designing cars since 1998
"SUVs were maybe a learning from people driving [MPVs] and being tired of it" says Habib
The EV6 is a lower-slung, more aggressive approach to SUVs than the EV9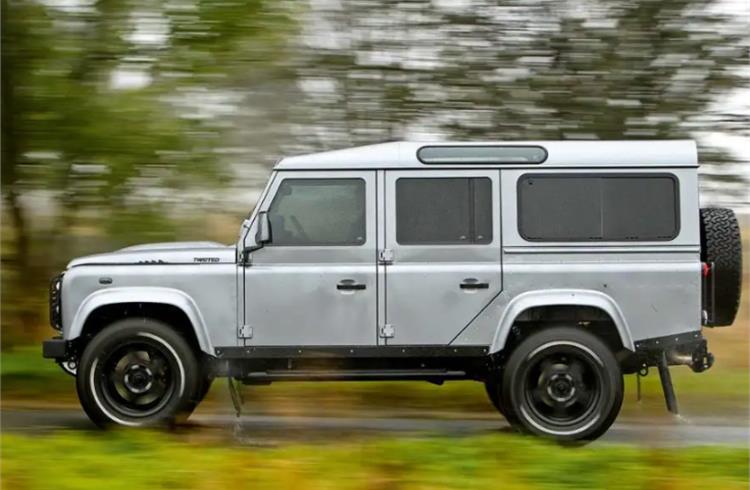 Habib tried to buy into the Defender's simplicity when designing the EV9
It can be hard to cut through the guff when car brands put a name to their future design strategy.
Modern Solid, Sensuous Sportiness and the like – vague terms cooked up in the great marketing microwave in a bid to draw a clean link between every product in a brand's line-up. And now there's Opposites United – not an ill-conceived dating app but Kia's vision of a range of cars taking inspiration "from the contrasts found in nature and humanity".
Unroll those eyes, though, because upon dissection, this name proves a refreshingly succinct summary of the contrasts between severe and soft and curvesome and clean-cut that have won the latest crop of Kia's such high praise from consumers and critics alike.
The Sportage, Sorento, EV6, EV9 and EV5 have embodied the philosophy to great effect, and no doubt a good portion of Kia's astronomical global success can be attributed to the confident, daring explorations of its stylists.
Charged with taking the concept from sketchpad to showroom is acclaimed car designer Karim Habib, known for penning a number of hugely important BMWs during his many years in Munich before joining Kia (via Infiniti) in 2019.
The Canadian took centre stage recently to reveal the new three-row EV9 electric SUV and will no doubt become a de facto frontman for Kia as it pushes forward with realising its ambitious global product plan over the coming years.
Immediately he's keen to set one thing straight: what categorically isn't driving Kia's design strategy, despite the top-rung EV9's expected £80,000 list price, is an overt desire to be a premium disruptor.
"We never try to talk about premium or luxury," explains Habib. "First of all, these words are overused. They don't ring true to us. But I think there's an aspirational quality that we would like our products to have.
And I don't know if that's exactly the right word, but we want people to care, because it means something."
The Opposites United label applies as much to the Kia line-up in its entirety as it does each individual model. The EV9, for example, takes a radically different design approach to its technically related EV6 sibling, and the stylistic links between the Picanto and Proceed, Sportage and Stonic and Soul and Sorento are subtly effective, rather than overt – a manifestation of Kia's steadfast desire not to pursue the Russian doll approach.
Habib says he wants to achieve "a product portfolio that has a certain consistency between the products but at the same time has its own particular elements".He adds, though, that the stark difference between the EV6 and EV9 doesn't necessarily point to a move towards such radical differentiation for each and every future model. "I don't think each one will be as different as these two," he says. "That's not the way we want to build a brand. We want to build a brand with consistency and recognisability.
But at the same time, we build almost three million cars a year, and with very different typologies for different types of vehicles in different markets, so they can't be all out of the same mould."
Indeed, while the EV9 is much more recognisably an SUV in the traditional sense than the lower-slung, more aggressive EV6, its design ethos doesn't signal a shift away from the hallmarks established by the latter.
"I wouldn't say we're abandoning anything, honestly," says Habib. "We tried to develop a design philosophy that isn't based on dogma. There are maybe certain principles that will be repeated in the other cars, but the execution and the different ways of using it I think needs to be open."
The killer question for any designer today, then, and one that seems especially pertinent when posed in the shadow of the monolithic, towering EV9: will we always have SUVs?
Habib responds with refreshing humility: "I don't like to pretend that I can tell people what they're going to be doing in the future."
But there is a philosophical debate to be had here, and it's one that's clearly shaping every discussion within the walls of Kia's Namyang design studio.
"SUVs were maybe a learning from people driving [MPVs] and being tired of it," he ponders, adding more categorically and intriguingly: "The post-SUV is coming."
In recent months, several brands have hinted that the days of the traditional SUV – which is to say upright, two-box, fully road-biased and often derided by car enthusiasts – are numbered.
Growing focus on aerodynamic efficiency and sustainability is necessitating a rethink, even as demand for such models surges to unprecedented levels.
Habib takes an open approach: "We will try different things," he says. "I do think there are more efficient ways of doing space."
The looming eradication of the transmission tunnel and engine bay enables a totally new approach to interior design, and the cars of the near future theoretically needn't be the same size and shape to offer comparable utility and comfort.
"I personally believe that you can do really cool vans," he says, pointing to the rakish, not-for-UK Carnival as a "cool" and "desirable" take on the traditional MPV. Ultimately, though, for Habib it's not a question of segmentation. Instead: "I think in a world where technological progress needs to be visible.
"If the SUV doesn't manage to show that, it's not going to survive. If we manage to create vehicles that are SUVs that do feel like they progress, I think they're going to survive. So I think that's more the question than the actual typology itself: what does it symbolise?"
Kia's design lessons from Land Rover
Kia taking design inspiration from Land Rover? Unthinkable, perhaps, but consider the EV9's simplistic lines and minimalist cues.
"There's something really nice about these sorts of authentic, honest, boxy SUVs," says Habib. "When you look at a Land Rover Defender today, an old or a new one, there's still something really quite cool about that."
"Whether it's a Jeep or a Defender, those panels weren't even stamped, just bent. There's something nice about that authenticity, so we wanted to tap into that."
There's no suggestion that a bare-bones Kia 4x4 is on the cards, but the EV9's clean-cut silhouette could signal a willingness to concede some aero efficiency for character.
"A love for that authentic proportion is part of it, says Habib. "And to be honest, the other reason is now that EV SUVs are all trying to be super-sleek, so we just wanted to try to not do that and [yet] still try to achieve the aerodynamic efficiency that would get us to the range that we want to have."
RELATED ARTICLES