Jaguar I-Pace wins European Car of the Year 2019 award
Sixty expert journalists choose Jaguar's all-electric performance SUV above six other finalists
Jaguar I-Pace wins European Car of the Year 2019 award
Jaguar I-Pace wins European Car of the Year 2019 award
Jaguar I-Pace wins European Car of the Year 2019 award
Jaguar I-Pace wins European Car of the Year 2019 award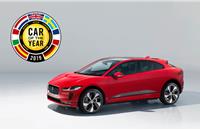 The all-electric Jaguar I-Pace has been voted 'Car of the Year' at the European Car of the Year Awards 2019. This is the first time a Jaguar has won the coveted prize.
Only last week, the I-Pace was named UK Car of the Year and was praised for being 'miles ahead of the premium EV pack'. The European Car of the Year jury comprises 60 motoring journalists from 23 countries, and the award recognises technical innovation, design, performance, efficiency and value for money.
Jaguar's electric performance SUV triumphed over six other finalists – the Alpine A110, Citroën C5 Aircross, Ford Focus, Kia Ceed, Mercedes-Benz A-Class and Peugeot 508 – and was the only vehicle on the shortlist to boast zero emissions.
However, it was a very close contest. The unprecedented tie between two cars on top of the voting chart, with 250 points each, had to be resolved by counting the number of top marks: 18 for the Jaguar, 16 for the Alpine. The Jaguar I-Pace won and the Alpine A110 was a moral 'co-winner'. The Kia Ceed was just three points behind of the leaders, with 247 points; and its segment rival, the Ford Focus, not far away, with 235 points, followed by the Citroën C5 Aircross, with 210 points, Peugeot 508, with 192, and the Mercedes-Benz A-class, with 116 points.
Prof. Dr. Ralf Speth, CEO, Jaguar Land Rover, said: "For our first electric vehicle to also be the first Jaguar to win European Car of the Year gives us a huge sense of pride. "I-Pace was designed and engineered in the UK from a clean sheet of paper. It is the most technologically advanced battery electric vehicle. It's a true game-changer. Winning 'European Car of the Year' is an honour and real recognition of what our world-class team has delivered."
Designed and developed in the UK, the Jaguar I-Pace has had robust sales success globally, with more than 8,000 customer deliveries to date – 75 per cent of them in Europe.
Rawdon Glover, managing director, Jaguar Land Rover UK, said: "It's fair to say that the Jaguar I-Pace is on a roll; only 10 weeks into the year and Jaguar first all-electric model has already received a further 13 major international awards. This latest European Car of the Year title is a real testament to the skills and dedication of the entire Jaguar Land Rover workforce in our home market. It's not just the experts that love I-Pace, either; UK customers have been rushing to our showrooms to experience the very latest in hi-tech British innovation and engineering."
The I-Pace has received 55 awards worldwide since it was revealed a year ago
RELATED ARTICLES