Intel to invest $20 bn for chip factories in Ohio, USA
Construction of Intel factories expected to begin late in 2022 and production is expected to come online in 2025.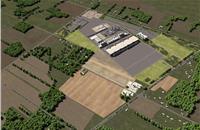 Intel announced plans for an initial investment of more than $20 billion in the construction of two new chip factories in Ohio. The investment will help boost production to meet the surging demand for advanced semiconductors.
Planning for the first two factories will start immediately, with construction expected to begin late in 2022. Production is expected to come online in 2025, when the fab will deliver chips using the industry's most advanced transistor technologies.
Pat Gelsinger, CEO of Intel said, "Intel's actions will help build a more resilient supply chain and ensure reliable access to advanced semiconductors for years to come."
At full buildout, the total investment in the site could grow to as much as $100 billion over the next decade, making it one of the largest semiconductor manufacturing sites in the world.
To help develop and attract a pipeline of skilled talent from within the region, Intel pledged an additional $100 million toward partnerships with educational institutions to build a pipeline of talent and bolster research programs in the region.
In addition to providing capacity for Intel's leading-edge products, these new factories will support growing demand for the company's new foundry business, Intel Foundry Services (IFS).
RELATED ARTICLES