'India emerging as a preferred global manufacturing destination and sourcing hub': ACMA president
Sunjay Kapur, who is leading a 31-ACMA member team in Japan, makes strong pitch for India as a manufacturing and sourcing hub in his keynote address at IEB AutoTech 2022
ACMA president Sunjay Kapur: "India is emerging as a preferred global manufacturing destination and sourcing hub owing to its proximity to markets such as ASEAN, Europe, Japan, and Korea."
Over 30 ACMA member companies are in Japan, displaying their latest products and technologies.
India has a large pool of engineers, software professionals, and other specialists and is also cost-competitive, with one of the lowest engineering costs globally.
As the global automotive industry, estimated to be worth US$2.86 trillion (Rs 23,200,320 crore) and expected to grow by 5% to $3 trillion (Rs 24,336,000 crore) by end-2022, searches for efficient, high-quality and reliable manufacturing havens in the wake of the pandemic and semiconductor supply chain crisis, India is turning into a beacon of hope and sustainable growth.
With their production and profits badly impacted by the supply chain and other crises over the past two years, global automakers well as component suppliers are now cognisant of the profitable Make-in-India manufacturing mantra for the domestic as well as global markets. And, made-in-India automotive components and their manufacturers are now part of a number of world-leading passenger vehicle, commercial vehicle and two-wheeler OEMs.
Make in India, for the world
It is this message of India transforming into a preferred global manufacturing as well as sourcing destination that Sunjay Kapur, President of the Automotive Component Manufacturers Association (ACMA), the apex body of the supplier fraternity, conveyed in his keynote address at the IEB AutoTech 2022 in Tokyo, Japan.
Kapur, who is leading a 31-ACMA member team to Japan, said: "This event is happening in the backdrop of the highest growth in the Indian economy, a testimony to the right policies and interventions by our government in one of the most trying times. We are today the world's fifth-largest economy having recently outperformed that of Great Britain. India, indeed, is a sweet spot today with projected growth rate for its GDP by IMF at 7%."
"The global macroeconomic outlook remains uncertain as sustained high inflation and rapidly rising interest rates can potentially slow the large developed economies. While India cannot remain unaffected by global economic events, the macros in India today are stronger than ever before," he added.
Highlighting the advantage of India as a global manufacturing destination, Kapur said: "In a challenging global environment, Indian companies are at the forefront of developing in-house capabilities. Our manufacturing value chains are firmly positioned because of factors like entrepreneurship, raw material advantages, and manufacturing skills. We are further developing our value chains to gain a competitive advantage and boost exports and import localisation. Our strong focus on deep localisation is a step toward reducing dependence on other countries and therefore investing locally in future technologies."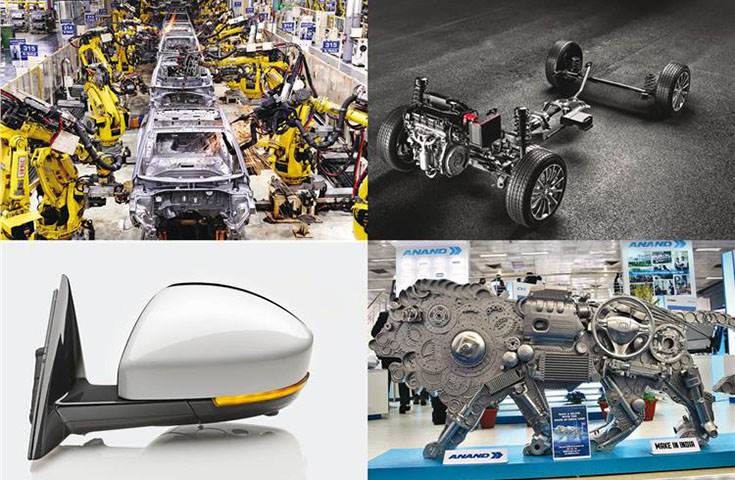 India as alternate supply base amid global challenges
The global auto industry is witnessing the most disruptive time ever in its history. Even as the mega trend of electrification takes firmer shape, there are the trends of shared mobility, need for higher connectivity, autonomous mobility, far more stringent emission norms and also declining vehicle consumer ownership. Given this scenario, OEMs and component manufacturers worldwide are keen on reliable supply chains.
The ACMA president took up this issue when he said: "Companies all over the world are revamping manufacturing value chains to gain elasticity. They are turning to India to add alternate supply bases. Indian industry is well-positioned for this opportunity and is gaining strength as a conducive environment for global companies. Why? Because India is emerging as a preferred global manufacturing destination and sourcing hub owing to its proximity to markets such as ASEAN, Europe, Japan, and Korea. It has a large pool of engineers, software professionals, and other specialists. We are also cost-competitive, with one of the lowest engineering costs globally."
"We have a young population, we have a policy framework which encourages us to become a factory to the world, an office to the world, a global hub for manufacturing. We have a strong digital infrastructure and this is demonstrative from the India Stack, and we are undergoing a massive energy transformation."
"Global companies are increasing investment in India to leverage the country's talent, cost, and policy support advantages. India accounts for 40% of $31 billion of global engineering R&D spending. Eight percent of our R&D expenditure is in the automotive sector. India also has a favourable trade policy that allows 100% foreign direct investment and no restrictions on import-export. As well as several FTAs signed with various countries."
"The 'sunrise' sectors, such as electric and autonomous mobility, need more investments. The government's policies in the form of Faster Adoption & Manufacturing of EVs or FAME-II scheme and selection of auto components manufacturers for the Production Linked Incentive scheme have been a tremendous support. The PLI scheme in the automobile and auto component sector, batteries and FAME 2, with a financial outlay of US$ 8 billion, will help India become an attractive alternative source of high-end auto components for the world over the next five years."
ALSO READ
SIAM, ACMA presidents rev up growth story at IAA India Day 2022
Indian component industry clocks highest-ever turnover in FY2022, grows 23%, trade surplus for first time
RELATED ARTICLES