Hyundai Mobis plots three-pronged strategy to double growth in Europe
Growth focused around its three core businesses: Electrification (battery/PE system), next-generation chassis (X-By-Wire), and connectivity; aims to double revenue growth year-on-year to achieve 30% annual sales growth in Europe by 2030
Axel Maschka, EVP, and Head of Hyundai Mobis' Business Division announcing the 'Mobis Mobility Move 2.0' strategy at IAA Mobility 2023.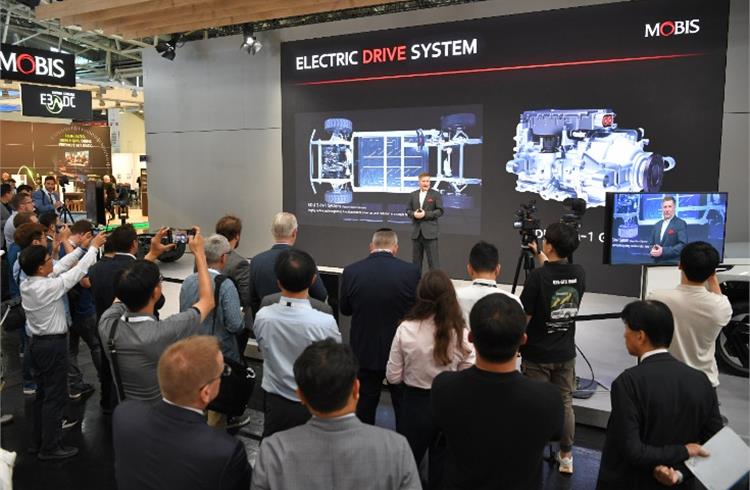 The company's approach for the European market is focused around its three core solutions, involving EV core components such as battery systems and power electronics (PE systems).
Global automotive industry vendor Hyundai Mobis has outlined an aggressive strategy for achieving growth in Europe. Earlier this month, at IAA Mobility 2023 in Munich, the company announced its European market expansion strategy 'Mobis Mobility Move 2.0'.
Hyundai Mobis states that is confident it can rapidly expand in Europe where electric vehicle technology is already making an impact, as highlighted by the recent contract win for its large-scale battery system with Volkswagen, one of the world's leading automobile manufacturers. The company's approach for the European market is focused around its three core solutions, involving electric vehicle core components such as battery systems and power electronics (PE systems).
"The Mobis core solution will play a significant role in the European automotive market as it shifts to electric," explained Axel Maschka, Executive Vice-President and Head of Business Division, Hyundai Mobis. "We expect orders from the region will more than double compared to last year. By 2030 we are aiming for an annual sales growth of over 30% in the European market."

EXPANSION THROUGH INNOVATIVE MOBILITY SOLUTIONS
At the expo, Hyundai Mobis highlighted the market leadership of its electrification solutions including the Battery System (BSA) and Power Electronics System (PE System) installed in the Kia EV9, as well as its next-generation electric platform, e-CCPM (Electric Complete Chassis Platform Module).
The e-CCPM (Electric Complete Chassis Platform Module) is an integrated platform that will serve as the basis for future PBVs. It is an all-in-one platform module that integrates the chassis module and battery for future EVs
During the press conference, Hyundai Mobis announced it is developing an 800V high-voltage battery system and a third-generation PE system suitable for high-performance electrical vehicles.

Hyundai Mobis plans to target the European mobility market using 'X(Everything)-By Wire' and '5G-based V2X (Vehicle to Everything) Integrated Control' technologies. X-By-Wire transforms essential functions like steering and brakes from mechanical to electronic controls, in line with demand for electrification. This next-generation chassis technology enhances freedom in vehicle architecture, design, and spatial capabilities, and Hyundai Mobis states that it has the expertise to build the full range of By-Wire solutions including Electronic Steering (Steer-By-Wire), Electronic Braking (Brake-By-Wire), and Independent Rear Wheel Steering (Rear Wheel Steering).
Hyundai Mobis has started its development of 5G-based V2X Integrated Control technology, which is considered a core technology for Level 4 autonomous driving. This technology enables vehicles to exchange large amounts of data with exterior environments (other vehicles, intelligent transportation systems) without delay. Having already developed a secure 5G communication module, Hyundai Mobis is planning to introduce a new telematics product integrating V2X technology to the market soon.

The company states that its "investment in state-of-the-art mobility solutions is driven by the willingness of automotive manufacturers in Europe to embrace innovation."
Hyundai Mobis is confident it can achieve a target for orders in the European region of $1.29 billion, which is two times higher than last year. In the first half of this year, Hyundai Mobis has already secured orders for automotive electric parts, such as its advanced assistance system (ADAS) camera sensors from major European brands.
At IAA Mobility 2023, Hyundai Mobis introduced 20 of its new ready-to-mass-produce technologies such as the next-generation integrated cockpit system (M.VICS 4.0), Hologram AR-HUD, and rollable display. It is understood that top executives from major European automakers such as Volkswagen, BMW, and Daimler visited the company booth at the expo.
ALSO READ: Hyundai Mobis wins global business worth $4.7 billion in 2022, targets $5.4 billion this year
RELATED ARTICLES