Honda and Mitsubishi to explore new EV-specific businesses
In view of the rapid shift towards e-mobility, Honda Motor Co and Mitsubishi Corp have inked an MoU to set up new businesses in the form of battery lifetime management, smart-charging and V-to-Grid services.
Honda Motor Co and Mitsubishi Corporation have announced the signing of a memorandum of understanding (MoU) to begin discussions toward the creation of new businesses with an aim to leverage the strengths of both companies to build sustainable business models in light of anticipated growth in the electric vehicle (EV) market toward a decarbonised future society.
The two Japanese companies will explore the possibility of new businesses with a goal to increase the value offered to customers through their EV and EV battery business.
Battery Lifetime Management Business: This new business would aim to maximise the value of batteries to be installed in Honda mini-EV models, that are scheduled to begin sales in Japan in 2024.
By employing a sophisticated battery-monitoring system, the new business would manage and maximize the value of each battery throughout its lifetime shifting from powering EVs to use as stationary energy storage.
Smart-charging and V2G Energy Management Business: This new business would help EV users to optimize their electricity costs by offering access to smart-charging, V2G (Vehicle-to-Grid services and green (renewable) power which leverages advanced control technologies for the energy management system.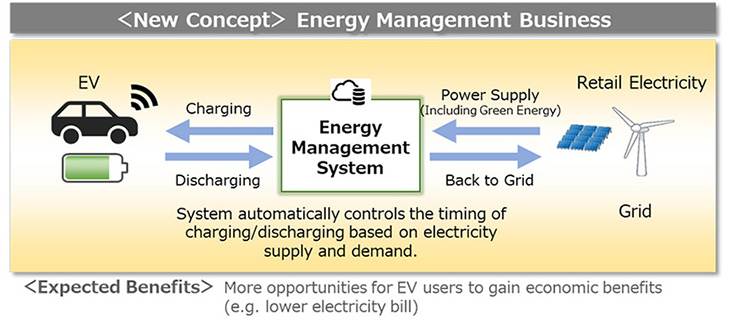 In a V2G system, EVs will not only be charged with the electricity from the grid but also supply electricity to the grid to help meet local electricity needs. Smart charging systems automatically adjust the timing of EV charging to avoid peak load periods and optimize energy consumption.
Commenting on the MoU, Toshihiro Mibe, Global CEO of Honda, said: "Preparing for the era of full-fledged popularisation of EVs, Honda will not only sell EVs, but take a proactive approach to energy management, where EV batteries will be utilized as an energy source, and we are also focusing on resource circulation, including the reuse and repurposing of EV batteries, which contain various rare resources. Starting with this initiative with Mitsubishi Corporation in the area of mini-EVs in Japan, Honda will strive to maximize the value we offer to our customers and build a foundation for sustainable business from a long-term perspective, while working with a variety of partners and accommodating the unique market characteristics of each region."
Katsuya Nakanishi President & CEO, Mitsubishi Corporation, said: "We understand that the convergence of different sectors such as mobility, energy, services and data is an irreversible trend. Examples can be seen all over the world, as companies seek to go carbon neutral, and new business models like MaaS and CASE (in the automobile industry) pick up stream. Mitsubishi Corporation is aiming to develop its own new business models that balance electrification and decarbonization, to create new cross-industry services, and otherwise reinventing ourselves in keeping with the times."
RELATED ARTICLES