Geely unveils new Xing Rui sedan for Chinese market
Based on Geely's CMA Architecture, the Preface concept model has become the production Xing Rui sedan in the Chinese market
Geely unveils new Xing Rui sedan for Chinese market
Geely unveils new Xing Rui sedan for Chinese market
Geely unveils new Xing Rui sedan for Chinese market
Geely unveils new Xing Rui sedan for Chinese market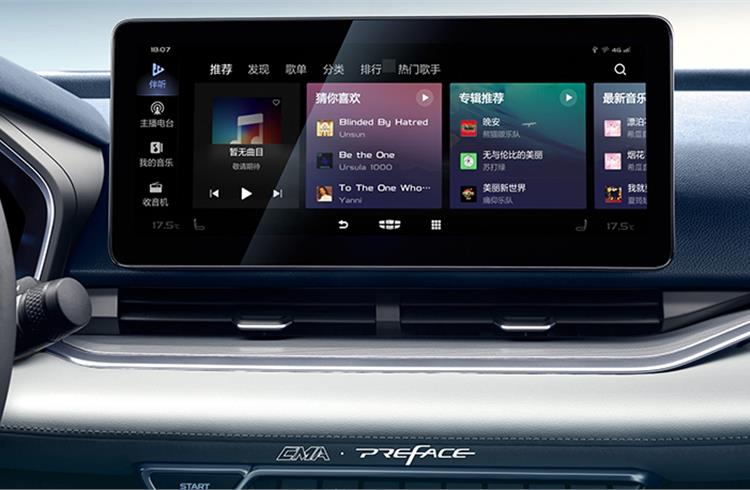 Geely unveils new Xing Rui sedan for Chinese market
Geely Auto Group, China's leading privately held and fastest growing automotive brand, today unveiled the production model based on its Preface Concept Sedan at the 2020 Beijing Auto Show. The Compact Modular Architecture- (CMA) based sedan has been named Xing Rui for the Chinese market.
This is the second CMA-based model within the Geely range following the Xing Yue sports coupe SUV.
The Preface Concept was first aired at the 2019 Shanghai Auto Show where it was widely praised for its wide proportions, wide wheel track and highly balanced design language that was created by Geely Design, the global network of design studios
The Xing Rui is classified as an Innovative Geely 4.0 era vehicle within Geely Auto. Geely's fourth generation of vehicles are based on advanced modular architectures that allow for leading levels of connectivity, intelligence, and quality that include safety as a standard
CMA platform enables speedy run to production
The use of Geely Holding's Compact Modular Architecture (CMA) has given the Geely Design Team the ability to take the Preface from concept to reality within a rapid time frame. CMA has already underpinned nearly 700,000 vehicles from the wider Geely Holding Group of brands and will give the Xing Rui a new level of sophistication in terms of interior space, noise vibration and handling (NVH),
The Xing Rui measures 4785 x 1869 x 1469mm with a wheelbase reaching 2800mm, making it one of the biggest, most spacious vehicles in its segment. Geely Design and engineers made rear passenger comfort a priority with special attention paid to increasing passenger leg room.
Initial powertrain options will include a 2.0TD engine matched with a 7-speed dual clutch gearbox that is used throughout the Geely Holding range and was jointly developed by Geely and Volvo Cars.
With the CMA highly advanced electrical architecture, Xing Rui has been endowed with a highly intelligent super brain connected to the cloud, allowing it to be fully connected to the cloud with Over the Air (OTA) updates. The Xing Rui takes OTA connectivity to the next level, enabling the model to continuously evolve and never become outdated.
Geely Auto Group President, An Conghui said: "The Geely Xing Rui marks a new journey for the Geely Auto brand as it brings CMA technologies into the sedan segment, perfectly maintaining Geely Auto's balance in both SUV and sedan segments. The Preface is a disruptor which makes no compromises in terms of quality, design, technology, space, and value."
The Xing Rui will be available at Geely showrooms across China in the coming months after its debut.
RELATED ARTICLES