Fuso premieres remodelled heavy-duty Super Great truck at Japan Mobility Show
New Super Great truck, which is powered by the 6R30 high-performance 12.8-litre engine, joins the Daimler Truck heavy-duty truck family as a fully remodelled truck after its launch in 2017.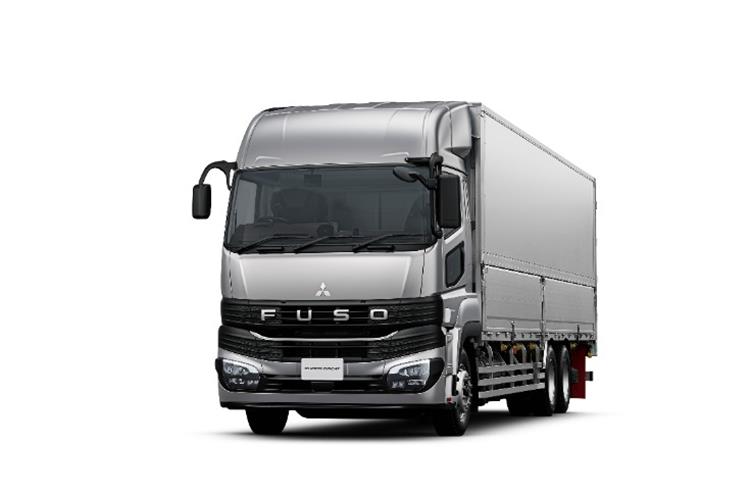 Daimler Truck subsidiary Mitsubishi Fuso Truck and Bus Corporation (Fuso) is exhibiting various products and services at Japan Mobility Show from October 28 to November 5. The exhibition, successor of the biennial Tokyo Motor Show, is hosted by Japan Automobile Manufacturers Association (JAMA) at Tokyo Big Sight exhibition grounds.
Fuso had the world premiere of its new Super Great truck, which joins the Daimler Truck heavy-duty truck family as a fully remodelled truck after its launch in 2017. The new Super Great is equipped with the 6R30 high-performance 12.8-litre engine, which is based on the OM471 engine and produced in the Daimler Truck plant in Mannheim, Germany.
The new 6R30 engine improves thermal efficiency by increasing combustion pressure through increased compression ratio and turbo modification. Two types of turbochargers are configured to match the engine's power output, resulting in an increase in torque, particularly at lower speeds. Optimizations have been made to better accommodate earlier shifting at lower speeds. These improvements to the combustion system, as well as the reduction of driving resistance and tuning of various engine parts, have resulted in an even better fuel economy.
As per Fuso, the high torque of the large-capacity engine provides ample traction on long hills and excellent response during acceleration, leading to improved driving comfort. The 6R30 engine boasts a higher NOx (nitrous oxide) purification rate with the BlueTec system in exhaust aftertreatment, reducing the consumption of AdBlue (urea water) and contributing to lower running costs in vehicle operation.
Using Daimler Trucks global platform strategy, the Super Great comes with the most advanced Daimler Truck safety technology features. The truck is equipped with Active Brake Assist 6 (ABA) and Active Side Guard Assist 2.0 as part of the standard product offering. Front Blind Spot Information System, a low-speed collision warning system, detects pedestrians and bicycles approaching the front of the vehicle (a challenging blind spot for drivers). A high-performance rear-view camera system is providing peace of mind when backing up by providing a direct view to the area behind the vehicle.
The new Fuso Super Great comes with an updated cab design to improve aerodynamics. The new super high roof provides a significantly expanded interior space for an improved driving experience. The roomier cab space also contains more storage, for busy drivers requiring smooth access to documents and tools. The super high roof configuration also reduces aerodynamic drag during driving, contributing to better fuel economy. Available colour schemes for the interior furnishings have also been updated, with black and red designs offered depending on the vehicle grade. As part of the updated cab design, Fuso is introducing a new LED headlight configuration integrating fog lamps and turn lamps into a more consolidated area. The remodelled lights contribute to better aerodynamics and safer driving on the road.
RELATED ARTICLES