Ford reveals new hybrid compact SUV Puma
Cleverly packaged crossover will offer 48V mild-hybrid tech and executive-grade features.
Ford reveals new hybrid compact SUV Puma
Ford reveals new hybrid compact SUV Puma
Ford reveals new hybrid compact SUV Puma
Ford reveals new hybrid compact SUV Puma
Ford reveals new hybrid compact SUV Puma
Ford reveals new hybrid compact SUV Puma
Ford reveals new hybrid compact SUV Puma
Ford reveals new hybrid compact SUV Puma
Ford reveals new hybrid compact SUV Puma
Ford reveals new hybrid compact SUV Puma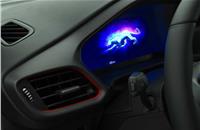 Ford's new Puma takes a classic name and applies it to a new car that is subtly but effectively different from its established SUV rivals.
Officially, the company describes the Puma as an 'SUV-inspired crossover', with its three standout virtues claimed to be 'seductive styling', ingenious rear stowage and the new 48V mild-hybrid petrol drivetrain.
The body's flowing surfaces have been developed under what designer George Saridakis labels an 'anti-wedge' policy. What he calls 'separated' headlights and tail-lights are also a move against the current trends for 'joining everything up', Saridakis citing the industry fashion for full-width light bars across a vehicle's tail.
The new Puma is based on Ford's existing B global small car architecture, the same as the Fiesta, but the platform's inherent flexibility has allowed the Puma to be sized very specifically.
It is just 30mm higher than the new Fiesta and the front seating position is raised by the same amount. This is still a compact vehicle, but it is usefully longer than the Fiesta as well as wider, with a wider track. And it squeezes a surprising amount of interior space out of a vehicle that's smaller than the Focus.
Saridakis says he and the project's chief engineer, Norbert Steffens, worked in the styling studio with 'cardboard and tape' trying to extract the maximum luggage space from the Puma structure. This crossover has a claimed 456 litres of boot space, whereas the Focus has just 370 litres.
They achieved this by way of what Ford calls a 'lower load box'. Cut through the boot floor, the box is a useful 80 litres in capacity and even has a removable plug in the bottom to allow it to be washed out.
The Puma's rigid boot floor can also be fitted in three different ways: low, on top of the load box; at a mid-height, which gives generous hidden storage; and clipped out of the way, by being attached to the backs of the rear seats.
Steffens demonstrated that, with the boot floor clipped out of the way, it is possible to load items such as a golf club bag vertically in the back of the Puma thanks to the extra load height offered by the box. Even the parcel shelf has been rethought as a lightweight fabric cover attached to the tailgate itself, which avoids the need to stow an awkward load cover.
From an engineering point of view, it's the Puma's new 48V mild-hybrid drivetrain that stands out. This is based around an updated version of Ford's 1.0-litre Ecoboost petrol unit and replaces the conventional alternator with an 11.5kW integrated starter/ generator (called a BISG). It will come in 123bhp and 153bhp guises, with the more powerful version using a seven-speed dual-clutch gearbox.
The BISG is connected to the engine via a belt and works in two directions: it can be used when braking and coasting to recover energy (which is stored in a small lithium ion battery) and it can also assist the engine during acceleration.
Ford says the hybrid assistance has allowed the engine's compression ratio to be lowered and a larger turbocharger to be fitted, as the BISG can mitigate turbo lag and keep the engine turning faster.
Performance at lower speeds is especially enhanced, says Steffens, with as much as 50% more torque on offer. That improves fuel economy by around 9% on the WLTP economy test. This three-cylinder engine can also switch to two-cylinder running to save fuel and, in stop/start mode, the BISG can restart the engine in 300 milliseconds. Ford says the 48V model's overall WLTP economy will be 124g/km.
A 1.5-litre diesel with a six-speed manual gearbox will also be offered and is expected to be rated at 123g/km.
On the handling side, Steffens says the Puma gets a new setting for the electronic power steering, a stiffer attachment for the beam axle and five-stud hubs for a more rigid fixing of the wheels compared with the Fiesta on which it is based.
Ford's hopes for the Puma are also reflected in the list of upmarket options. It will be one of the first Ford models to take local hazard information from the HERE data network, receiving live updates of congestion, crashes, ice and pothole warnings, for example.
Adaptive cruise control, blindspot information, pre-collision assist and even lumbar massage front seats show how Ford wants to combine the potential of an executive-level spec in a town-friendly package.
Why have you decided to offer diesel engines again, alongside the new 48v Mild hybrid petrol engine?
Norbert Steffens, chief engineer Ford Puma: "The 1.5-litre diesel engine is still very slightly more economical than the new hybrid petrol under WLTP testing conditions. We absolutely believe that the latest diesel engines are now completely clean [in pollution terms], as clean as petrol. The diesel Puma has a 12-litre Urea tank which will need re-filling between every 2500 and 6000 kilometres. Winter conditions and lots of short journeys are mean much more regular Adblue fill-ups, but that is how we ensure the lowest pollution."
Also read: Ford India provides 2 new cars for Taxshe's female drivers
Ford opens research facility in Tel Aviv
RELATED ARTICLES