EDAG, Mitsubishi Chemical and Kreisel Electric design lightweight battery housing
Extremely lightweight battery concept, using functional composite materials which offer both high safety levels and durability , is  capable of meeting all the requirements for a battery housing for EVs.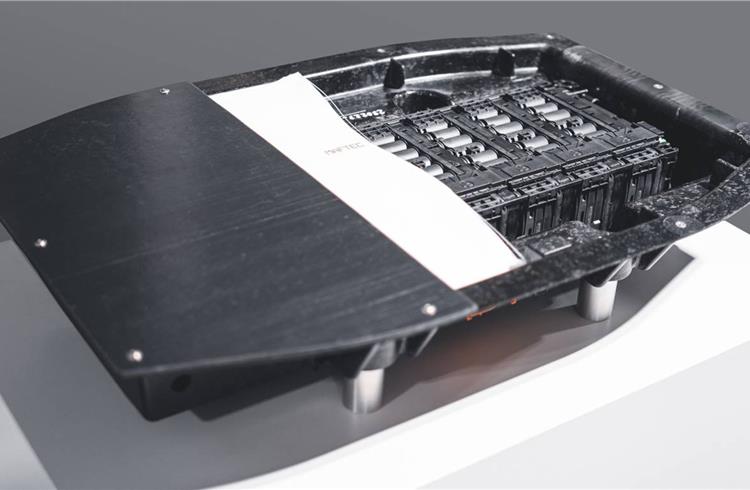 The transition to electric vehicles has set high safety requirements for battery technology, and this also includes the housing that protects the batteries. Conventional battery housings are frequently made of heavy metallic profiles and moulded parts, which can, however, have a negative effect on overall weight and vehicle performance. Interest in lightweight battery housings made of functional composite materials which offer both high safety levels and durability is therefore growing.
EDAG, engineering service provider to the mobility industry and technology developer for industrial solutions, and material suppliers Mitsubishi Chemical Group have joined forces with battery system manufacturer Kreisel Electric to design a new concept.
The result is an extremely lightweight battery concept capable of meeting all the requirements for a battery housing for electric vehicles. Dr. Stefan Caba, Head of the Innovations Field Safe Mobility at the EDAG Group, describes the vehicle categories for which the innovative lightweight battery housing is suitable: "With our lightweight but powerful battery storage, we are in particular addressing customers who produce medium quantities. From high-performance vehicles such as electrified sport cars to people movers – the weight reduction coupled with the possibility of manufacturing the battery box in a single process create a great competitive edge in the market."
Functional composite materials made by the Mitsubishi Chemical Group are used to achieve the required range of properties. Using these materials in battery housings enables lightweight structures to be created that provide the strength and stiffness necessary to meet crash requirements for automobile applications. Fire protection and electromagnetic shielding are also taken care of.
To this end, use is made of MAFTECTM, a material predestined for insulation, which, with the help of ceramic fibers, creates a fireproof barrier. A forged molding compound (FMC) was selected for the complex areas. "When we were developing the high-voltage storage system, care was also taken to ensure that all components can be returned to the material cycle; recycling fibre-reinforced plastics and reusing the raw materials recovered for new semi-finished products is one of the cornerstones of our global growth strategy," explains John Conn, Engineering Project Manager Advanced Materials.
Kreisel Electric has provided the cell technology. The cells here are tempered in a patented KREISEL hollow block, by means of immersion cooling, in which a dielectric fluid comes into direct contact with the cells. This, as per the company, is an extremely effective means of heat dissipation and of guaranteeing an exceptionally small temperature spread.
RELATED ARTICLES