Bus industry can halve local CO2 emissions in Europe from 2030: Daimler Buses
City bus segment in the EU can become completely locally CO2-neutral from 2030; for coaches, 20% reduction is realistic says the bus major; comprehensive CO2 reduction requires policy framework, including subsidies for vehicles and infrastructure.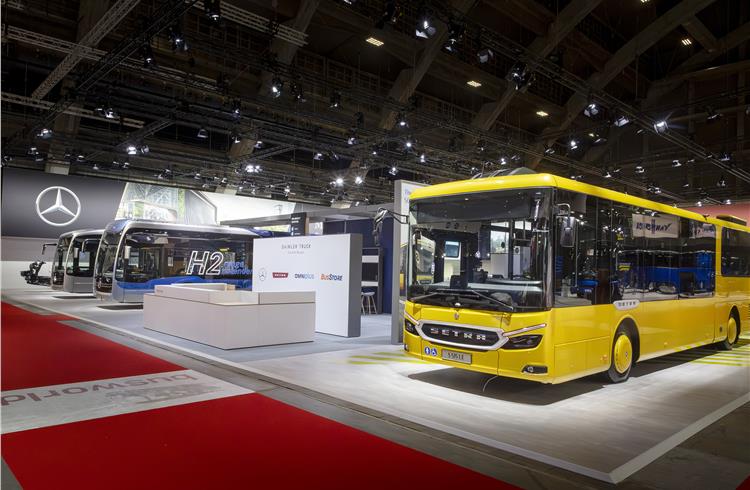 The EU Commission is currently preparing new CO2 requirements for buses for Europe. Daimler Buses, which is one of the world's leading bus manufacturers, supports the plan to reduce CO2 emissions by new buses.
The company states believes that a halving of CO2 emissions from new buses in Europe is possible from 2030, compared to 2025, across all segments. To achieve this, a comprehensive supportive policy framework is necessary. The company made this announcement on the eve of Busworld in Brussels (October 7-12), the most important European industry trade fair.
According to Daimler Buses, only electrically powered city buses should be allowed in Europe from 2030. This segment could thus make a contribution of 100% to CO2 reduction. It also believes that long-term subsides for e-infrastructure at depots – for both city buses and coaches – are necessary. This is intended to reduce one-off costs incurred by bus operators when switching from conventionally powered to electric buses. In addition, the development of a public charging and hydrogen refuelling infrastructure for coaches is required.
This is a particularly big challenge compared to the city bus segment, as the infrastructure has to be available everywhere. In addition, coach operators will still be working to overcome the effects of the COVID pandemic for the next few years, which means that they will continue to have less financial flexibility. Subsidies in this segment must cover e-infrastructure and vehicles as well. Daimler Buses therefore considers a contribution of the coach segment to CO2 reduction of 20 percent to be extremely ambitious, but realistic.
From 2030, according to the EU Commission, only locally CO2-neutral city buses are to be permitted under the so-called 'ZEV mandate', which Daimler Buses says it "strongly supports". For coaches, however, the EU Commission is currently planning a reduction of 45% CO2. The formulation of these proposals is part of the further European legislative process.
Till Oberwörder: "It will take a joint effort by governments, manufacturers, bus operators and the energy industry to get high-volume electric buses onto the roads as quickly as possible."
Till Oberwörder, CEO of Daimler Buses, said: "The bus industry can significantly reduce CO2 emissions in Europe from 2030. For this to succeed, the policy framework must be tailored to each segment. For city buses, maximum electrification is absolutely possible. In our view, it is crucial here that the entire industry can focus fully on CO2-neutral solutions. For the coach segment, we need a comprehensive charging and H2 refuelling infrastructure. And we need achievable targets from policymakers. We must be able to use our financial resources fully for the development of zero-emission technologies - and not for Euro 7 or possible penalties for not meeting targets."
Oberwörder continued: "It will take a joint effort by governments, manufacturers, bus operators and the energy industry to get high-volume electric buses onto the roads as quickly as possible. We must now work together to ensure that companies can operate electrified buses economically. As a manufacturer, we make our contribution by offering the right electrified buses and supporting our customers with our expertise in electrifying their fleets."
Electrified city buses and coaches with different requirements
With their fixed routes and daily return to the depot, city buses offer ideal conditions for electrification. Daily mileages of 250 to 350 kilometres can easily be covered with battery-electric drives and the buses can be charged overnight at the depot. Daimler Buses expects that the total cost of ownership (TCO) of a zero-emission city bus will be equivalent to that of a diesel bus by 2030 and may even exceed it, depending on energy costs.
Compared to city buses, coaches travel along significantly more challenging routes. For such itineraries, the demands on public charging and H2 refuelling infrastructure are enormous. The vehicles also need charging or hydrogen refuelling options at remote locations. In addition to the necessary infrastructure, incentives must also be created for entrepreneurs so that electrically powered coaches can be operated economically.
Daimler Buses' e-roadmap
Daimler Buses has a clear e-roadmap for the electrification of its vehicles across all segments. In line with the dual-track strategy of its parent company, Daimler Truck, The company is focusing on both battery electric and hydrogen-based technologies.
The all-battery electric Mercedes-Benz eCitaro city bus has been in series production since 2018. Since 2023, the vehicle has also been available with a hydrogen-based fuel cell as a range extender.
Daimler Buses plans to have a battery electric powered intercity bus in its portfolio from the second half of the decade and electrically powered coaches by the end of the decade. With this, Daimler Buses aims to offer locally CO2-neutral models based on batteries or hydrogen in every segment by 2030. The focus is initially on the core markets of Europe and Latin America. The plans are for only locally CO2-neutral new vehicles to be sold in the core market of Europe by 2039. In the city bus segment, this is expected to be the case in Europe as early as 2030.
In addition to the new safety features of the buses, the topic of electromobility is the focus of Daimler Buses' trade fair appearance at Busworld. It is presenting the latest products such as the eCitaro fuel cell city bus with a hydrogen-based fuel cell as a range extender, the MirrorCam as a mirror replacement as well as services related to the building up of e-infrastructure by Daimler Buses Solutions GmbH.
RELATED ARTICLES