Bosch looks at fully renewable and synthetic fuels to reduce CO2 emission
Bosch is piloting fully renewable diesel fuel, which it says can help slash CO2 emissions considerably.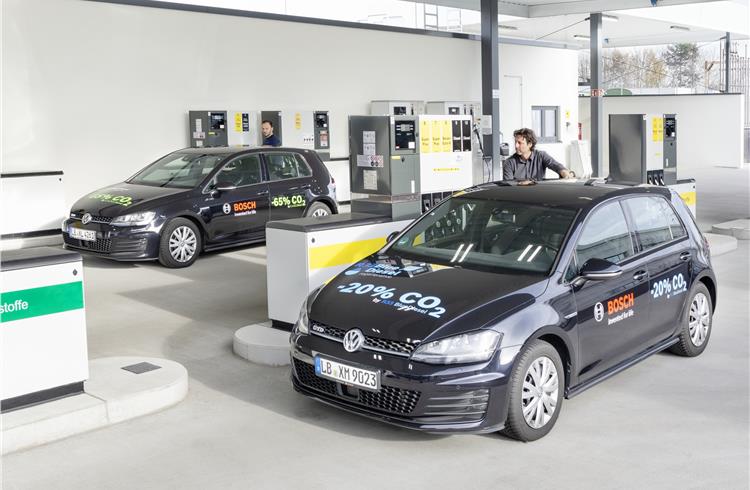 Bosch looks at fully renewable and synthetic fuels to reduce CO2 emission
Bosch looks at fully renewable and synthetic fuels to reduce CO2 emission
German technology major, Bosch since November 2018, is piloting the use of fully renewable diesel in cars used by the management board members of Robert Bosch. The fuel know as 'C.A.R.E. diesel' is synthesised mainly from the by-products and waste materials.
C.A.R.E. diesel is a fully renewable fuel made mainly of by-products and waste materials, recycled cooking oils, and grease. It contains no conventional diesel – that is, fossil fuel. Neste, a Finnish mineral oil company and biofuel manufacturer, makes C.A.R.E. diesel; the company's partner Toolfuel distributes it in Germany. C.A.R.E., a trademark of Toolfuel, is short for CO2 Reduction, Arctic Grade, Renewable, Emission Reduction.
The fuel supplier Toolfuel claims that C.A.R.E. diesel reduces the CO2 emissions of these cars by around two-thirds, or 65 percent, from well to wheel. Commenting on the pilot, Dr Volkmar Denner, CEO, Robert Bosch, said: "Renewable and synthetic fuels can contribute greatly to limiting global warming. Their use has a much faster ecological impact than replacing vehicles and infrastructure, as existing filling stations can remain in operation."
For him, the consequences are clear: "Synthetic and renewable fuels should be factored into the CO2 fleet regulation for passenger cars and trucks."
Since C.A.R.E. diesel has yet to be included in the German law on the prevention of airborne pollution, as a result it is not currently available at regular filling stations. In its trials with fully renewable diesel, Bosch wants to show if and how it could be adopted on a broad scale.
The company is encouraging the use of renewable and synthetic fuels. R33 Blue Diesel, an approved fuel made by Shell, which has been available for trial and the company car pool vehicles at the filling stations at the Bosch locations in Feuerbach, Schwieberdingen, and Hildesheim for some weeks now. This fuel contains up to 33 percent renewables, and will enable to reduce the carbon footprint of the more than 1,000 Bosch vehicles that regularly refuel at these three filling stations by as much as 20 percent from well to wheel. On top of that, the German company aims to make synthetic and renewable fuels available for company cars and internal delivery vehicles at all its company filling stations across Germany. It is also gradually incorporating battery-powered electric vehicles into its fleet.
Diesel vehicles to help reduce CO2 emission
Since it accounts for 18 percent of global CO2 emissions, the road traffic also contributes to the greenhouse effect, on the upside, there has been some progress. In Germany, the CO2 emissions of newly registered vehicles have fallen by one quarter since 2007. On the downside, the CO2 emitted by the traffic on European roads is on the rise again.
The company says one reason for this is the shrinking share of newly registered diesel vehicles, which offers a great advantage over petrol models when it comes to CO2 emissions. Compared with its gasoline variant, a diesel model's carbon footprint is around 15 percent lower on an average.
"We need diesel and other solutions such as renewable and synthetic fuels in addition to electromobility to further reduce greenhouse gas emissions," said Denner. Bosch estimates if renewable and synthetic fuels were widely used by the European passenger cars, this alone could save up to 2.8 gigatons of CO2 by 2050, and that is without electrification factored into the equation.
The Tier 1 says this is equivalent to three times the amount of carbon dioxide Germany emitted in 2016. Bosch has been exploring renewable and synthetic fuels for some time now. The company's fuel-carrying components for diesel engines, such as the fuel pump and injection nozzles, have been rigorously tested, and available for vehicle manufacturers to approve them for use with renewable and synthetic fuels.
Exploring all avenues
Bosch says it is approaching the future powertrain technology with an open mind. The company says it is committed to a vision of virtually emissions-free driving. While it will continue to improve the internal-combustion engine, it also aims to become a leader in the market for electric mobility. After years of research and development effort,
Earlier in April 2018, Bosch presented a new diesel technology which is claimed to be capable of cutting NOx emissions from diesel vehicles to well below the statutory 120 milligram-per-kilometre limit that will come into effect in 2020 – and it can do so in any real traffic conditions.
These results were achieved in test vehicles with heavily modified engine and emission settings. The vehicles were also equipped with leading-edge technology and components, just recently introduced to the market. A combination of advanced fuel-injection technology, a newly developed air management system, and intelligent temperature management made such low readings possible.
RELATED ARTICLES