BMW lifts lid on self-driving cars
Advanced autonomous technology on trial in BMW test cars has been made public.
BMW 7 Series are trialling the tech
Autonomous tech on the iNext includes an array of sensing kit
Different levels of autonomy call for different-sized electronic control units (ECU)
BMW's Silicon Valley building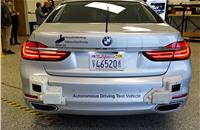 BMW is using 7 Series-based prototypes at its Silicon Valley facility as the test basis for the firm's iNext electric crossover, due in 2021. The carmaker has said the iNext will offer level three autonomy, which allows for "hands off and eyes off" motorway driving.
One BMW engineering source described level three as potentially offering the ability for the iNext to drive from one motorway junction to the next without the need for the driver's attention.
BMW also announced that development work is well underway on level four and level five autonomy, something considered a long way off by most of the industry. BMW calls level four autonomy "hands off and mind off" – where the driver is not requested to take over control of the vehicle in any circumstances. Level five is "full automation", where no driver is required.
To illustrate the complexity and computing power needed for the top three tiers of autonomy, BMW showed prototypes of the electronic control units (ECUs) for levels three, four and five driving, which all use Intel chip technology.
The 25W level three unit is quite small but has 10 times the computing power of the ECUs used for the level two, partial automation systems that BMW has offered since last year.
The 200W level four ECU is many times larger, uses six microprocessors, needs liquid cooling and has 1000 times the computing power of the level two system.
The fully automated 600W level five ECU prototype has 5000 times the computing power of level two.
Unlike with some existing 'self-driving' systems, the 7 Series test car has a huge array of exterior sensors. It has five lidar scanners – one on each corner and one on the centre of the car's nose. It is also equipped with radar – long range at the rear – and eight cameras, supplied by autonomy pioneer Mobileye. The boot is packed with computing equipment and "two vehicles' worth of wiring".
The autonomy architecture not only uses the mass of information picked up by the sensors but it is also operating inside a live-updated 3D map of road and surroundings. This map-based 'environmental model' is used to create a 'driving model' that, BMW engineers say, is based initially on artificial intelligence, then machine learning and, finally, 'reward and punishment' learning, similar to that used by children. The information hoovered by the 7 Series mule is a huge two terabytes per hour per car.
Many analysts have thought the costs and complexity of developing autonomous driving technology would slow the advance towards genuine self-driving vehicles.
However, BMW is looking to share this technology with other car makers. So far, only Fiat Chrysler Automobiles has joined BMW and is currently working to integrate these systems into its future architectures.
RELATED ARTICLES