BMW gets licence to test autonomous cars in China
BMW Group becomes the first international auto maker to obtain an autonomous driving road test license in China.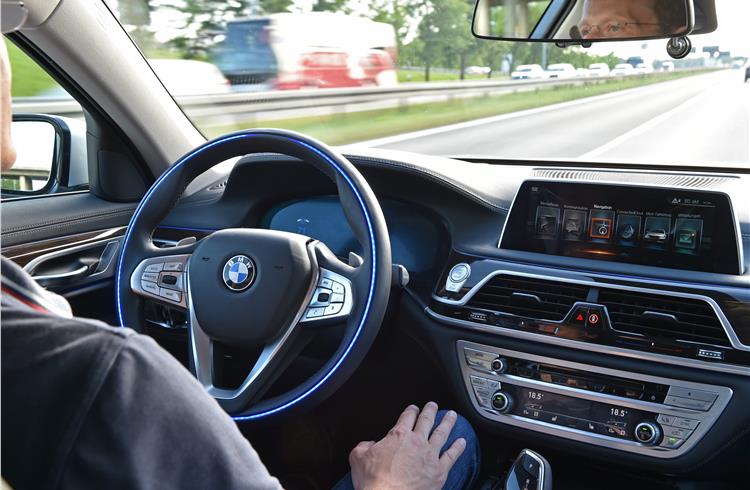 BMW gets licence to test autonomous cars in China
BMW gets licence to test autonomous cars in China
The BMW Group has been given the licence to test driverless cars in China. On May 14, BMW Group officially obtained the Shanghai Intelligent Connected Autonomous Driving Test License, issued by the Intelligent Connected Vehicle Road Test Promotion Team - consisting of Shanghai Municipal Commission of Economy and Informatization, Shanghai Municipal Public Security Bureau and Shanghai Municipal Transportation Commission.
With this, the German carmaker has become the first international auto maker to obtain the Autonomous Driving road test license in China, marking a big step on its path to autonomous driving and will help the Group accelerate development of autonomous driving in the Chinese automotive industry.
China is promoting Autonomous Driving as a part of boosting intelligent connected vehicles (ICVs) and its recent 'smart city, smart China' initiative, giving China a vital role in BMW Group´s Autonomous Driving development program.
BMW says it anticipated this development and was the first to demonstrate and publish L3 highly Autonomous Driving on a designated highway under government supervision in Chengdu as early as 2016.


Testing in Shanghai
To carry out road tests for the preparation of L4 Autonomous Driving R&D in China, BMW has homed in on Shanghai where it has set up a strong local team, including over 60 experts in Autonomous Driving.
Using the license, the R&D team will gather several Petabyte of data based on actual traffic, covering its full complexity. This data will be used to train machine learning algorithms performing adequate L4 Autonomous Driving behaviour.
The test sites in Shanghai currently cover a total length of about 5.6 kilometres planned to grow quickly over time. The test fleet is based on the latest BMW 7 Series models, starting with two operating vehicles in May and adding up to seven vehicles by December in China.
Until now, the Group's accumulated mileage reaches nearly 30,000km of road testing in China, and more than 200,000 kilometers of computer simulation.
Commenting on the latest development, Dr. Martin Sautter, Senior Vice President, R&D Center BMW Group, BMW China Services., said: "The BMW Group has always followed its R&D strategy 'In China, For China'. We have developed a complete, customer-oriented and prospective R&D system, through the R&D layout in Beijing, Shanghai and Shenyang. Now, it is a great honour to be the first international vehicle manufacturer to obtain an autonomous road test license in China. With the highest safety standards, we will rigorously promote the local development of Autonomous Driving and strive to achieve a safer, more efficient and more convenient transportation system."
RELATED ARTICLES