Biggest-ever World Solar Challenge adventure run begins today in Australia
The BWSC attracts some of the world's brightest innovators, engineers and entrepreneurs, united by a common goal – developing a sustainable, solar electric car no longer reliant on fossil fuels.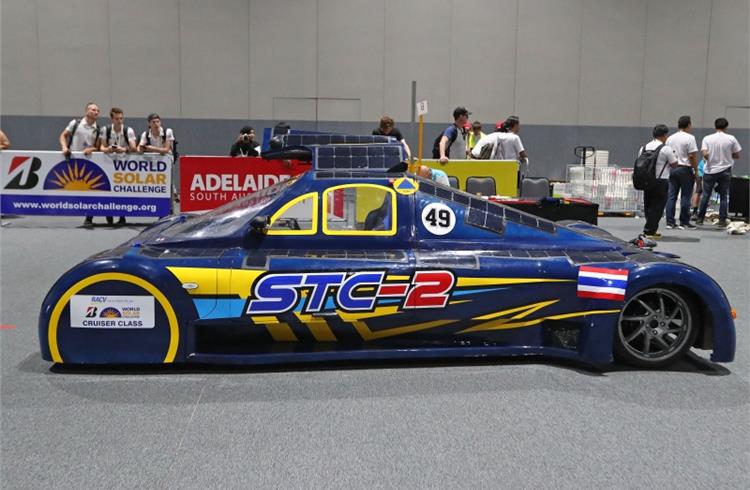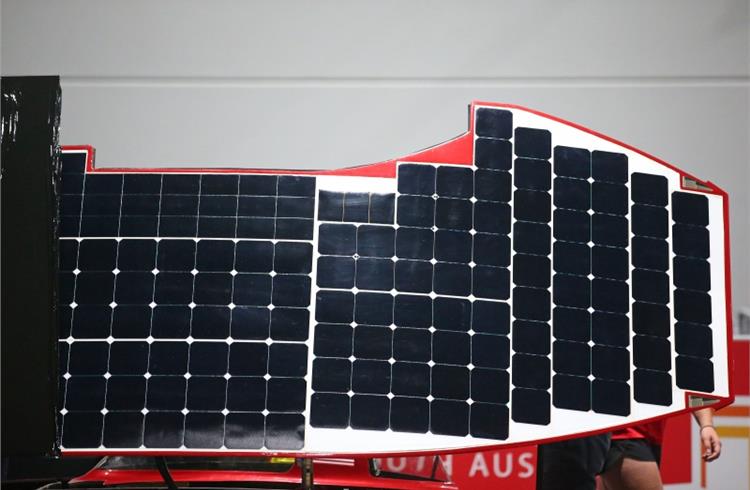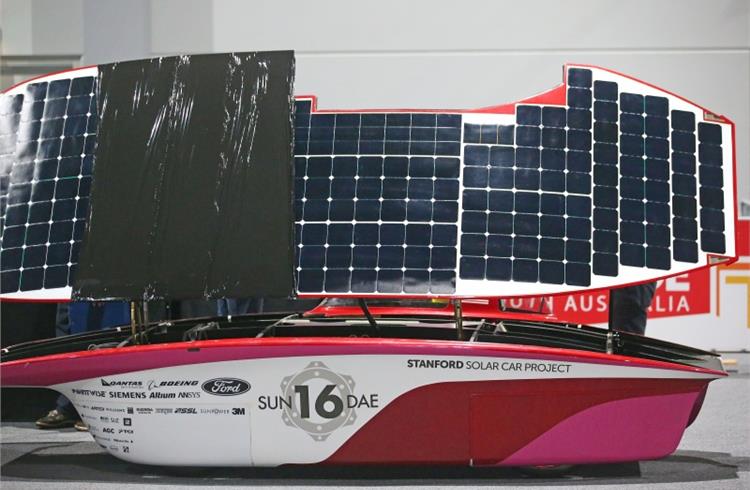 The 2017 edition of the Bridgestone World Solar Challenge (BWSC), the largest solar event in the world opens today. Now in its 30th anniversary year, the global adventure run (October 8-15) has seen record number of entries – 50 from 26 countries including the 'RVCE Solar Car Team' from R.V. College of Engineering, Bangalore, India, with their car 'Arka' (pictured below). The inaugural event in 1987 had 20 teams.
The Bridgestone World Solar Challenge begins in Darwin in the Northern Territory and travels the Stuart Highway to Port Augusta and then via Highway 1 to the finish in the City of Adelaide in South Australia – 3,000km.
The solar-powered EVs will form up in State Square from 0630 on Sunday (October 8) and depart the steps of Parliament House via Bennett Street and Tiger Brennan Drive. The official finish line in Adelaide will be in Victoria Square where the leading cars are expected early Thursday (October 12).
The purpose of the World Solar Challenge, which is primarily a design competition, is to stimulate research into, and development of, sustainable road transport. The regulatory philosophy is to provide the parameters on which to base the design, rather than specify exactly how to build a solar car.
The 2017 BWSC has three classes of solar car:
- Challenger class is for single-seat solar cars designed to be fast and is conducted in a single stage from Darwin to Adelaide.
- Cruiser class is for efficient, practical solar cars with two or more seats and is conducted as a regularity trial.

- Adventure class is for solar cars designed to participate in previous events but not eligible for Challenger or Cruiser class. It is a non-competitive class which provides opportunity for cars built for previous events.
Innovation factory for solar-powered EVs
The 3,000-kilometre endurance adventure, which takes place once every two years, has become the world's foremost innovation challenge with teams from around the world vying to become the first to deliver sustainable solar-powered electric vehicles. This year marks the event's 14th crossing of Australia.
In 2015, 47 entries from 25 countries were received with 42 teams taking to the start line in Darwin. The event had 1,500 participants and a global audience around 25 million. It generated more than 400 industry partnerships across energy, automotive, engineering, financial, material sciences and ICT sectors. The BWSC attracts some of the world's brightest innovators, engineers and start-up entrepreneurs, united by a common goal – developing a sustainable, solar electric car no longer reliant on fossil fuels.
According to event director Chris Selwood, "Our 30th anniversary program will focus on some of our most inspiring event champions, alumni, and rising stars. Our 'Hall of Fame' will acknowledge the early pioneers and recognise the achievements of competitors who used the event as a platform to innovation. Google cofounder Larry Page; Tesla co-founder and CTO, J B Straubel; and Chetan Maini, vice-chairman of Sun Mobility and founder of Reva Electric Car Company, are past competitors who credit the World Solar Challenge in influencing their careers."
This year, the Challenger Class will be a battle of the titans as 31 high-tech, high-speed machines, from 21 countries including India (IIT Roorkee & RVCE Solar Car Team), attempt to outpace Dutch Champions Nuon Solar Team which has dominated the event in all but two BWSCs, since 2001.
Selwood added, "The point of this Challenge is not just to go fast, or to develop technology that will never reach the mainstream. Our founder, Hans Tholstrup, our faculty, and competitors past and present, are all determined to make sustainable, energy positive, solar electric cars and renewable technology a reality. This year's Cruiser Class, introduced exclusively to our event in 2013, is about just that. A field of 16 Cruisers, from 12 countries, will take on our challenge within the Challenge, to deliver a practical, marketable solar electric car. So far, team Eindhoven from the Netherlands has further cemented the Dutch dominance, taking back to back Cruiser titles in 2013 and 2015. This year there are 15 other teams hoping to change that."
Q&A: RVCE SOLAR CAR TEAM
(R.V. College of Engineering, Bangalore)

The RVCE Solar Car Team, Bangalore, India is an entirely student-run group that designs and builds solar-powered EVs. The team currently consists of 50 students from R.V. College of Engineering (RVCE) pursuing their Bachelor of Engineering in various fields like Mechanical, Electronics, Electrical and Electronics, Computer Science, Chemical and Industrial engineering and Management engineering. The team was established in 2013, with an objective to primarily help promote the use of solar technology, as well as inspire the younger generation to think green. RVCE Solar Car Team represented India in the World Solar Challenge 2015.
How many times has RVCE Solar Car Team participated in the event?
Our team has participated once before in the BWSC2015. We were the only Indian team that year. We had participated in the Challenger class and the team was placed 29th in the race.
What is the design philosophy behind your solar car 'Arka'?
Our team gained a lot of experience from our previous event and we have taken into consideration all these aspects in our current design. We have designed a car which is simple in construction, but effective in performance. Our design is such that we could showcase India's potential at a global platform.
What is unique about Arka?
- Our battery box design along with the integration of cells.
- Telemetry system which will use IBM's cloud platform and model using Microsoft's unique skills.
- Our aerodynamically stable design.
- Our fabrication using a structural honeycomb core along with twill weave carbon fibre.
- Our car is cost effective, yet highly efficient.
Why does your team value participating in the Bridgestone World Solar Challenge?
Our team values participating in the BWSC2017 because it's a dream of a billion hearts we carry on our shoulders, to make a difference and tell the world, "Being an Indian is a matter of pride!" Another reason being the very aim of the challenge which promotes research in solar-powered electric vehicles. We believe in the earthly implementation of this concept which can save the universe.
Autocar Professional will carry regular updates of the Bridgestone World Solar Challenge. Stay tuned.
-
RELATED ARTICLES