Audi unleashes 764bhp PB18 e-tron EV supercar concept
New electric supercar concept, which is touted as a successor to today's R8, has been unveiled at Pebble Beach.
The rakish PB18 e-tron was created as a vision for the "high-performance supercar of tomorrow"
The 764bhp concept also hints at plans to adopt the latest in solid-state battery technology
The new four-wheel-drive Audi is said to weigh less than 1550kg
The PB18 e-tron draws on the styling lineage first established on the Audi Aicon concept
Key elements within the design include a heavily structured front end...
...featuring a bold hexagon-shaped grille and large air ducts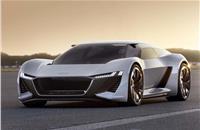 Audi has previewed its plans for a new headlining electric supercar, tipped as a replacement for the second-generation R8, with the unveiling of its new PB18 e-tron concept.
The rakish coupé, which has been revealed at the 2018 Pebble Beach Concours d'Elegance (hence the PB18 name) was created in a joint design and engineering program between the newly established Audi Design Loft in Malibu, California, and Audi Sport in Neckarsulm, Germany, in what is billed as a vision for the "high-performance supercar of tomorrow".
As well as providing a pointer to how Audi envisages its supercar of the future will look, the 764bhp concept hints at plans by the brand to adopt the latest in solid-state battery technology as a means to radically reduce weight and improve the packaging of its upcoming e-tron models. Together with a body constructed of aluminium, carbonfibre and plastic composite materials, the four-wheel drive PB18 e-tron is claimed to weigh less than 1550kg.
The PB18 e-tron draws on the styling lineage first established on the Audi Aicon concept revealed at the 2017 Frankfurt motor show, albeit with a more dramatic cab-forward silhouette. An extended cockpit incorporates tapered rear side windows and a large rear window that together hint at the look of a modern-day shooting brake.
Key elements within the design include a heavily structured front end featuring a bold hexagon shape grille and large air ducts, as well as thin 'laser' headlamps and a prominent splitter designed to direct air evenly across a flat undertray.
Further back, the PB18 e-tron has large front wheel arches, ultra wide sills and cooling ducts within the leading edge of the rear wheels. The wide track stance is further emphasized by large, 22in wheels, each featuring eight asymmetric spokes intended to resemble turbine inlets, and shod with 275/35-profile front and 35/30-profile rear tyres.
The rear is dominated by an adjustable rear spoiler element, a full-width light bar and a high-mounted diffuser that can be adjusted downward to increase downforce.
Developed under the working title Level Zero, the PB18 e-tron eschews all of the autonomous driving functions featured on recent Audi concept cars for a more purist approach that aims to place the driver in the thick of the action.
The adoption of fully electronic steering, throttle and brake functions has allowed Audi to provide its latest concept with a variable cockpit design that allows the driver's seat and dashboard to be positioned in two ways: either to the left of the interior, as in a typical road car, or in the centre, as in a traditional race car.
Audi says the idea for the unique variable cockpit design was inspired, in part, by the layout of its Le Mans-winning R18 e-tron quattro LMP1 race car. It allows the driver to choose between a central driving position when driving alone or a conventional one to provide space for a passenger.
"We want to offer the driver an experience that is otherwise available only in a racing car like the Audi R18," said Gael Buzyn, head of the Audi Design Loft. "That's why we developed the interior around the ideal driver's position in the centre. Nevertheless, our aim was to also give the PB18 e-tron a high degree of everyday usability, not just for the driver, but also for a potential passenger."
At 4530mm in length, 2000mm in width and 1150mm in height, the PB18 e-tron is around 100mm longer, 60mm wider and 90mm lower than the current R8. It also has a wheelbase 50mm longer than Ingolstadt's current flagship supercar.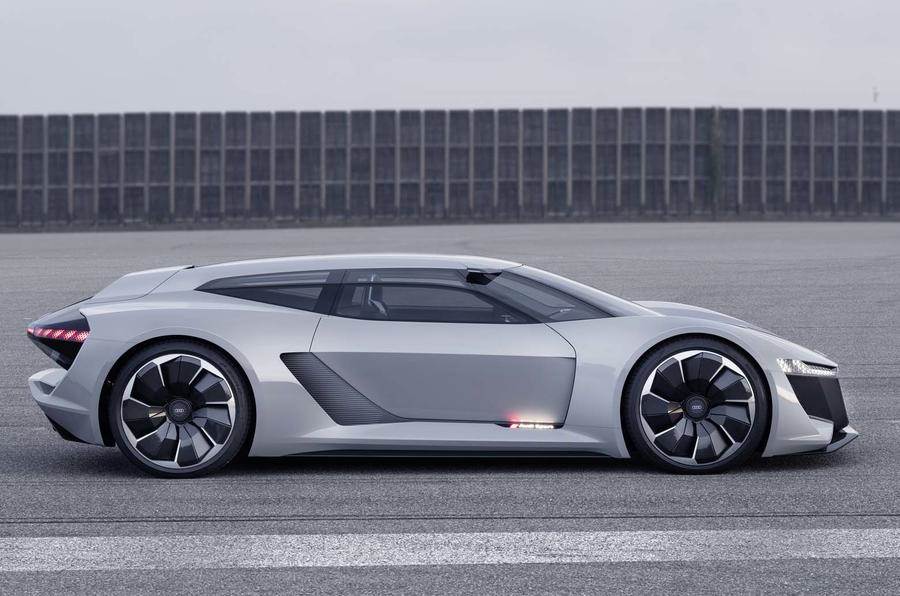 The adoption of the shooting brake-like rear end and lack of complex drivetrain hardware at the rear underscores Audi's desire for everyday usability, resulting in a boot that provides 470 litres of luggage space.
Audi PB18 e-tron: three electric motors for all-wheel drive
The PB18 e-tron is powered by a trio of electric motors – one mounted within the front axle delivering 201bhp and two sited within the rear axle producing 234bhp each.
The combined system output is 671bhp, although a boost function has been conceived to allow the driver to call up 764bhp for brief periods of full throttle acceleration, giving the car an ultimate power-to-weight ratio of 509bhp per tonne. Torque peaks at 612lb ft.
In comparison, the most powerful R8 variant runs a naturally aspirated 5.2-litre petrol V10 engine with 602bhp and 413lb ft.
The heady reserves combine with four-wheel-drive traction to provide the PB18 e-tron with a theoretical 0-62mph (0-100kph) time of "scarcely more than two seconds". Audi hasn't quoted a top speed yet, although it has confirmed that the car is good for speeds of more than 186mph (300kph), depending on range.
Audi claims significant efficiency gains with its latest electric driveline through the adoption of a new regenerative braking system. It also says the cab-forward design of the PB18 e-tron serves to provide it with a centre of gravity located behind the seats, in a position similar to today's R8.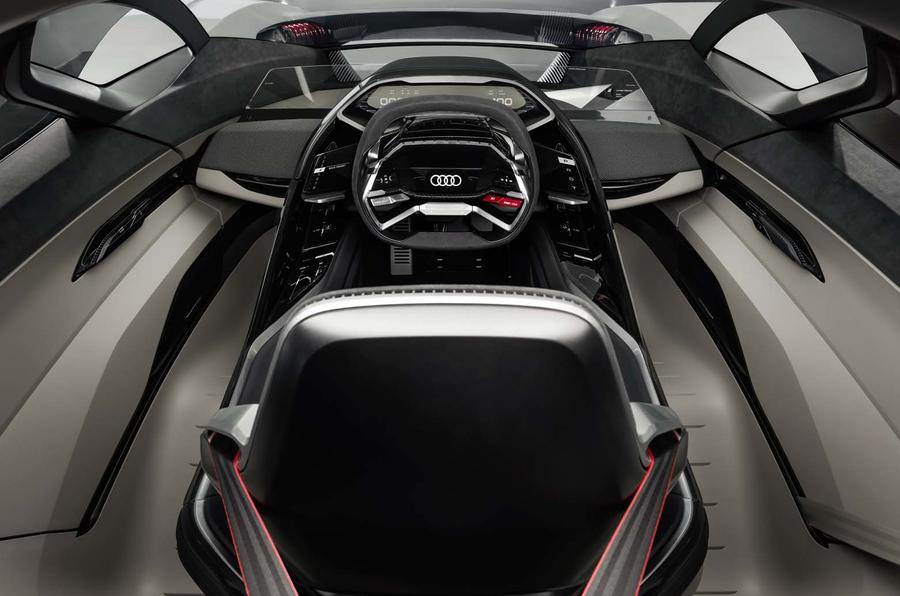 Energy for the concept's three motors is provided by a liquid-cooled solid-state battery with a capacity of 95kWh. Mounted underneath the boot, this is claimed to provide a maximum range of up to 311 miles (500kms) on the latest WLTP cycle.
With 800V compatibility, the PB18 e-tron's battery can be fully recharged in around 15 minutes, Audi claims. Alternatively, it can be charged wirelessly via induction.
Drawing a link to Audi's motorsport activities, the PB18 e-tron uses a suspension system inspired by the R18 e-tron quattro LMP1 racer, with independent lower and upper transverse control arms, a pushrod system up front and a pull rod arrangement at the rear, while each end is fitted with variable magnetic ride dampers.
RELATED ARTICLES