Audi E-tron one of 12 electric Audis to launch by 2025
Audi intends to offer an all-electric model "in all key market segments" with four EV platforms in play.
Audi E-tron one of 12 electric Audis to launch by 2025
Audi E-tron one of 12 electric Audis to launch by 2025
Audi E-tron one of 12 electric Audis to launch by 2025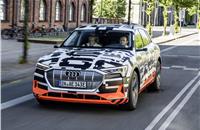 Prior to the reveal of Audi's first full EV, the E-tron, the brand has laid out its electrification strategy, including twelve production 'E' models arriving by 2025.
Audi's fully electric model offensive will include SUVs such as the E-tron and the E-tron Sportback, which was shown in Shanghai last year. Further models with what it's describing as "classic body layouts" will be available, including Avant estate and further Sportback variants, covering "every relevant market segment from the compact to the full-size class".
The first SUVs are based on Audi's existing MLB platform, with an electric all-wheel drive system and 150kW fast charging capability. The size of the models allows the MLB platform to be used initially, but Audi will show its first model based on a bespoke electric platform at the end of the year. Called the E-tron GT, it'll be a coupe debuting in concept form at the 2018 LA Motor Show.
Little is known about that car, but Audi is describing it as a "highly dynamic coupe with a flat floor assembly". It uses tech developed in conjunction with sister brand Porsche, likely through the development of the Mission E EV.
A platform development programme between the two carmakers will produce what's known as the 'Premium Platform Electric', or PPE. It's a modular electric platform that will form the basis of its most high volume models, from the B (supermini) to the D (large family car) segments of the market. Both SUVs and traditional bodystyles will be offered in those segments.
Other Audi EVs will be based off yet another bespoke electric car platform which exists already within the VW Group, called MEB. That will serve as the basis for "a series of Audi models, particularly in the high-volume A segment".
One of those is targeted at China, which Audi describes as "the single most important market". Also announced are plans to "greatly expand" the range of plug-in hybrid vehicles the German premium brand offers.
Peter Mertens, Audi's member of the board of management for technical development, describes the E-tron as "a highlight in the history of our company and the starting signal for our electrification strategy".
"In the future, virtually every market segment will include models powered by a combination of electric motors and a combustion engine, and that can be charged at an electric outlet".
Also read: Audi E-tron launches as brand's first electric-only model
RELATED ARTICLES