Audi confirms 397km range and intelligent charge tech for E-Tron
Audi has revealed more technical details of its upcoming electric SUV.
Audi's electric SUV is due for launch later this year
The E-tron is predicted to have a range of at least 500km (311 miles)
Battery cooling happens via aluminium extrusions
Charging at home or mainstream-roadside will be AC and rated at 11kW
The Audi E-tron quattro concept previewed in 2015
The E-tron was shown to the press
The E-tron will be capable of 150kWh DC fast-charging – that's more rapid than the Tesla Supercharger network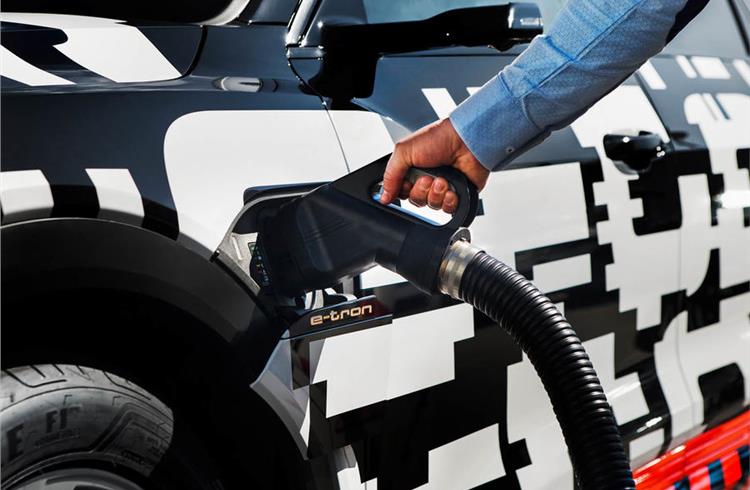 The exact output of each E-tron motor remains a closely guarded secret
"We have decided to keep the E-tron name and use it like quattro," says Audi
Audi unveiled four E-tron prototypes at the Geneva motor show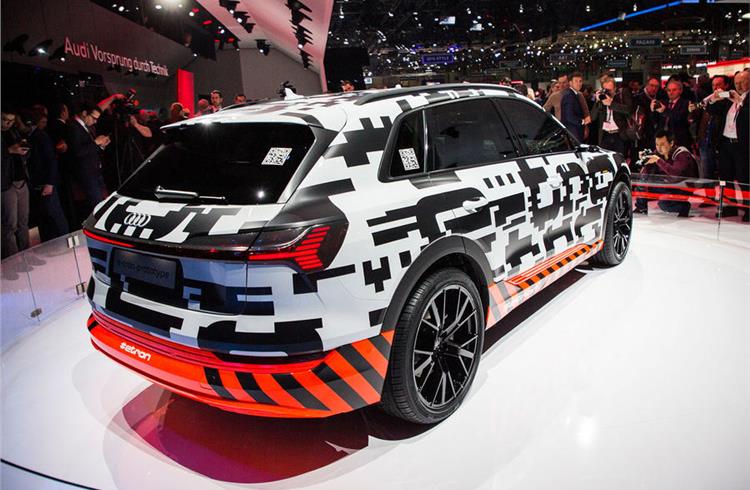 The cars came from its 250-strong fleet of development vehicles
It's powered by three electric motors, two of which drive the rear wheels while the other powers the front ones
The production version will be powered by a two-motor powertrain
The move was seen as a response to the launch of the Jaguar I-Pace
Audi will build the E-tron in Brussels
The site has been marked as CO2-neutral
The location uses renewable energy and carbon offsetting
At a Siemens heavy-duty electrical engineering test centre in Berlin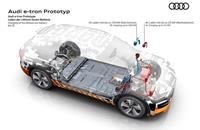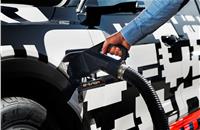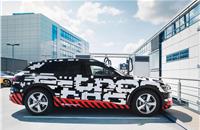 Audi has continued to drip-feed technical information about its upcoming E-tron electric SUV by stating that it will be capable of at least 248 miles (397 kilometres) on each charge and of smart charging to ensure efficient management of energy.
The car, which is due to be fully revealed in August, will be powered by a dual-motor powertrain using a 95kWh lithium-ion battery and capable of 150kWh DC fast-charging. The latter is claimed as a world first and is 30kW more rapid than Tesla's Supercharger network.
Also confirmed is the use of alternating current AC chargers that can top up the battery by recovering energy on the move. As standard, the car will feature 11kW chargers for this, although 22kW chargers will be available as an option to enhance the recovery rate.
Home charging details have also been disclosed; Audi says that the E-tron can charge fully in 8.5 hours when connected to a 400V three-phase outlet. It's yet to reveal times for when the car is attached to a regular 230V household plug.
The extra technical info for the E-tron was shown to the press at a Siemens heavy-duty electrical engineering test centre in Berlin, Germany, where the car was subjected to a symbolic 500kV test to 'spark the car into life'.
The exact output of each E-tron motor remains a closely guarded secret, but it's expected to be a maximum of 160bhp with overboost – equivalent to around 120kW – to give a total peak output of around 320bhp or 240kW.
That also suggests the E-tron will be badged 55 under Audi's new naming system that has been introduced to put combustion-engined, hybrid and battery-powered electric vehicles on an even footing in the hierarchy.
"We have decided to keep the E-tron name and use it like quattro," an Audi source told Autocar UK. "The first of our sporty models was simply named the Audi Quattro. Our first all-electric car will simply be badged Audi E-tron."
While powerful, the production E-tron's output is less than the 496bhp quoted for the two concepts shown so far because those featured a three-motor powertrain with a single front motor and twin rear motors.
However, the choice of a twin-motor layout at launch paves the way for Audi to introduce a performance E-tron powered by three motors a couple of years later.
Audi has mounted the car's lithium-ion battery pack low in the floor, between the front and rear axles, to keep the centre of gravity as low as possible and maximise crash protection, the battery pack will use pouch-type cells packaged into 36 shoebox-sized models.
Each module contains 12 pouches, supplied either by LG Chem or Samsung, and each rated at 60Ah — that's higher than those used by both Nissan and Tesla.
The bulk of the modules are in a flat main casing, but some are housed in a supplementary 'saddle' casing above the main battery and under the rear seat.
The battery is not light, though, contributing at least 700kg to the E-tron's kerb weight.
A key part of the battery is a water-based 'lattice' cooling system, bonded to the underside of the modules to maximise heat transfer and shedding heat through a conventional, front-mounted radiator. A second heat pump system with a plate heat exchanger — in effect an air-con system — can boost cooling or heating to keep the battery at its optimum operating range of 25-35deg C in extreme climates.
The 150kW DC fast-charger will take advantage of the IONITY rapid-charge network being set up by a consortium of Europe's carmakers.
Previous stories
Production of Audi's first stand-alone electric model, the E-tron SUV, will begin later this year using what the company claims is a carbon-neutral production process.
Following the announcement that £1000 deposits are being taken for its first bespoke electric vehicle, Audi said that its Brussels factory, where the E-tron will be built, has been certified CO2-neutral. The facility uses renewable energy and offsets its carbon to enable what Audi claims is a waste-free process.
This will substantially boost the E-tron's well-to-wheel sustainability, giving the car — which is due on roads in early 2019 — an edge, environmentally speaking, over its electric rivals and setting a new bar for premium manufacturers.
Audi won't yet discuss production or sales numbers for the E-tron, but says it has test-marketed the SUV in two European countries and reports potential demand for the model to be in the "double-digit thousands".
Audi adopted the highly unusual tactic of unleashing four E-tron prototypes to prowl the streets of Geneva in March to fight back against the launch of the Jaguar I-Pace.
"The E-tron will be a game-changer for Audi," said marketing boss Bram Schot. "It's our first electric model and it's going to be a volume model."
The production E-tron will be revealed at the Brussels motor show on 30 August as the first of three battery electric vehicles (BEVs) that Audi will launch by 2021.
By 2025, the company promises to have 20 electrified models on sale, with half of those being BEVs.
Audi has also raised the possibility of Audi Sport-tuned versions of the E-tron. "The question is when," said Schot. "The electric powertrain gives a really good performance, so the driving experience gives such a good feeling."
E-tron models could also be sold on a monthly subscription that would allow buyers to switch between Audi models to suit particular driving demands. "We're actively looking at every option," said Schot.
On-sale date
Audi has previously said the E-tron will "cost about the same as a well-specced Audi A6", suggesting it will have an entry-level price of at least £60,000. The I-Pace is priced at £58,995 (Rs 54.5 lakh).
Audi sales and marketing boss Dietmar Voggenreiter said that Audi has chosen to launch the E-tron in 2018 because battery technology is now mature enough to be able to offer a range of more than 500km (311 miles). This figure is "crucial", he said, because consumers won't accept less. Charging infrastructure is also now growing rapidly — another key reason for choosing a 2018 launch date.
"A 400-500km range must be possible and we must have a fast charging infrastructure," said Voggenreiter. "Both things are coming in 2018. The battery energy density is there and there's already a lot of charging infrastructure in Europe, the US and Asia."
Voggenreiter said Audi was involved through the Volkswagen Group with rival firms such as BMW, Daimler and Ford in ensuring there's a fast-charging network for longer-range electric vehicles to use.
"It's not our job to invest in charging points," he said. "We're pushing and organising this, though, and working with our partners on it."
Voggenreiter referred to the 'chicken and egg' situation of limited charging infrastructure to date; there has been no need for third parties to install chargers because there are not enough cars to use them, and vice versa. "No cars, no infrastructure, but in the next two years there will be lots of investments," he added.
E-tron name
Audi has opted not to launch its electric cars under a sub-brand, in the way BMW has with its i models and Mercedes-Benz with the EQ range. Instead, it's using E-tron, which has been a suffix on Audi's hybrid cars, as a model name in its own right.
Voggenreiter said the e-tron name will be used on a range of follow-up electric and plug-in hybrid vehicles, where it will appear mostly as a suffix, as is the case with the existing A3 e-tron. It's likely that Audi's next-generation models will all get electric versions, while an A8 e-tron is most likely to be the first candidate.
An SUV body is important for the E-tron, because it's the most on-trend body style, said Voggenreiter. "A lot of customers have been asking when we'll bring this car to market," he said. "There's certainly demand in the premium segment; it's the right product. It's a real SUV, with Audi design language."
Voggenreiter suggested that Audi's future range of e-tron models will have slightly different styling from the Marc Lichte-designed new look that's currently being rolled out across the rest of the brand's line-up.
"The e-trons are close to the designs of Lichte but in different packages," he said. "There isn't an engine in the front."
The size of the E-tron suggests it's a Q6 in all but name, but Voggenreiter hinted that the Q6 is a separate project. He cited speculation that the Q6 should be a "four-door SUV-coupé" based on the Q5, in a similar style to the forthcoming Q8 being spun off the Q7.
Voggenreiter said the E-tron isn't the Q6 because it's "not a four-door SUV-coupé, but a sporty SUV".
RELATED ARTICLES