Amazon orders 1,800 electric Mercedes-Benz vans
Amazon places the largest order for Mercedes-Benz EVs to date; 600 medium-sized eVito and more than 1,200 large-size eSprinter van will begin making deliveries to customers in Europe in 2020 
More than 1,200 EVs in the order will comprise Mercedes-Benz's newest electric commercial van— the eSprinter.
The eSprinter is a larger model than Mercedes-Benz's first zero-emission vehicle, the eVito (of which 600 have been ordered by Amazon).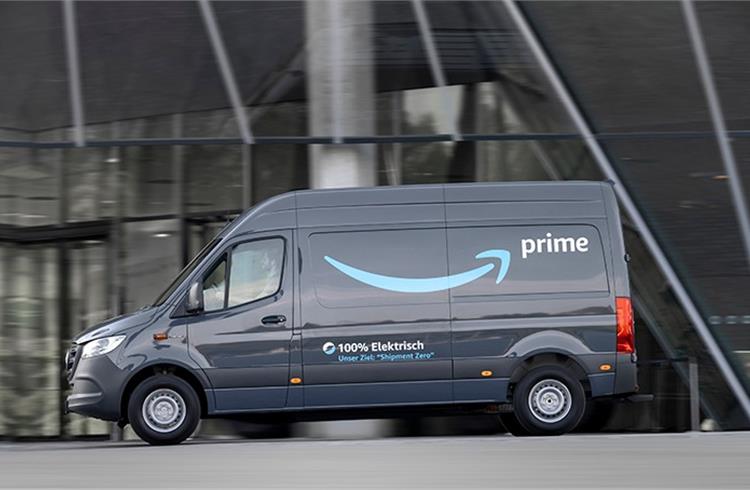 The eSprinter packs state-of-the-art safety features including, electrical parking brake, active brake, reverse camera, blind spot assist, and more.
• This is the largest single order of electric vehicles for Mercedes-Benz to date.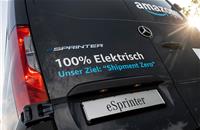 Mercedes-Benz Vans and Amazon have announced the largest order for Mercedes-Benz electric vehicles to date. More than 1,800 battery-electric eVito and eSprinter from Mercedes-Benz Vans will be delivered to Amazon starting this year to be used across Europe. The order includes around 600 medium-sized eVito and more than 1,200 vehicles of the large-size van eSprinter.
Amazon's Delivery Service Partners will have access to the new fleet of zero-emission vehicles to make deliveries to customers in Europe this year, helping to save thousands of metric tons of carbon. The order makes Amazon the largest sustainable transportation partner for Mercedes-Benz worldwide.
More than 1,200 EVs in the order will comprise the newest electric commercial van available at Mercedes-Benz — the eSprinter, a larger model than the manufacturer's first zero-emission vehicle, the eVito. The eSprinter includes state-of-the-art safety features including, electrical parking brake, active brake, reverse camera, blind spot assist, and more. The remaining 600 vehicles will be comprised of the manufacturer's midsize electric van, the eVito, to give Amazon's Delivery Service Partners operating in geographies that require a smaller-format vehicle access to a zero-emissions delivery option.
"I am delighted that we are further intensifying our long-standing partnership with Amazon and working together on the battery-electric future of transportation," said Marcus Breitschwerdt, Head of Mercedes-Benz Vans.
"With the eVito and the eSprinter, we have electric vehicles in our portfolio, which are ideally suited for the requirements of the courier-, express- and parcel-service industry for goods delivery on the so-called 'last mile' in terms of their equipment and range. They show that local emission-free driving, convincing performance, comfort and low operating costs can be combined perfectly," dded Breitschwerdt.
Mercedes-Benz joins the Climate Pledge
Meanwhile, in another development, Mercedes-Benz has now joined the Climate Pledge and supports the initiative with its own Ambition 2039 initiative. The Climate Pledge is a a commitment co-founded by Amazon and Global Optimism. In 2019, Amazon and Global Optimism founded "The Climate Pledge". The initiative has set itself the goal of contributing to achieving the goals of the Paris Agreement ten years earlier than it is intended there, i.e. already in 2040. The signing companies agree to:
- Measure and report greenhouse gas emissions on a regular basis.
- Implement decarbonisation strategies in line with the Paris Agreement through real business change and innovation, including efficiency improvements, renewable energy, materials reductions, and other carbon emission elimination strategies.
- Take actions to neutralize any remaining emissions with additional, quantifiable, real, permanent and socially-beneficial offsets to achieve net zero annual carbon emissions by 2040.
Amazon says it is committed to powering its electric vehicles with clean energy. As part of The Climate Pledge, Amazon is investing in renewable energy as a critical step toward addressing its carbon footprint globally and has pledged to run on 100% renewable energy by 2025. Globally, Amazon has 91 renewable energy projects that have the capacity to generate over 2,900 MW and deliver more than 7.5 million MWh of energy annually. These projects include 31 utility-scale wind and solar renewable energy projects and 60 solar rooftops on fulfillment centres and sort centers around the globe.
RELATED ARTICLES