2019 Range Rover Evoque revealed with new tech and mild-hybrid powertrain
Second-generation Evoque will become the first Land Rover to launch with a mild hybrid system when it goes on sale next year.
2019 Range Rover Evoque revealed with new tech and mild-hybrid powertrain
2019 Range Rover Evoque revealed with new tech and mild-hybrid powertrain
2019 Range Rover Evoque revealed with new tech and mild-hybrid powertrain
2019 Range Rover Evoque revealed with new tech and mild-hybrid powertrain
2019 Range Rover Evoque revealed with new tech and mild-hybrid powertrain
2019 Range Rover Evoque revealed with new tech and mild-hybrid powertrain
2019 Range Rover Evoque revealed with new tech and mild-hybrid powertrain
2019 Range Rover Evoque revealed with new tech and mild-hybrid powertrain
2019 Range Rover Evoque revealed with new tech and mild-hybrid powertrain
2019 Range Rover Evoque revealed with new tech and mild-hybrid powertrain
2019 Range Rover Evoque revealed with new tech and mild-hybrid powertrain
2019 Range Rover Evoque revealed with new tech and mild-hybrid powertrain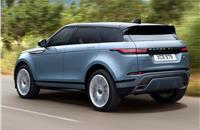 Land Rover believes that new technology and a focus on improved quality will ensure the second-generation Range Rover Evoque – on sale from today with deliveries due next spring – can fend off rivals such as the Audi Q3 and Volvo XC40.
The British company has twice scored market-busting successes with compact SUVs: first the 1997 Freelander that pioneered the genre and became Europe's hottest 4x4 for the next five years; then the 2011 Evoque that took a world-beating concept to production with huge and unexpected success (800,000 units, seven years) and was still selling out of its skin when production ended earlier this year.
Land Rover's key ingredient for making a success of the 2019 Evoque recipe seems to be all-round thoroughness. Although the latest edition's exterior maintains an understandably close relationship to the much-loved original, the second-generation model is practically all-new and bristles from stem to stern with bold technology.
It sits on a new, more space-efficient platform designed from the beginning for the electrification era. New fuel- and CO2-saving hybrid technology goes into most models from launch. A new three-cylinder, 48V plug-in hybrid powertrain is poised for launch in 2020, pioneering wider use of the set-up throughout Jaguar's and Land Rover's ranges. Quality and materials are both obviously improved and modernised, yet prices are being held close to current levels. Land Rover's dependence on Evoque as one of its best money-spinners is clear, and it intends to fight (against fast-improving opposition) to keep the model's pre-eminent position.
Although the Evoque look – the big front wheel arches and prominent rear haunches, radically rising waistline and descending roof – is maintained, there isn't a common panel between new and outgoing models. The 2019 edition gets even slimmer LED headlights, and wraparound side and tail-lights. The Evoque adopts the recessed door handles of the pricier Velar.
The enhanced quality is made obvious by tighter panel gaps, and the upmarket models now roll on 21-inch wheels. Design boss Gerry McGovern resists suggestions that the Evoque has hardly changed, but labels the new car as "a smart evolution, rather than a revolution".
The 2019 Evoque rides on an all-new 'mixed-material' platform labelled 'Premium Transverse Architecture', a Jaguar Land Rover group design capable of housing the various electrified powertrains that will come soon to Jaguars and Land Rovers with transverse engines. The body is 13 percent stiffer than the current car, engineers say, improving refinement and handling.
Responses from Evoque owners to extensive customer research have shown that city-bound motorists continue to value the Evoque for its relative compactness. The new model has exactly the same 4.37-metre length as the original (150mm shorter than an Audi Q3) but the 2019 car has a 20mm longer wheelbase that delivers its extra space directly to the rear cabin as enhanced leg room. The rear doors are bigger, improving access, and there's 10 percent more boot space. Rear accommodation, problematic for some customers of the original Evoque, is now acceptable if not class-leading. The three-door 'coupé', whose sales have dwindled for years, is discontinued.
The new Evoque's MacPherson strut front suspension now features fluid-filled Hydrobushes for better road isolation. At the rear it adopts the Velar's new Integral Link set-up, which not only separates lateral and longitudinal forces (for improved refinement) but also saves space compared with the previous system, helping deliver the Mk2 version's bigger, wider boot space. Most Evoques get adaptive shock absorbers, whose sensors continuously adjust their damping to suit varying road conditions.
At launch, all new Evoques are powered by JLR's 2.0-litre Ingenium engines, in both diesel and petrol guises. Nearly all Evoques are four-wheel drive; the only two-wheeler is the 148bhp manual gearbox D150 diesel starting at £31,600 (Rs 28 lakh). At the other end of the price and performance scale sits the P300, an all-wheel-drive petrol version with a 296bhp petrol engine driving the familiar nine-speed ZF automatic gearbox (which gets a conventional selector lever rather than the twist-selector used in Range Rovers).
Other Evoque engines offered are 178bhp and 237bhp turbo diesels, and 197bhp, 246bhp and 296bhp turbo petrol units, all made at JLR's Wolverhampton factory.
Performance is decent: the cheapest two-wheel-drive D150 can run a 9.9sec 0-60mph time and hit 125mph, while the 296bhp P300 can post a 6.3sec 0-60mph time and reach 150mph.
Every 4x4 Evoque, barring the cheapest D150, is now a 48V mild hybrid – the first time such a system has been used in a Land Rover. From launch, all Evoques get a belt-driven integrated starter-generator that collects energy as the car decelerates, storing it in a battery before deploying it when the car starts or accelerates. The system adds up to 6 percent to efficiency, says Land Rover, and is one of the reasons why the most frugal mild-hybrid 4x4 Evoque now emits only 149g/km and can deliver 50.4mpg on the new WLTP test cycle.
Land Rover has continued to develop its all-wheel-drive system, now controlled by the four-position and automatic Terrain Response 2 (first used in the full-fat Range Rover), so it bristles with all the latest adaptive stability and traction-keeping technology, including Driveline Disconnect, which reduces driveline drag in full traction conditions and thus saves fuel. Among other refinements, the Evoque can now wade through 600mm of water rather than 500mm at present.
A year after the first 2019 Evoques hit the market, Land Rover will launch a plug-in hybrid version. It will link a new three-cylinder, 197bhp, 1.5-litre Ingenium petrol engine to an electric driver motor, and offer a yet-unspecified electric-only range. CO2 emissions are just 45g/km. Details remain sketchy, but there is speculation that the engine, from the same modular family as 2.0-litre Wolverhampton fours (and a forthcoming straight six), will be imported from JLR's similar engine plant in China.
The new Evoque is markedly more luxurious than the outgoing model, which was still a market leader when production ended. The cabin is more modern, featuring the considered, simplified design of the pricier Velar. It uses imaginative new colours and textures, including a durable and luxurious wool-blend textile called Kvadrat designed to appeal to buyers who prefer non-leather trim materials. Land Rover prides itself on progressive design, says Amy Frascella, chief designer, colour and materials, and will continue to make a feature of it.
There is a large central touchscreen that moves gently forward to provide better visibility as you start the car. From the luxurious driver's bucket seat, the instruments ahead are carried on another screen, configurable in a variety of designs. Everything feels (and is) high-tech: the sat-nav and infotainment system are both now updateable via wi-fi, and an extensive selection of 'InControl' apps are available allowing an owner to connect remotely from phone to car to check things like fuel level and range, to heat the car remotely or to lock and unlock it.
As with the Velar, there is another screen lower down on the console. It handles secondary functions such as ventilation, and has two rotary control knobs for hard functions, rather than requiring drivers to operate a touchscreen so far from the natural eyeline. Big storage pockets abound – in the doors, in the large centre console and behind the lower screen.
Although the 2019 Evoque's lineage is unmistakable, the comprehensive re-engineering is refreshingly obvious, especially in the cabin. JLR has just started making the new Evoque and says it had more than 5000 expressions of serious interest in the latest model, even before any potential buyer had seen a picture. Further success – much needed if JLR is to correct its recent malaise – is on the cards.
How Land Rover has changed the Evoque
The main difference Evoque owners will notice between the original and latest models is the new one's quietness and refinement, according to Land Rover's dynamics guru Mike Cross.
"The body is 13 percent stiffer now, which makes a very noticeable difference," he said. "We've changed the engine mounting system to improve engine refinement and the active driveline of all-wheel-drive models has been tweaked to make it smoother and more responsive."
The improvements have required a sustained development campaign, Cross says, because most owners agree the outgoing model is already surprisingly good fun to drive. The task has been to maintain this – and to make the steering feel "a bit better connected" through more rigid mounting – while also delivering the better refinement.
"I think the team has succeeded well," Cross says in summary. "The latest model is just as much fun to drive, but it's also better at being a Range Rover."
RELATED ARTICLES