2018 Jaguar I-Pace revealed: 395bhp and 477km range for pivotal EV
New Jaguar will be the first electric SUV from a premium European car maker when deliveries start in July.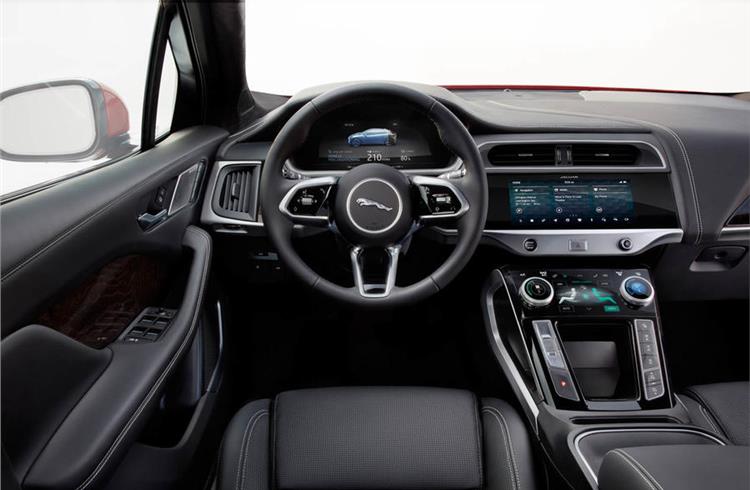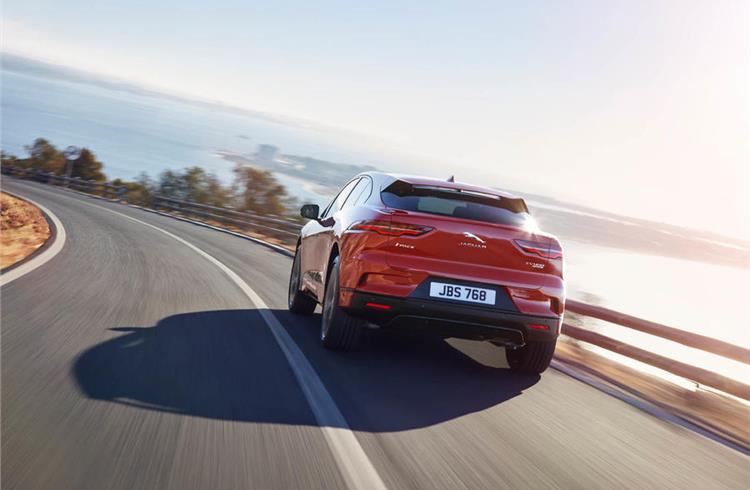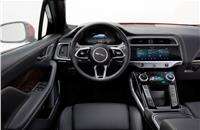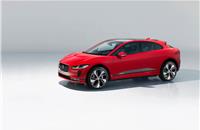 Jaguar has pipped its competitors to the post, revealing its first stand-alone electric model before SUV rivals from Audi and Mercedes.
The 395bhp I-Pace is the first pure-electric model from the Coventry-based brand and spearheads a range of forthcoming electrified Jaguars. The next electric model, due next year, will be a new-generation XJ luxury sedan, and hybrid versions of its other models will start arriving by 2020.
Jaguar I-Pace: the biggest design challenge
With impending CO2 targets for 2021, the I-Pace will be a crucial part of Jaguar's low-emission drive. It also gives the brand the opportunity to position itself at the cutting edge of a new breed of premium electric vehicles arriving in the next 12 months and beyond. The I-Pace's 90kWh lithium ion battery delivers a range of up to 298 miles (479 kilometres), according to the new WLTP cycle. That equates to 336 miles (576km) on the old NEDC test and 240 miles (384km) on the American EPA cycle.
The Tesla Model 3 achieves 310 miles (496km) on the EPA cycle and the Renault Zoe – Europe's biggest-selling EV in 2017 – offers up to 250 miles (400km) on the NEDC cycle. Most manufacturers soon to launch electric SUVs, including Audi (E-tron) and Mercedes (EQ C), are predicting a 310-mile (496km) range.
Public charging to 80% capacity on a 50kW charger will take 1hr 25min, says Jaguar, and a 30min charge will give 80 miles of range. The model is also compatible with 100kW public chargers, which will give an 80% charge in 45min but are not yet available publicly in the UK. However, Jaguar says 100kW-plus charging points will be available to the public by the time the first I-Paces are delivered to customers in the summer. At home, a 7kW wall box will charge the battery from 0% to 80% in 10 hours.
The I-Pace uses two electric motors, one on each axle to enable all-wheel drive. The synchronous permanent magnet motors – some components of which have patents pending for Jaguar – are "very light", said vehicle line director Ian Hoban, at 38kg.
The I-Pace, which delivers 395bhp and 513lb ft, achieves 0-60mph/0-100kph in 4.5sec.
Jaguar claims the new aluminium architecture delivers the brand's "most rigid body structure" yet, with the battery placed centrally between the axles. These use a double-wishbone front and an integral link rear set-up with optional air suspension and configurable Adaptive Dynamics. The location of the battery allows for 50/50 front-to-rear weight distribution and a centre of gravity that's 130mm lower than the F-Pace's.
"We were obsessed with weight distribution," said Hoban. "It must handle like a Jaguar."
In its appearance, the I-Pace stays extraordinarily close to the concept version. Jaguar design director Ian Callum said the car is "the closest we've been in terms of a concept and a production car".
The final car is 12mm narrower and 12mm lower than the concept. "The concept had to be exaggerated," said Callum. The light detailing has been toned down too. "It was a visual aspect rather than a working technology," he added.
The interior shows a bigger difference. Callum said: "The concept's screens meant too much development time. But the sport seats are closer to the concept and will be available [as an option] from launch."
The proportions of the car are very similar to a Porsche Macan's but with a longer wheelbase, as is typical of EVs due to the positioning of the battery. The I-Pace measures 4682mm long – on a par with Jaguar's XE saloon – with a wheelbase of 2990mm, 18mm more than the Macan. Hoban said this translates into extra knee room. "It has 30mm more knee room than a Porsche Cayenne," he said.
Callum said: "It has a relatively long wheelbase because of the battery. We brought the front occupant forward and kept the rear occupant where they were for space. It has the interior space of Cayenne but the dimensions of the Macan."
Talking about the car's cab-forward look, Callum said: "I wanted to capture the drama of a mid-engined sports car. I wanted to capture a little bit of that car we didn't make, the C-X75.
"It's probably the most exciting car project I've been responsible for. There was just the skateboard [chassis] and then we could do what we wanted, other than some safety requirements. For me, it's the shape of the future."
The I-Pace pictured here sits on 22-inch wheels – Callum's preference – but wheels as small as 18 inches are available.
Aerodynamics was a big focus in the design, with the squared-off rear helping to reduce the drag coefficient to 0.29. Active vanes in the grille open when cooling is required, and close when not needed to redirect air through the bonnet scoop, smoothing airflow.
At the rear is a subtle lip spoiler (as well as the bigger spoiler on the windscreen). "It [the lip spoiler] was going to be an option but we decided all cars would have it to help aero," said Callum. "The biggest focus for air is the side mirrors. We pulled the mirrors out quite a bit. It helps air stream and visibility."
Asked if many design compromises had been made with the I-Pace, Callum said: "We got our way with this car. The main restriction is stamping aluminium. It's not as crisp as the concept car.
"I was keen the I-Pace didn't get too big. It's got to be appealing to urbanites. We've done long-bonnet, big-engine design in all those sports cars. I've got this out of my system. The shape of the I-Pace has been in my head for a long time. [Electric car design] unshackles you in so many ways you can do stuff that's more interesting."
Callum said the I-Pace's nose could not be any shorter because of crash regulations. Inside, Jaguar has "worked hard to maximise space in the car", according to Callum. There are a number of storage areas in the front and rear, and the boot has 656 litres of capacity, compared with 500 litres in a Macan.
The optional full-sized panoramic roof absorbs infrared light, which is meant to keep the cabin cool and removes the need for blinds.
Jaguar's Touch Pro Duo infotainment system has two screens in the centre column, where most functions are controlled. However, the I-Pace keeps traditional rotary controls too.
Callum said: "I'm a great believer in more tactile feel in cars. For the moment, people are more used to touchscreens. I pushed hard to not follow the fashion for iPad-type screens." The I-Pace has a number of connected features, such as battery pre-conditioning, where you can pre-heat or cool the cabin and battery while plugged in, using zero battery power. That can save you between 31 and 62 miles on a typical -10deg C day, said Hoban.
It also uses artificial intelligence (AI) to calculate remaining range based on climate, weather, topography, driving style and traffic conditions. The AI can sense the number of occupants and adjust the climate control accordingly to make it as efficient as possible.
The I-Pace is the first Jaguar to get over-the-air updates, which not only update infotainment and vehicle systems but also keep track of battery usage.
It will be built at the Magna plant in Austria alongside the E-Pace. It shares a trim and final line with the E-Pace and has its own body-in-white facility.
The I-Pace is priced from £58,995, including the government's £4500 EV subsidy. The top of three trims, HSE, costs £69,995. Deliveries will start in July.
Europe, China and the US are all expected to be popular destinations for the zero-emissions model. California is due to be particularly important for sales, given its appetite for environmentally friendly vehicles, while Norway – known for its notable EV incentives – has taken the biggest number of I-Pace pre-orders.
Last year, Jaguar Land Rover CEO Ralf Speth confirmed that every new Jaguar Land Rover model line will be electrified from 2020. He said: "We will introduce a portfolio of electrified products across our model range, embracing fully electric, plug-in hybrid and mild-hybrid vehicles."
I-Pace batteries: EV could get different battery sizes in future
Unlike many of its rivals, Jaguar is offering only one battery size for its I-Pace, which promises a range of up to 298 miles /477km).
But vehicle line director Ian Hoban told Autocar UK that the car maker did look at a modular system for batteries, in the same vein as Tesla and upcoming electric brands such as Volkswagen's ID. He said: "We did consider it, but we decided one propulsion system and one specification was most appropriate for launch."
He acknowledged that 298 miles was plenty of range for most people but added that the key is "delivering range all day, every day".
However, Hoban admitted a smaller battery and shorter range – which would, in turn, mean a cheaper list price – could "offer a good business proposition in future".
The firm is already working on solid-state batteries with the University of Warwick and expects to see that technology arrive in the early to mid-2020s. But at least for the mid-term, Hoban said the focus will be "energy density with lithium ion coupled with future-proofed charging systems".
RELATED ARTICLES