'We cannot succeed with customers in India with a German luxury brand mindset': Dirk Fischer
The COO of Germany-based Huf wants its newly opened Tech Centre in Pune, to focus on local OEM product requirements.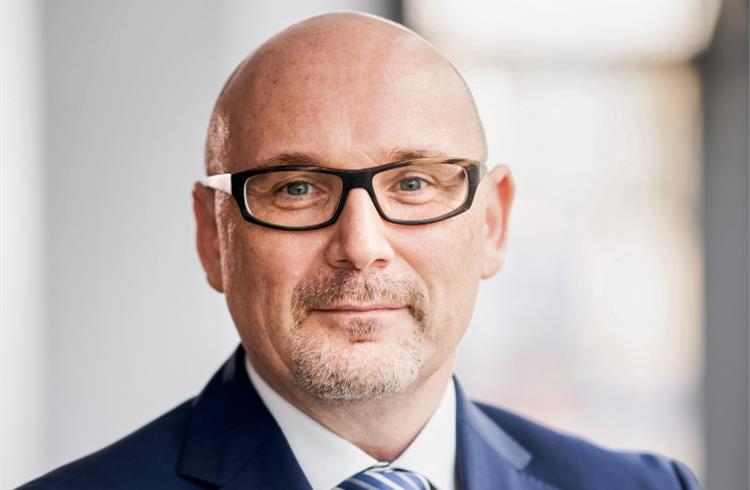 India's status as a country with stable and strong economic fundamentals has kept the automotive ecosystem quite busy, with more foreign players willing to set up shop in the country with investments and technology applications.
Germany-based Huf Hülsbeck and Fürst or Huf has been a family-owned business since 1908 and specialises in secure car access and authorisation systems for automotive OEMs around the globe. The company established its presence in India during the early nineties through a joint venture with Minda, which concluded in 2007. In 2008, Huf decided to operate as a standalone entity in India. "Since taking up our operations at Huf India Pvt Ltd. in 2008, we have constantly expanded our business in this important region," said Dirk Fischer, Chief Operations Officer (COO) of Huf during the opening ceremony of the Tech Centre in Pune in July. Fischer is a proven expert in lean management and high-performance production systems.
Fischer was in India to oversee the latest milestone for the brand and spoke to Autocar Professional about the business plans and more.
What's the core idea behind the investment for a Tech Centre in India?
The new set-up will engage more than 100 engineers who will develop cutting-edge hardware and software solutions for car manufacturers around the globe. For the business to expand, we are taking another important step and leveraging the expertise of highly skilled developers in Pune. It will become our global centre of competence for the development of classic lock sets and door handles, and also support hard- and software development within our global network.
Why did Huf choose India for this purpose?
At the moment, I think everybody in the automotive industry is aware that India is the place to be, as it offers a big opportunity for growth. It offers a big opportunity for finding new talent for the workforce, not just in operations but also in engineering and R&D. It is one of the markets in the world that has an interesting growth perspective. Not every market in the world has it now.
What kind of work will the new Tech Centre focus on?
At the moment, it will focus on products mainly required by the local market. We want to make it a centre of competence for locksets and various types of door handles and key fobs. I think the market will push us to develop smart keys. The key fob is now considered old and we see a shift towards smart keys – that basically has the same kind of functionality as the phone. Despite new trends, we believe that some people would still like something like a key fob.
So for smart keys, you have hardware and software to run it. So are you involved on both sides?
Yes, for the hardware development, and also the electronics plus the software development. Likewise, with the current technology in door handles, we have many door handles, where we have the mechanical part and the electronic part, and the software part.
The auto industry has suffered because of semiconductor and chip shortages. Does it impact the manufacturing of sophisticated smart keys?
We are not designing the chips, but we have strong partnerships with the relevant players in the market, which are very big ones, by the way. They are also very often directly in contact with our customers. So they know already from their side what is needed in the future, what kind of functionality, and what performance a future component has to have. Like application engineering, we look for partners with the right product with the best product that would support our target functionality. And then we work with them. But we are not going into the development of the semiconductor. That's not our competence.
Coming back to the business side, if you could just roll back to 2008 when this Huf became independent from Minda, what was the starting investment, and what is the current investment?
Well, I do not know exactly the values from that time, but the initial investment must have been around Euro 20 million for the infrastructure for the three core technologies in our production plant -- automated paint line or robotic paint line, pressure die casting and plastic injection molding.
What is important to mention here is that maybe one or two other plants inside Huf have these three technologies under one roof. We have some plants with a paint shop, injection moulding facilities and assembly lines. Some of the plants have just injection moulding and electronics. Some plants are just involved in assembly. The India setup of Huf has all the three.
What is more relevant for the future business is that we also want to increase product testing and validation footprint in India.
As modern cars are getting more connected features, how are access and authorisation technologies going forward with your products?
We started with some initial activities. It's good that we do not have to start now from scratch. It's really an advantage that we can build on something that was already there. There was a foundation.
One of the big milestones we achieved last year was to win the first mobile phone as a key authorisation project with a customer. So, this is basically the latest technology in the field of car access and authorisation.
What are the latest developments in automotive door handles?
Products like these are going in the direction of connectivity, so we have to be somewhat integrated in the overall car concept and in the connectivity concepts. We will also see that with door handles, I think it will not necessarily be a technology shift, but more design shift. Trend is now moving towards Flush or wing handles.
Some new facial recognition technologies are being developed for the automotive market for access and authorisation. Are you looking at such possibilities?
This is a big part of our R&D and product engineering at the moment, but this is for future business. As of now, we do not have any products in the market here. There are few technologies under development but could not be possible to elaborate on this platform.
Who are your key OEM clients?
Most of the German premium brands like Volkswagen, Porsche, BMW, Mercedes-Benz, American Brands like Ford, GM and Asian brands like Hyundai and Kia.
What about business with volume Indian OEMs like Tata Motors or Mahindra?
We have realised that we cannot succeed with customers with a German luxury brand mindset. We need to be more adaptive and we have a clear strategy for it. Our target for the new Tech Centre is to develop the products for the local market. We need to look at the design but we cannot have the complex designs that some of our other customers have in their cars.
The combination between design and manufacturing has to be optimised. We have to adapt to the local needs. And that is one of the reasons why we are here today.
What would you say your proudest moment has been in four years with Huf?
I'm really proud of a few things. We had to really change the company a lot in the last four years. We had to deal with Covid, the semiconductor shortage, and the Ukraine war -- these are all external factors that did not make it easier. When in history did we have crisis after crisis?
What has the CAGR and YoY growth been over the last four years for Huf?
These four years were not very typical. Yes. We even had years, where the year over year was actually a decrease in sales due to Covid that created shortages. This year we will see a minor growth. What is more interesting, and what is also a reason why we do this (investing in the Tech Centre) now here in India is we have now a very aggressive and ambitious growth strategy.
What are you aiming for now in India?
The minimum we expect is to double the sales by 2030. I think we have a good chance to achieve more than that. The company has a great chance to grow with the business on the basis of new technologies and with new products that we are now going to develop. At the moment, I cannot really tell you a number like 3% or 5%, because actually we are not at the moment we are not planning like a linear growth, we actually want to see an even more advanced growth curve towards the end of 2023 sales. We actually want to see even higher growth.
RELATED ARTICLES