'Our vision is to reduce road fatalities by offering customised safety products for the Indian auto market.'
Dr Steffen Berns, Bosch Ltd's MD and president, Bosch Group India, speaks to Brian de Souza on safety products, aftermarket and on how things are shaping up at its upcoming R&D centre at Adugodi, Bangalore.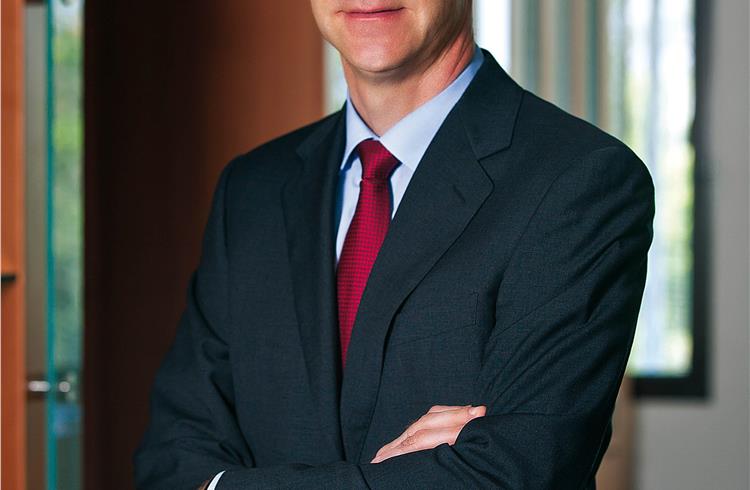 Dr Steffen Berns, Bosch Ltd's MD and president, Bosch Group India, speaks to Brian de Souza on safety products, aftermarket and on how things are shaping up at its upcoming R&D centre at Adugodi, Bangalore.
When Bosch announced its Q1 CY2014 results, it was mentioned the continuing quarters will be challenging. How has Q2 been?
We are shortly going to announce our Q2 results, and these will be available in mid-August. At this point in time, I can share a few broad comments. Despite the positive sentiments we are seeing, we see no major impact due to it. Several factors are at play and we have to keep a close watch on the weather report and the monsoons. Despite the economic slowdown of the past two years, we at Bosch are continuing with our planned investments announced early this year.
Looking back at 2013, Bosch witnessed muted growth; that said, we did outperform the automotive market. This year's first- quarter results were again better than the market due to good performance of the tractor market, exports and more successful vehicles with Bosch equipment.
How has the aftermarket fared? Did Bosch target this in a specific manner to balance out a slow local market?
The mood is clearly down. In 2013, the automotive aftermarket division recorded a growth of 2.5 percent over 2012. With many trucks off the roads, there was lesser demand for spares. While the overall company results were positive, continued weak consumer sentiments limited our growth in trading divisions such as the automotive aftermarket. However, we expanded our offerings to include batteries, fork oils for two-wheelers and premium and spot lamps for cars.
In terms of our reach, we have appointed over 250 new first-trade level customers. In addition, we have launched a new workshop module named 'Optimal Diesel Partner' for diesel service. To improve the supply chain, we have set up modern warehouses at Bhubaneswar and Indore for the independent aftermarket and at Pune, one for OE spares.
We have also made significant progress with respect to the integration of automotive service solution business acquired from SPX India. The takeover of SPX Service Solutions has opened up newer avenues, with respect to diagnostic services for the Indian market.
One key introduction expected this year is ABS for two-wheelers. Can we have an update?
Having established our leadership and innovative strengths globally, we are fully geared up to meet the local demand for safety products in India. In addition to this, we are taking proactive measures to generate awareness on vehicle safety in India. Our vision is to reduce road fatalities by offering customised safety products for the Indian auto market.
The latest ABS Generation 9 from Bosch is modular, scalable, and has been developed specifically for motorcycles. It is also one of the smallest and lightest ABS for motorcycles worldwide. We also have the ABS 9 Light, an entry-level variant ABS. Since it works solely on the front wheel, this one-channel system is less expensive than conventional two-channel ABS, making it ideally suited to low-cost motorcycles which have only one hydraulic brake in the front wheel. In contrast, the ABS 9 base offers ABS functionality on both wheels.
Bosch has developed an electronically controlled fuel injection system that can be adapted to any vehicle, from the cheapest single-cylinder two-wheeler in Asia to high-performance bikes. Bosch says it plans to apply its unified systems approach to low-cost models in Asia, especially in India and Southeast Asia. When do you plan to bring this in to India?
In India, approximately three out of four vehicles sold are two-wheelers. It is thus 'the' mobility solution for India. Therefore at Bosch, it is of paramount importance that this market and its products are given the right attention. The worldwide two-wheeler market has been growing steadily and is forecast to grow higher in the years to come. India would be one of the few countries spearheading this growth.
Bosch has been extending its expertise in catering to the requirements of this high potential market. We have already introduced EMS systems for two- wheelers in India, and more development steps and many more applications are going to follow.
As the company aims to make Adugodi an R&D centre of sorts, what are the projects that OEs are talking about which Bosch can offer its expertise?
Bosch in India is supporting nearly all the developments worldwide and thus has excellent competency and experience. In automotive, this is especially under the headers of 'clean and economical', 'safe' and 'comfortable'. Of specific short- and mid-term interest are emissions reduction and fuel efficiency solutions, automotive safety like ABS and airbags as well as driver assistance or smartphone integration. In the long run, the vehicle will be electric, connected and autonomous – which we are also supporting. We currently have 1,300 people in R&D and will increase this number significantly. India has good talent and we also strengthen that by our own in-house training.
Given the trend in downsizing engines to provide both improved fuel efficiency but the same or better performance, there is growing demand for small turbos in India. Do you plan to cater to this demand?
For some time now the downsizing of the engine has come a long way to achieve the ideal combination of performance and efficiency. We are producing turbochargers in other countries and, depending on volumes, will also decide whether to bring this to India or not.
On the component lightweighting front, what are Bosch's recent successes in India?
The increasing demand for the carbon dioxide reduction has driven the component lightweighting at all levels from system to engine to vehicle. At Bosch, from the system development perspective, we are constantly focusing on reducing the number of components with incremental innovation at each stage of new product development. We have seen good successes with new platform CRS 1-14 in the LPV (low price vehicle) segment, with a strong focus towards the reduction in components numbers with system simplification.
One good example is the recently-launched starter motor, which weighs just 2kg; the innovative starter is about 25 percent lighter than currently available products in the similar power class. The weight reduction is achieved through design innovations. Its power-to-weight ratio has been increased to over 500 W/kg.
What has Bosch India contributed to its parent company, not just in terms of business but manpower and engineering talent?
With over 10,500 R&D engineers, Bosch in India is the largest R&D centre outside of Germany. We offer end-to-end engineering service in India.
India continues to play a pivotal role for the Bosch Group, and the inauguration of the research and technology centre (RTC) in Bangalore only re-establishes our commitment to India. RTC will look to engage with the finest academic research community and work with some of the best technical talent pool in India, as it will focus on subjects of international focus such as the Internet of Things and Services (IoTS), System & Software Engineering for engineering methods, data and cutting-edge technology areas of computer vision and image processing.
Development of local solutions, based on market and customer understanding, has led to many new platforms and approaches. These have been used as the basis for further developments also for other countries.
Finally, how does India's policy environment impact a company like Bosch?
Basically, a variety of factors are at play. It always helps to have boundary conditions and clarity as that helps in making business plans. Though demand for diesel has come down a bit, we believe that diesel has many advantages. Ultimately, vehicle size, fuel price, driver preference and mileage will be determining factors behind vehicle purchase. In a macro-context, I would say that too much fuel subsidy does not, in a sense, contribute to a stable macro policy environment.
RELATED ARTICLES