Sudhir Mehta, Chairman, EKA Mobility: 'We want to be first movers in private e-bus sector'
EKA, the EV offshoot of Pinnacle Industries, has been putting in place the building blocks for its EV foray entering into a partnership with Log9 Materials for fast-charging battery systems and signing an MoU with goEgoNetwork for charging infrastructure.
Sudhir Mehta, chairman, EKA Mobility: "The biggest challenge is that EV funding, which has not kept pace with the size of the industry."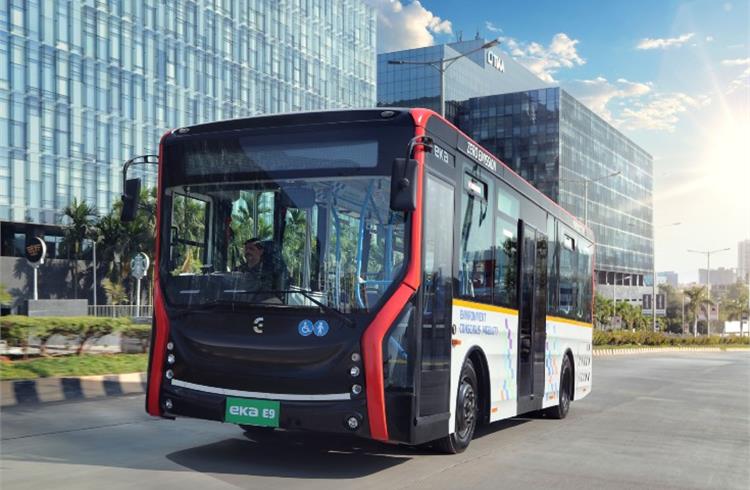 The E9 is the first electric bus from EKA Mobility
Dr. Sudhir Mehta, Chairman, EKA and Pinnacle Industries at the launch of the E9 on April 2, 2022.
The EKA E9 is powered by an electric motor that develops maximum power of 200 kW and torque of 2500 Nm
EKA, the EV offshoot of Pinnacle Industries, has been putting in place the building blocks for its EV foray entering into a partnership with Log9 Materials for fast-charging battery systems and signing an MoU with goEgoNetwork for charging infrastructure. Chairman Sudhir Mehta speaks to Autocar Professional.

What have been the developments on your EV plans since you showcased the bus at the Pune Alternate Fuel event?
We have completed the homologation for the 9-metre bus, for the standard version of the vehicle, and are now looking at new use cases: a school, and staff bus. A school bus does not need a huge battery and can be designed to have more seating. We are also making one for staff, one for longer distances that offers reclining seats, and one with regular staff configuration seating. The unit economics depends on the battery which accounts for 40 percent of cost. With smaller battery packs, the initial cost of ownership can come down.
In my view, the early adopters of these new use cases will be those companies that are focusing on their ESG commitments, and those who are keen to do something for the environment.
In April, EKA launched 9-metre pure electric, zero-emission bus, the E9.
For an EV bus, the rate of investment kicks in the third, fourth and fifth years; typically, an electric bus runs for 12 years, and the EMIs are higher in the initial years than in a conventional fuel bus.
Our biggest challenge, therefore, is EV funding that has not kept pace with the size of the industry. For finance companies, they need to see a long track record, residual life of the battery among others. These issues have not been answered. It is only when fleet sizes are bigger that we will get a better idea.
In my view, EV finance should be in priority funding, as this will give a push to financing. Also, the spread between EV and a conventional vehicle will have to narrow and finally, there will be a need for longer tenure funding - say seven years – as EV will have a longer life.
As you get ready to launch, what are the markets you are targeting?
We are targeting 100 vehicles in the private bus market as government tenders take longer. We want to be first movers in the private e-bus sector. We are looking forward to the upcoming bus tender for e buses. This is a welcome development as it will be an opportunity for all players to participate. As regards the private sector, it will set a good example, helping the EV cause and encouraging adoption. The EV numbers in the private sector are small, and that is our focus. We do not want to put all our eggs in the government basket.
We would also like to be in the airport bus segment. There is a draft notification that suggests that all vehicles that operate at airports should go electric in a few years. The airport segment is niche but highly visible and this helps our cause for the adoption of electric vehicles. The airport is also easy to run an EV because the installation of charging points at airport premises can be done without much hassle.
Having said that, I do believe we need to build, in a steadfast manner, a proper eco-system. As a country, we are the most competitive in terms of EVs globally from a price perspective. The supply chain for EVs will need time to settle, and all players should get a chance to build capacity for the future.
Apart from the local market, we also need to seed exports as well, and that is on our radar too. There is, potentially, a big play for exports as our buses are the most competitive in the world. In a few years, I believe that we will have steady volumes.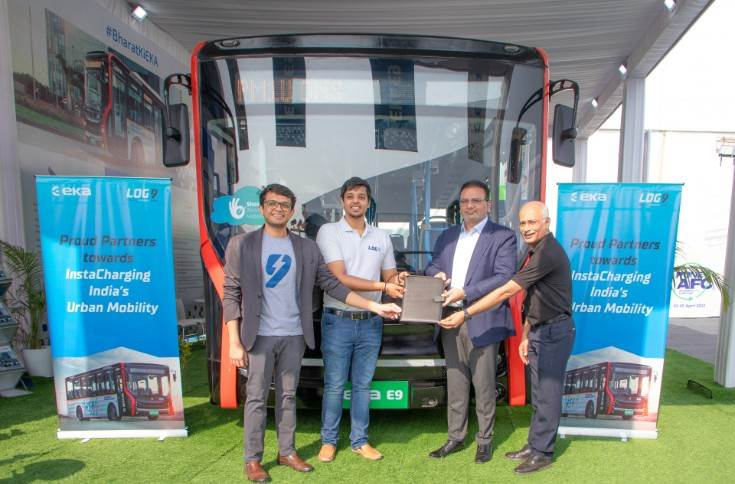 How does EKA plan to set up an eco-system for the buses, and take us through your alliance with Log 9 Materials?
As our name, EKA, suggests, it means coming together. We need build an eco-system to make this happen. We are working with many companies in this space and the advantage with Log 9 is that they claim their product has a longer life but will be more expensive initially. So, over the lifetime of the battery, a customer will benefit. We are working on a solution, and they will provide the battery as well as provide funding for a pay-as-use model. We believe that transport models will transition to ones that are pay-per-kilometre, or transport-as-a-service model.
How do you plan to handle both the private and government bus segment?
As far as buses go, we will focus on city buses. A coach that typically plies on inter-state routes is still some years away, but it is on our roadmap. We see that these city buses will be in the CESL tender and then state transport undertakings are also running their own tender programs. Here the challenge is to arrange finance and here too, these are moving to the gross cost contract or GCC model. To ask the OEMs to take that on its balance sheet is not viable. For government bus-buying programmes, the requirement is for multilateral organisation funding and not high-cost funding. We need a pipeline of low-cost green funding for the programme to be sustainable. In my view, the next frontier in EVs will be green funding coming into play in a big way.
What are the risks for funding for buses?
It's a showstopper. We cannot as an OEM fund our own vehicles. Our focus is to manufacture, sell, and service. The other entity does the financing and yet another that handles operations. The GCC works if these players are in sync.
Having said that, we are in talks with state transport undertakings, and will make the buses based on the orders we receive. The government has a long lead time of 6-9 months for supplies, and from our point of view we will participate in all tenders. We will begin once the funding has been closed. We hope to provide city government buses that will be 33-seater and 33 standees.
At the end of the day, the private market is more predictable than that of the government.
What are the numbers that have gone into your planning?
By March 2023, we want to do 250 buses and we hope that by then we will have a clear idea about the government tender. So, it will be targeting both government and private buyers as part of our strategy. We hope to do four-digit numbers by 2023 but a lot will depend on the tenders.
What is the update on the LCV front?
On the LCV front, we are on the final stages of homologation that is being done at the Central Institute of Road Transport or CIRT. We are expecting that this will be completed in 45 days or so. The first lot of 25 vehicles will be made in the last quarter of 2022 and go to customers, and from January 2023, we hope to seed the market in lots of 100 per month. Based on customer feedback, we will then ramp up by March.
The LCVs are targeted at customers who run last-mile deliveries in the city. These would be the operators who handle this for the likes of Amazon or Flipkart. This is a captive market. Our business case is that the first vehicles will go to select customers, 5 to 7, and we will assimilate their feedback. We will manufacture these LCVs at Chakan, even as we are in the process of creating a mother facility at Pithampur, so two locations. The buses will be made at Pithampur.
We have to balance business to business and business to government, larger and fleet owners and also geographies. It is also important that we manage expectations regarding weight and range in a haulage vehicle. So given the complexity, we wish to take the step-by-step approach and supply chains also have to be ready as they are currently restrained. One might say that the approach is cautious, in that sense but I reiterate that we are here for the long term.
What supply chain issues are you facing?
It may be an overused term, but we have to look at the localisation. A bus has 1500 parts or so and many are imported. We want to meet the requirements of FAME, and our suppliers are also gearing up. From a supplier perspective, we may give projections but what they are keen to know is the guaranteed order. We cannot stock parts for very large numbers so we will see the emergence of large part suppliers who can stock, say for products like for cells which have a long lead time. The parts side has to gear up and we will need to have separate capacities for electric vehicles.
How will Pinnacle and EKA work on the EV mission and strategy?
At Pinnacle, we want to work with all OEMs and create capacity. At EKA as an OEM, we have to give confidence to our suppliers that we will pick up what we are promised. The auto sector and the components as well are mature industries and are seized of the fact that volumes may be shifted but if the direction is right, things will work out. We cannot create manufacturing capacities on the limit, we need to take a 2-3year view.
For now, we are equipped to do 100 buses per month and in the region of 500 for LCVs. We are creating capacities for 1000 buses in nine months, and for LCVs, for 2000 a month. As far as ramping up goes, it will take time and we are open to looking at contract manufacturing after a year.
We will also look at tapping the export potential and that timeframe is a year. We hope to seed first exports early next year. We will look at Saarc, the Gulf and Africa and any other markets, ex-North America, and Europe. We hope to be in Sri Lanka once the situation stabilises. If one sees where the Chinese buses are going, that is the route that can be taken by us. It's the same target destination for LCVs.
Finally, what does the EV sector really mean to your business and to our country's mobility needs?
For 50 percent of Indians who need mobility services, buses, and not two-wheelers are key. On travel, the expenditure is Rs 80 per month per person is what Indians spend on public transport. In Pune, we are spending about Rs 22,000 crore on the Metro, like many big cities that are spending between Rs 20,000 and Rs 40,000 crore. Metros are losing money, and what the public really require is safe, clean and cost-effective means of mobility, so we need multi-modal and last mile mobility. And buses can meet that need.
This interview first appeared in Autocar Professional's 1 October, 2022 issue.
Also read
EKA Mobility appoints Lakshminarayan as independent director
EKA signs MoU with goEgoNetwork for charging infrastructure
EKA partners Log9 Materials for fast-charging battery solutions
RELATED ARTICLES