Siddhartha Lal - Managing director and CEO of Eicher Motors
The managing director and CEO of Eicher Motors is a motorcycleaficionado. In a freewheeling tête-à-tête with Brian de Souza and Karthik H, he reveals how Royal Enfield plans to cater to growing demand and tap global opportunities.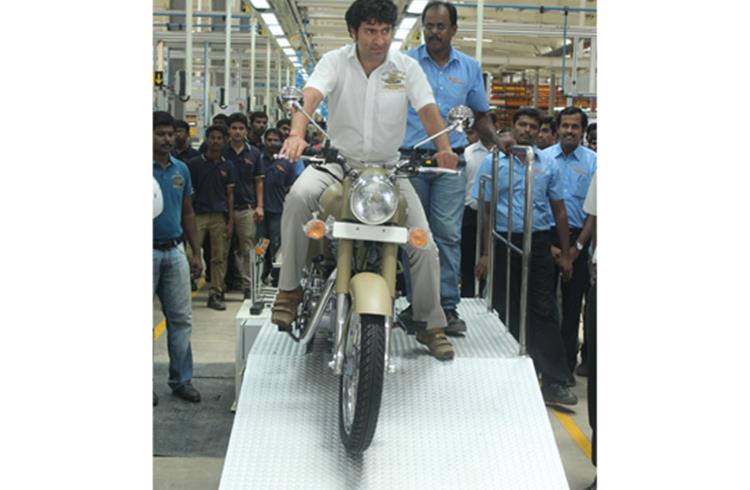 What is the raison d'etre behind this new plant?
The genesis came about because of growing demand for our products which began when we launched the Classic in 2008. But even before the launch, we had put a lot of work into our fit and finish, distribution, quality, aftermarket and overall retail experience. So this represents a culmination of all those efforts, all of which was built into the Classic with its new engine. We were able to remove barriers that existed in customers' minds. Questions like is the bike too heavy, questions regarding reliability – all this got erased with the Classic. The Classic inaugurated a growth phase for us except for 2010 when things were down because of the change from cast-iron platform to our unit construction platform for all of our engines. By February 2012, we had all permissions we required for this plant. We did consider other locations in other parts of India but finally zeroed in on this as our supplier base is here. So from a cost perspective, it made sense to be here, not develop a whole new base. This is quite a hub, we have suppliers here including Durr, our paint supplier. We are now at a stage where suppliers want to be here, like the supplier of frames, for example. Phase one was planned some 18 months for 150,000 units when we were selling 60,000-70,000 units a year. We have now triggered off the second phase, which is to go up to 250,000. For this, we will make new investments for engine production and tools of course but the main ones are done, only incremental ones remain. Our ultimate aim is to make a bike per minute in a single shift.
You spoke about roadblocks in the customer's mind. Can you elaborate?
We invested time and money. We had anxious moments because the roadblocks were many. At the physical level, it's weight, finish and reliability. We tackled all this in a meaningful way. We made changes in the gearshifting, for example. We did not want to compromise on safety. We tried to understand what the customer means by saying, "the bike is heavy," to take an example, was it to do with the weight or the bike, or the kind of stands? So we simply made an ergonomic centre stand.
This new plant should give an impetus to your export strategy which we presume is being put in place.
Our export strategy is a work in progress. Our desire is to export a lot. We have secured our medium term here. We are making more bikes, appointing new dealers and are looking at the global opportunity. We are building the same product in a more superior fashion. As far as exports go, there are price points, positioning, understanding the market and that is what we are looking at. So it may be an emerging market that has a strong base of commuting and are relatively better off.So Latin America is a good example. We wish to export, not assemble outside. Our developmental work is in international for sure, which is market development and we wish to crack 3-4 big markets that are India-like with an emerging middle class market. We want to become a significant player in these markets. In 8-10 years, we want to be No. 1 in mid-sized bikes, a segment that is under-served, we believe. We want to create a different style of motorcycling.
What would you identify as the growth drivers for Royal Enfield?
This is all about re-inventing the midsize market globally, investing in new markets and doing what it takes to establish a strong presence. We need to have a deep understanding of global markets. And we will see volumes from India-like markets. We are setting ourselves up for the long term. We want to be key players in 15 markets in 5-7 years and then we can be global and believe that we can be among the most profitable players in the business. We have to understand the markets we want to enter and for me, the distribution aspect is the most important. If we are targeting 175,000 units in India, there's no reason why we cannot do this in a global market. We will not do tie-ups for products but we will not rule out anything as regards distribution. We may go alone in some markets and are open to experimentation.In India, we had company-supported dealers 10 years ago as we wished to increase scale. Some clicked, our own company stores clicked. One example is Hyderabad where we set up a company store. The dealer who was selling five bikes a month was invigorated and eventually the overall volume went up. In some cases, we failed but we learnt our lessons. Company-owned showrooms was what we did in strategic places where we were not able to get a good dealer. Now with the brand doing well, we get good quality inquiries – over 100 a month – for dealerships from motorcycling, entrepreneurial guys because we want a dealer, who has fire in his belly, is dedicated to the business and has the money to invest in a dealer. We are looking for a different kind of dealer, really, not the old, moneyed kind. We don't want a guy who is making an investment but we want a guy who wants to be in the business.
Tell us about your own passion in the business?
From a work perspective, I do what I enjoy. At Royal Enfield, we took some real hard decisions and got rid of things that didn't work. We have no boundaries here. I was able to devote time to the trucks business as well but we did consider doing it alone in trucks but determined that was highly risky, so we got a partner. It has played out well for us. Since we shed some of our businesses, we have entered just one business and that is the Polaris joint venture, in the last eight years. It's a creative segment and we are excited about it.
RELATED ARTICLES