September 1, 2012: Tom Chackalackal, Executive Director, Ford India
Manufacturing speaks about how India is in dire need of better ports and why the existing infrastructural facilities are a far cry from the global standards in countries like Thailand. An interview by Shobha Mathur.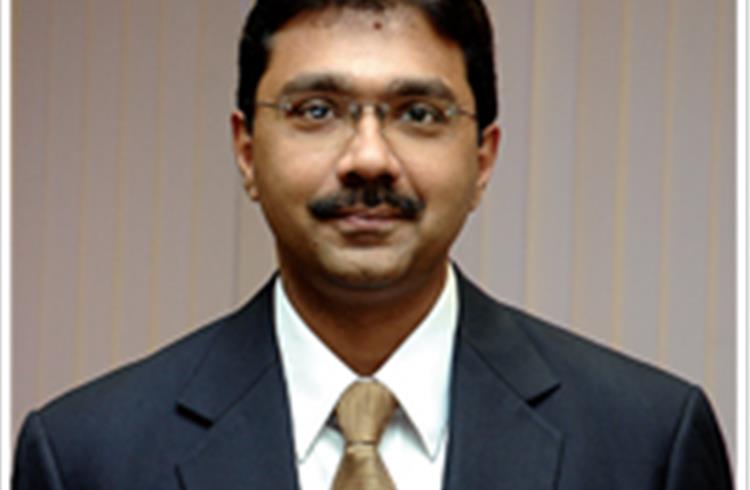 What is Ford India's logistic fleet size and how do you send your cars to all the far-flung parts of the country?
We have six truck providers with close to 100 percent of the cars moved by trucks. We have tried the train but the last-mile connectivity is a problem due to multiple handling from the plant to the railway station and the same is true from the railway station to the dealership.
How big is your sales network and how many markets do you export to?
We have 230 sales and service outlets in 123 cities and we export to 35 international markets.
Ford India is among the few users of a rail link. Are you able to use it effectively? Is there scope for replacing some of your road logistics by rail?
In North America there are rail sidings inside the plant and you can load the car into the train. The car then gets parked in a common yard from where it is picked up. In India, we do not have that infrastructure as a result of which cars are likely to get damaged. The government is working on a new wagon policy and we are extending our support through appropriate industry bodies like CII and SIAM for it. Even at Sanand in Gujarat, we are working with the state government to establish the infrastructure from the plant so that we get till the station without any problems using the rail link. The rest of the infrastructure development has to come as part of the railway policy and the rail ministry's action. In North America and Europe, cars are moved by train.
How do you manage to get various components to your plants and through which logistics service providers?
We have replicated the global model and have been working with lead logistics partners since we started operations in 1999 and continue to work with them. They have done the milkruns in Chennai and in the Delhi-Pune belt. They bring the consolidated material to the plant and even with the Figo's growing volumes, they continue to do so. We take responsibility from the suppliers' location, consolidate and bring the material into the plant.
What do you think are the impediments to growth?
The biggest difference is the size and voluminous trucks used in Europe and North America. Here we get 700 trucks in a day for a two-shift operation. In a similar-size plant in North America, you would get 200 trucks because of the volumes that each truck can carry and the way those trucks are designed with a side opening so that they can pick up the parts.Unless Indian roads can carry those kind of trucks and manufacturers make those kind of trucks, India will be way behind the global automotive industry. That is how the industry is today but with the volumes and the opportunity for overall output and productivity increasing, road infrastructure has to play a big role. New types of trucks are also coming into India but using them is a challenge.
What can help improve logistical support?
Air and sea logistics for imports and exports as well as country-related airport infrastructure for managing consignments safely. It's a similar challenge at the ports where infrastructure in terms of overall cleanliness, housekeeping standards and safety of our goods comes in. The infrastructure at the global airports in Thailand and North America is outstanding; so India has a long way to go, both from the import and export perspective.In terms of road and train infrastructure, trains can do a huge turnaround on reducing the number of trucks on highways today. If you look at our railway stations, handling of goods is all manual in India and there is no equipment to take any material out of the goods train, so it is a challenge to transport goods by train. There is no material handling equipment nor are railway stations designed to handle bulk cargo. For India's road infrastructure to match global standards, there need to be fewer but bigger trucks on the roads if you want the industry to become more productive.
Is Ford looking at more specialised trucks to transport cars?
We use four-car and 10- car carriers and that is all that the roads can take. If you look at global markets, they have open trailers but in India trucks have to be covered from the safety point of view because of the dirt, sand and gravel on the roads. It is a totally different scenario in the developed countries compared to what you see in India. China uses a lot of steamers and waterways. Here it is not even being thought about and India is a peninsular country with the waterway opportunity around it. So there is a lot of opportunity of turning it around and making it simple. But all this has to come with a lot of infrastructure development and working with people who have done well in international markets.
Do you use the air link for exports?
The air route is only used at times of emergency because the cost is not affordable for daily operations. However, there are commodities that are small in nature but high in value which makes more sense transporting by air. Normally it is 100 percent sea movement for both imports and exports with exports being mostly cars and parts.
Is the sea route cost- effective?
The Laem Chabang Port in Thailand is a major market for export of cars. But if you visit the Chennai port, you will see that India is still many years behind. The port at Thailand is well laid out, there are vessels calling and dedicated berths with cars parked for export facing the sea and everything well arranged. We are beginning to export in large numbers, so there is an opportunity to provide infrastructure as per global standards and bring down costs.
What is your wish-list?
We need cleaner ports, someone has to take the initiative for overall housekeeping. Revenue is coming to the government from exports, so it has to take the initiative to provide the infrastructure.Crossing the highway is a challenge for trucks because the number of cars on the road have increased over the last 15 years. The plant runs round the clock, so you cannot have even a slight stoppage because of parts. The government needs to look at how the highways can get over passes and under passes so that the country can get into the big league in terms of volume of production.

RELATED ARTICLES