Rudratej Singh: 'Royal Enfield's 650 twins will definitely open the leisure motorcycling segment in India and also globally.'
The president of Royal Enfield, Rudratej Singh, speaks to Amit Panday about the many narratives around the brand and its motorcycles, how despite being analog in nature, Royal Enfield motorcycles will continue to stay relevant in the digital age, acquiring new customers, revival of the Himalayan, and great expectations from the incoming RE Twins. Excerpts from the interview: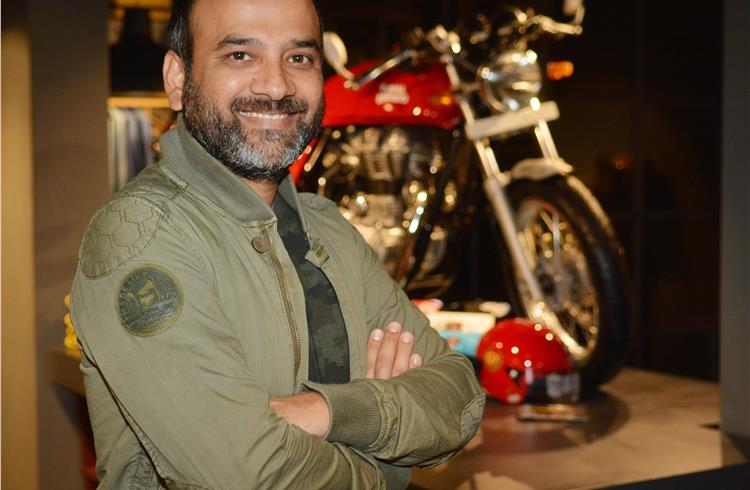 The president of Royal Enfield, Rudratej Singh, speaks to Amit Panday about the many narratives around the brand and its motorcycles, how despite being analog in nature, Royal Enfield motorcycles will continue to stay relevant in the digital age, acquiring new customers, revival of the Himalayan, and great expectations from the incoming RE Twins. Excerpts from the interview:
How would you fundamentally define the target buyer for Royal Enfield motorcycles?
I would not define Royal Enfield owners through demographics because people are behaving very differently. A 42-year old might still have a mindset similar to a youngster who has just left home (for higher studies or first job). Royal Enfield cuts across a motivation or a set of motivations (for bikers and other people in general).
The motivation that we are serving, and very well at that, is for people who have lost themselves and are trying to find themselves. That's something that cannot be bracketed in terms of an age group. However, I would say this motivation of anyone trying to find himself or herself starts happening at a young age, when they are in their first jobs and have money at their disposal and are looking to express themselves and establish their identity. Royal Enfield goes, in some ways, to set that identity whether you call it status or a sense of personalisation or self-expression.
The second set of motivation sometimes happens when may be one is going through mid-life crisis, of being in a rat race. Here again Royal Enfield plays a very interesting role of trying to get them to rediscover themselves. So in a way it is a motivation to self-explore. The brand works as an ally, as an aid.
Royal Enfield motorcycles are really easy to ride and accessible. When you ride an RE bike, it unlocks a feeling, which connects to the journey of self-discovery. Each time you ride a Royal Enfield, we are nudging you towards self-discovery and self-expression.
In 2010, we sold about 52,000 motorcycles and that was a great year for us. This year (for the 12-month period in FY2019) we will exceed the sales milestone of 800,000 motorcycles. That's the scale of change in just about 8 years.
The company has largely stuck to a portfolio that reflects nostalgia of classic motorcycles barring one – the adventure-tourer Himalayan. Bike makers the world over, including Harley, are tweaking their product strategies to be relevant for new-age buyers, which are the millennials who want technologies at their disposal. Do you even consider millennials as potential customers? If yes, how do you plan to bridge this gap between the past and the future?
We are not for or against digital (the digital age) because it is the world we currently live in. It is the reality. We are all digital people whether we want it or we don't want it. So that's not a segment in our view.
In the automotive world where everybody talks product(s) and product launches, model year changes, colour trims, graphics and others, we are a brand-specific company. We have sub-brands such as Classic and now we will have Interceptor and Continental GT very soon. This is our competitive advantage – when everybody else talks about their products, we talk about our brands; when everybody talks about customers, we talk about people; when everybody talks about users and utility, we talk motivation.
We sell a lot of motorcycles but we want to make sure that we service an emotional need and not just a functional need. Because functionally comparing two products simply becomes an Excel sheet exercise, and millennials don't like doing excel sheet exercises.
Technology and digital is part of their lives but for each human being, there is a need to go analog also. Actually, the more digital you go, the more you understand the value of simple, pure and analog moments in your life. That is why these people (millennials) are spending more time on the meditative aspects of life such as self-discovery. The consumers are very different today. They want to live today and not end-up only saving for tomorrow. They don't look at things as digital and non-digital. They value time with themselves and the commitment of investment of living now versus living tomorrow. I think that insight is what we are all about. That's why our profile of people is getting younger. In 2010, the average profile of a Royal Enfield owner was about 42 years old. Now this is somewhere in between 26-32 years old.
Moving into the adventure motorcycle domain was a bold move by Royal Enfield. How do you see the market of this genre growing in India?
It is a new segment. What we have done with the Himalayan, which is my favorite motorcycle, is that we have made a bike that is equally good for weekday and weekend use. And it is actually absolutely spot on with other Royal Enfields, which are known for being uncomplicated and evocative motorcycles. The 410cc engine is a long-stroke engine. We want to make sure that we don't lose the character that makes us authentic. We are already exceeding expectations from the Himalayan. It is a genre that will be built over time.
What is very interesting, whether it is the Himalayan or the TBX (Thunderbird X), they are getting those people who loved the brand but were not buying the products. Therefore, I always reiterate people first buy into the brand idea and choose products later, never the other way around. It is a mug's game to sell a new product every year. To me, it is a very unfulfilling exercise.
There were many people who did not buy the Classic and the Bullet motorcycles earlier. The Thunderbird X and the Himalayan are for those people who loved the brand but were not selecting any product from the existing portfolio. The profiles were such that we got a lot of first- time motorcycle buyers and first-time buyers of the Royal Enfield brand and not repeat buyers of Royal Enfield motorcycles. That was exactly what we wanted, where the brand love is much higher than the product usage for Royal Enfield. I can't comment for others.
The Himalayan is the culmination of many journeys that we have traversed in the Himalayas for decades, and have customised our Royal Enfields to do so. The Himalayas have become a spiritual home for the Royal Enfield. Our roots may be British and our soul may be Indian but our spirits are in the Himalayas. We said let's bring all of that together (with the Himalayan). It is absolutely a very spot-on Royal Enfield motorcycle.
How does the company plan to further build upon the Himalayan from here, given there were complaints from the existing Himalayan owners?
I think we are over that hump. Our BS IV-compliant Himalayan has pretty much overcome all the previous issues. Interestingly, we had not (earlier) planned to sell it (BS IV Himalayan) in the developed markets globally. However, it is turned out to be one of the bigger successes for us in the developed markets such as North America and Europe. We had not planned to sell it in those markets. We began selling the Himalayan in those markets over the past few months and we are getting unbelievable response now (in US, Europe and Australia). All our developed and developing markets have the Royal Enfield Himalayan on sale now.
Does that mean the Himalayan's share in Royal Enfield's total exports has grown recently?
Yes, very much.
We see double-channel ABS on any Royal Enfield motorcycle for the first time with the new Classic Signals 350 variants. When do we see ABS-equipped Himalayan and other models?
The ABS-equipped RE Himalayan motorcycles are expected to come in next month. All others will follow suit soon.
Are you eyeing new categories or a new family of motorcycles to get into in the future?
We are open to get into whatever is fit with Royal Enfield as a brand and as a way of motorcycling, which is easy, accessible and authentic. That's what we are doing with the Interceptor and the Continental GT. We are not trapped in the engine capacity, displacement or performance narrative. We are more driven by the emotional benefits of pure motorcycling. We have a few new platforms in the pipeline, which will explore other ways to introduce pure motorcycling. But I would not want to put them under segments used by the automotive industry such as the adventure-tourer or the roadster or any other.
All motorcycles from Royal Enfield will continue to be easy and fun to ride. We don't want to go to extreme genres of any (motorcycle) segment.
Harley-Davidson, which primarily stuck to a cruiser / touring motorcycle portfolio for the longest time and now has an ageing customer base in its own home country. The company is now desperate to establish new connect with the new generation, which does not relate with the HD bikes anymore. What is it that the Royal Enfield can do to not fall in that trap may be 10 years from now?
Our focus is our consumers and our future consumers. We do not look at the other manufacturers or brands. We wish them all the very best. We have our work cut out to focus on ourselves, and our future. In that context, I can only comment that people first buy into an idea of a brand and only then you can sell them products. Buying products is a sign of allegiance with the idea to which they have already bought into.
So if the new consumers or the future consumers have already bought into an idea that is relevant for them, your ability to sell (products) to them will be less tough. Selling is a secondary activity. So being relevant to whoever is our target audience is our first protocol.
India is at present a developing nation which is gradually maturing. Do you think the Classic motorcycle segment, which is expanding right now, might shrink compared to its current proportion to the overall midsize motorcycle category?
Our motivation of self-expression and self-discovery will not shrink. As long as we are true to that, we will keep doing stuff that currently defines our authenticity. We are creating authentic products, experiences and messages. As long as we do that, we should be relevant. For example, Royal Enfield's association with the armed forces is one of the most authentic characters, roles and narratives that still exist.
Royal Enfield is set to launch the 650cc Interceptor INT and Continental GT soon.
The RE 650 twins are coming soon. These 650cc motorcycles will be launched in global markets before India. Do you think India will be a bigger market for them than all global markets put together?
I believe that the Interceptor and the Continental GT are the first true global product launches for Royal Enfield ever. Therefore, the appeal will be global. In India, it will offer an upgrade to the 2.5 million Royal Enfield owners who have been waiting for the twins.
Meanwhile, in the international markets, it will offer a way to expand the middleweight motorcycle segment because there is nothing evocative and accessible, and authentic in the middleweight category. So it will expand the market as an entry-level motorcycle in the developed markets.
It will also be an upgrade for many in the South East Asia and Latin American markets, just like in India.
So in India the existing pool of 2.5 million Royal Enfield customers will be a bigger pie?
In my view, it should be. It will definitely open the leisure motorcycling segment in India and also in the rest of the world.
How big is merchandise sales becoming for Royal Enfield in India? That has been very successfully pulling a lot of footprint into the RE showrooms all India.
Our whole business is around selling a pure motorcycling lifestyle. We don't look at gears as a separate business although there are numbers associated with it. You can wear a Royal Enfield T-shirt and not be a motorcycle rider. By doing so, you can still express yourself. For us it is an integrated way of selling pure motorcycling. I think if we sell motorcycling lifestyle, we will sell a lot of motorcycles.
The gear business is absolutely integral to the overall pure motorcycling strategy. Without disclosing numbers, we intend to double our (gear – merchandise and motorcycle accessories) business every year.
RELATED ARTICLES