Interview with Vincent Cobee, corporate VP and global head of Datsun
On building the Datsun brand, the Go's USP, and strengths of the Indian engineering team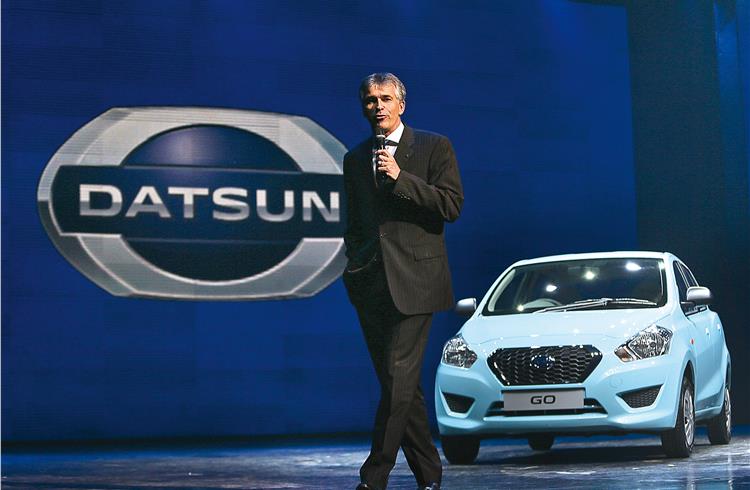 India is a very competitive market. What will the Go's USP be to take on competitors?
It is competitive. Our main competitors launched 3-4 models in the last few months. It takes 5-6 years to introduce a brand. We are doing it in four years. The Datsun Go is a combination of global knowhow and local product. What can I bring? I can bring fuel economy and roominess among other strengths. The Go will exude modernity.
What is Nissan's aim to build the Datsun brand?
First, I believe, in business, you must be very focused. 'Risers' are our target customers. We want to deliver the dreams. We want to prove the strategy in more than one market. We don't want to go to more than 10 markets in the first phase. There are many countries with a large population but the purchase of a car may not be priority in all. There will be a lot of interest in expanding.
What are the main strengths that you discovered in the Indian engineering team and those that were brought in by the Japanese team working on the Go and Go+?
The biggest strengths brought to the project by Indian engineers are the vast knowledge of the market and customer needs, as well as strong command of such processes as CAD (computer aided design) and CAE (computer aided engineering). The Japanese engineers shared expertise, know-how and experience, accumulated by one of the leading global carmakers through 80 years of car manufacturing history.
Do you see the emergence of new or sub-brands, like Datsun, from other global OEMs too, since many markets are getting highly fragmented across the globe?
One of the basic premises behind the return of Datsun is the emergence of an aspirational, demanding and large, specific new customer base in fast-growing markets globally. At Datsun, we think that meeting these demands requires a specific and dedicated brand. Other OEMs will probably wish to also cater for this growing demand, and some might elect to develop a specific brand. This being said, we do not know many brands, past or present, representing modernity, durability and passion
as well as Datsun does.
Is the global automotive industry heading for further consolidation (restructuring of brand strategies, alliances, acquisitions)?
One thing seems clear. Meeting the increasingly complex and diverse demands of the global car markets requires a global reach, a deep technical know-how, and substantial scale and resources. This will probably drive a continuous increase in partnership between OEMs, and possibly some consolidation.
The control of AvtoVAZ can give Renault-Nissan added strength in engineering / business strategy for emerging markets, even though the Alliance partners may not launch any product from the Russian company in these markets, isn't it?
The primary business objective of the acquisition of a controlling stake in AvtoVAZ is the strengthening of the Alliance and of AvtoVAZ's brand Lada in the Russian market. Beyond this, it is also clear that AvtoVAZ has unmatched knowledge of the product requirements for cold, tough and geographically expansive markets like Russia. This expertise could at some point represent a source of synergies with the Renault-Nissan Alliance.
What is the size of the team that has worked exclusively on Datsun?
The dedicated Datsun global team is 17 people working in the headquarters in Japan. There are also dedicated Datsun teams in the markets. Plus big teams involved in the process of styling, engineering, and purchasing, supporting each Datsun project in Japan and locally, but they are not dedicated to Datsun only. For example, about 300 people from different functions participated in the development of the Datsun Go in India.
How big is the Go segment and the Go+ segment in India and Indonesia? How do you see these segments growing over the next 5-10 years?
Datsun is going to enter the core segment of the market, which is supposed to grow and reach up to 50 percent of the total market in India in three years' time. In Indonesia, the Datsun target segment of the market (below 100 million Indonesia rupiah) almost does not exist today, but should grow and make up to 40 percent of the total market in 2016.
What are the key points that should be followed to ensure that brands owned by a company do not cannibalise or overlap each other, especially when there isn't much gap between the brands in terms of price?
Sometimes people tend to be afraid of cannibalisation and competition, but for the car manufacturing industry, competition is good. It is good for a customer, who has a wider choice, and it is good for a manufacturer, as it forces it to have clearer brands, attractive products and better services offered. These are key points.
Note: This interview was published in Autocar Professional's December 15, 2013 issue.
RELATED ARTICLES