'I aim to be not just India's but Asia's first woman on two wheels at Dakar': Aishwarya Pissay
Aishwarya Pissay, TVS Racing's first woman factory racer, is a six-time Indian National Rally Championship winner. The Bengaluru-based motorcycle champion says it takes grit, guts and gumption to shine in the world of motorsport.
Aishwarya Pissay: " When the helmet goes on, it's just the racer and the skill that the person has to cross the finish line first."
Aishwarya Pissay, competing for Sherco TVS Rally Factory team, completed the gruelling Baja Aragon and was the sole woman among the 16 riders in the fourth round of the FIM Bajas World Cup in July 2022.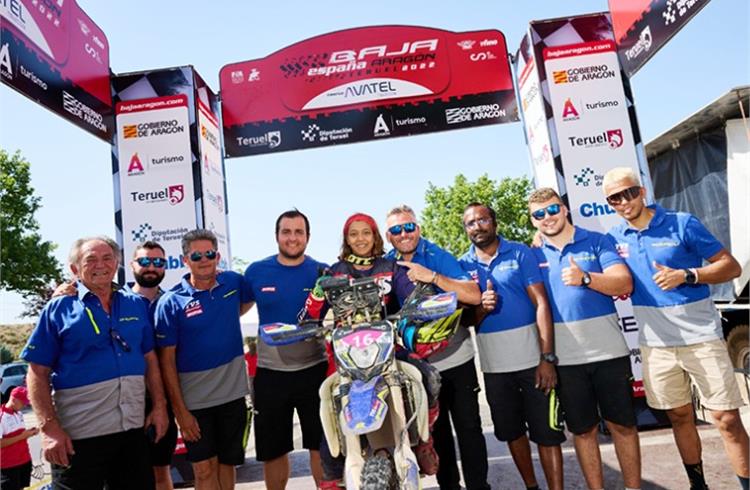 Aishwarya Pissay with members of the Sherco TVS Rally Factory team at Teruel, in the the fourth round of the FIM Bajas World Cup in July 2022. 
Bengaluru-based, 27-year-old Aishwarya Pissay is TVS Racing's first woman factory racer signed by the Indian two-wheeler major in 2017. The versatile rider, who began her biking career in late 2016, vaulted into the record books with a Road Racing National title, the TVS One Make Championship and several cross-country rally championships at Madras Motor Racetrack and cross country rallies in 2017.
Due to her exhilarating performance at the TVS One Make Championship and her achievements in rallies, her talent was noticed by Petronas TVS Racing after which she was inducted into India's first factory racing team's stable. Thereon, she started tasting success in the Rally Nationals and never looked back after winning the Indian National Rally Championship (INRC) six times for the Hosur-based team.
On the occasion of International Women's Day, Aishwarya Pissay relives her challenging journey into the world of motorsport and what it takes to shine in two-wheeled racing.
How did you decide to take up motorsport as a career?
I failed my 12th exams, which is when I started to ride motorcycles as a hobby. I also started working at the age of seventeen. I have always loved adventure and could not let something such as failing my high school stop me from being able to achieve bigger things in life.
Initially, motorcycling was merely a hobby for me. However, it made me feel that I did not have to fit into the norms of what society expects us to be. Motorcycling set me free, which is why I kept going back and since I had a fascination for speed, I started training for racing. That gave me a purpose as to how I wanted to shape my career, get into racing and what I really wanted to do.
After a year-long training, I began participating in a few races in 2015 and soon realised what it takes to be a racer. More training followed and it led to my winning championships. This is how I got into racing.
Did you have your family's support to enter motorsport?
My mother, who never really had the freedom to choose what she wanted to do when she was young, never set any boundaries for me.
However, my grandparents, and everyone else, wanted me to get a regular job and continue racing as a hobby. But, as with any other sport, no world champions are born doing two different things.
What helped bring about a change in my family's mindset was TVS Racing signing me on as one of its factory racers. Ever since then, my family has been quite supportive of my racing and now they believe that there is a career in motorsport. They see stability with me being onboard with TVS Racing.
What were the challenges you faced when you began your motorsport career?
While my family's moral support was there, that did not pay for my races, my motorcycles or riding gear. I did not have the right gear, be it shoes, gloves, or the helmet . . . so I would borrow all this. This is how I started racing, all from scratch. It was about doing the best I could with whatever I had and the sole aim was to make a mark.
Most racers are men – did you view that as another challenge?
When it comes to friends, I have always had more boys among them than girls. While training for racing, there was never anything about a 'race against women'. My coach Jeeva at the Apex Racing Academy in Coimbatore never really trained me to race with girls because we always work towards racing with a racer. When the helmet goes on, it's just the racer and the skill that the person has to cross the finish line first.
Aishwarya Pissay with members of the Sherco TVS Rally Factory team at Teruel, in the the fourth round of the FIM Bajas World Cup in July 2022.
I have had the most supportive and insightful team in terms of getting insights as to what I could have done better or differently after a race. The inputs that I get from my team have been very helpful. I am extremely grateful to have the team that I have around me.
How did you train yourself physically and mentally?
Physical and mental fitness are very important in motorsport, especially for a woman as she is not as physically strong as a man. Plenty more hard work is required to be on par with a male racer. I think it is constant effort that goes in every day for a person to become mentally and physically stronger, and these things really matter on the racetrack.
In terms of my preparation, I have been working with a sports psychologist for the past five years where we discuss or create tool boxes that I can deal with, to handle different situations and this includes visualisation, meditation and several other things.
When it comes to physical fitness, I work more on endurance because this sport calls for high levels of endurance. My preparation (for a race) involves focusing on three days of endurance, two days of strength training, and four days of riding.
What are some of your biggest achievements on the race track?
One of my biggest achievements is winning the FIM Bajas World Cup in 2019, which made me India's first and only athlete to win a world title in two-wheeler motorsport. And I also hold nine national titles in two forms of racing – road racing and rally. No other Indian athlete has achieved this.
Aishwarya Pissay won the 2019 FIM Bajas World Cup in the women's category in Hungary. She holds the distinction of being the first Indian to win the FIM Bajas World Cup.
What do you fear?
Fear is something that exists with everybody. I am also human. While I am a racer, motorcycling has taught me a way of life and that has, in turn, taught me to combat the fear that I experience. Post Traumatic Stress Disorder (PTSD) is real for athletes when they have major accidents.
I almost lost my life in 2018 when I met with an accident at the Spain Baja. Initially, I did not know the severity of the accident but when I did find out later, I did not know how to deal with it. Having the right set of people around me, accepting where I was, and understanding how I could work upwards from there really mattered. That is the approach that I use for each of these situations.
How do you view your extended role as an influencer to women entering motorsport?
When I got into motorsport, there were very few women in the sector in India. What I want to change today or what I believe I have helped change is that I want to make the subject of motorsport more approachable for them to come speak to me so that they can learn from my experiences, my accidents and more. I want to build a community that can support each other – a community of women which will support one another.
Are you observing a transformation in Indian motorsports? Are more women racers entering this field?
Yes, when I began racing in 2015, I was one among the 42 boys on the grid at the nationals. But today, for instance, at the TVS One Make Cup for women, the grid has 15 women. So there are more women competing now over six rounds of racing and that in itself is testament as to how much the sport is changing.
What do you want to achieve when it comes to your motorsport career?
My goal is to be at the Dakar, which is what I am working towards. I am looking forward to being not just India's, but Asia's first woman on two wheels at Dakar. I would like to make a mark to inspire not just Indians but Asia's youngsters, and women who aspire to make a career in motorsport.
RELATED ARTICLES