HMSI's YS Guleria: 'Scooterisation is not an all-India phenomenon, nor are motorcycles the staple mode of commuting'
Honda Motorcycle & Scooter India's senior vice-president (Sales & Marketing) speaks about India's peculiar customer composition, state-specific dynamics, upcoming BS VI emission norms and more.
Honda Motorcycle & Scooter India's Senior Vice-President (Sales & Marketing) speaks about India's peculiar customer composition and state-specific dynamics, Honda's strategy to meet upcoming BS VI emission norms and the growing presence of the e-commerce platforms and Honda's own 'Best Deal' used vehicle business.
SIAM data of the past few months suggests that HMSI's scooter sales are stagnating. What are the possible reasons behind this?
It becomes easier to understand this if we divide the country into five geographical regions – north, east, west, south and central – the way we (HMSI) see it. In the west and south regions, the (overall) pie of scooters has increased. The central region is the only one where the share of scooters has shrunk by one percent. In the east, the share has remained the same, and in the north, scooter share has increased by 0.7 percent. This is from the India industry data between April to July 2018.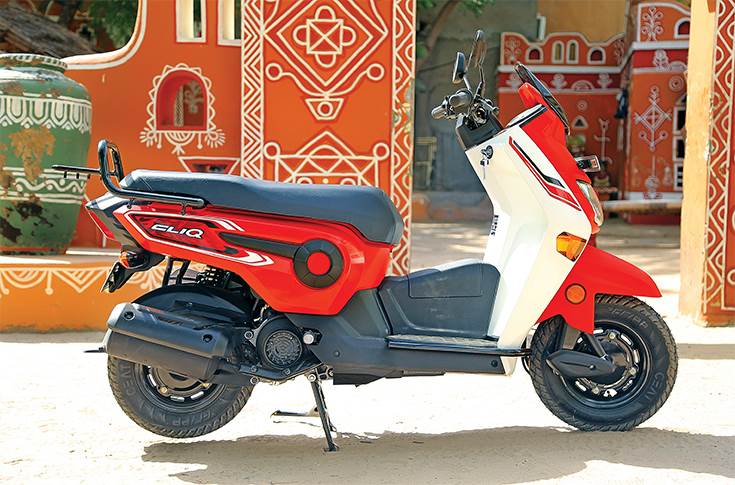 Targeted at rural buyers, Honda's Cliq is India's most affordable 110cc scooter, with pricing starting at Rs 44,107 (ex-showroom, Mathura).
We need to understand whether scooterisation is an all-India phenomenon. It is not. For example, the central region includes Uttar Pradesh, which is the largest market for two-wheelers. So if any changes happen in that region, it impacts the all-India results, but not as a phenomenon. (HMSI counts Uttar Pradesh, Madhya Pradesh, Chattisgarh and other states in its central region.) In other words, what sells in the central region is not an all-India phenomenon.
What is Honda's strategy to increase its sales in conservative markets like Uttar Pradesh, Bihar, Madhya Pradesh and others? Wasn't launching the Cliq scooter part of that strategy?
If I pick Bihar (it falls in HMSI's east region), the scooter share is increasing in Patna but not in the other parts of the state. So, if any transformation has to happen, it has to happen from the core of any market.
Similarly, in the central region, Lucknow started recording increasing scooter sales. Varanasi is another city where scooters are growing in Uttar Pradesh. Similarly, Uttaranchal is already a good scooter market for us. Cities such as Dehradun and Mussoorie are progressive markets accepting scooter sales.
So, most of the main cities are adopting scooters as the preferred mode of commuting. Rural areas, however, are slightly conservative. Whenever there is a price war underway, customers in the conservative and price-sensitive markets see more value in discounted products. Notably, this buying pattern has not spread to urban markets, where scooters continue to grow (in demand).
So to answer your question, we need to win the towns (urban markets) first with the Honda Activa, and show the utility of scooters through the Honda Cliq to potential rural customers.
This is Honda's strategy. We have an affordable scooter for rural customers who have the Cliq as one of the things they would like to purchase. Now when rural customers go to the urban market (to sell their produce or for other reasons), they see scooters on the roads. It is these potential customers who then evaluate their budgets to see if they can purchase a scooter. The Cliq is positioned for these price-sensitive customers. This is a long-term plan.
Do you think 100cc motorcycles will continue to retain their business case for price-sensitive customers after the expected price rise due to BS VI norms? Do you forecast a fundamental shift to scooters or to 125cc bikes after 2020? The current model of selling bikes at discounted prices of Rs 32,000-35,000, as deployed by a certain manufacturer, won't be sustainable then.
This is yet to be seen. The anticipated spike in prices will happen across all categories and not only in the 100cc entry-level segment. Now whether motorcycles or scooters will see a bigger jump, for Honda, the jump in terms of costs across motorcycles and scooters, will be similar. How will this pan out across the industry? We don't know.
Firstly, in case of scooters, and on the safety front, we all our models are already equipped with the combi-braking system (CBS). So there will be no price impact next year. But for fuel injection, yes there will be a price impact (across products) for us.
Industry data suggests that the new Honda X-Blade is selling more than the CB Hornet 160R, both powered by the same engine. X-Blade cumulative sales are over 50,000 units for the April-September 2018 period.
Whether buyers will shift to scooters from 100cc motorcycles after BS VI is implemented is very difficult to predict. We will go for EFI systems across all products including the 100cc models. There is also a possibility of using more affordable technologies such as an electronic carburetor (to adhere to BS VI norms). So any company using these can still play on price after BS VI kicks in. But we will opt for 100 percent EFI deployment. We think using an electronic carburetor is not 100 percent sustainable. The government policy will be such that any vehicle can be picked up from dealership stock and checked for emissions. The consistency (of adhering to BS VI emissions) is lower in the electronic carburetors and 100 percent in EFI systems. Therefore, Honda is very clear with its strategy of going with the EFI systems. I won't be able to comment on what others would do.
Honda has a large existing customer base that rides on its 125cc-160cc premium motorcycles. What new product(s) can the company offer if they are looking for an upgrade within Honda?
What they want is what we are trying to capture through our surveys and user profiles. What they want is what we plan to give them soon.
What is HMSI's new product roadmap in the near term?
We have launched the X-Blade motorcycle earlier this year. We plan to launch one more new product (two-wheeler) in the domestic market after the festival season later this year.
How do you view the increasing competition in the 125cc scooter market? What are the expectations from the Grazia?
As the global leader in the two-wheeler industry, competition is not new for us. From the customer's point of view, it is very healthy that manufacturers, not only in their products but also in their services, try to enhance value for their customers. Honda continues to surprise its customers with product features and specifications. We have done this through the Grazia. For example, we offered an LED headlamp in the Grazia. There are other 125cc scooters that do not offer an LED headlamp. Similarly, probably there are others who have offered their own unique features.This will continue to happen. It is up to customers what they prefer in terms of the overall package.
Which regions show high demand for the 125cc Grazia?
The Grazia volumes are majorly coming in from east, west and south markets. Its positioning is almost in line with what the Honda Dio stands for. The Grazia is trendier, it has a body-mounted headlight and an appealing design language too.
How have the Kerala floods impacted HMSI, given that the southern states are biggest contributors of its scooter sales across India?
The Kerala floods left a huge impact on our sales and affected about 60-70 percent of our volumes (within Kerala). There was no buying for some time. We missed on the sales during the Onam festival. The market, however, is recovering now.
Other states in the southern region were not disturbed, so they are giving us volumes, just like the northern and other markets.
The Grazia, HMSI's second 125cc scooter after the Activa 125, has comfortably sold over 100,000 units between April and September 2018.
The flat performance (in scooter sales) is also the result of what is happening in West Bengal. Nobody is tracking the local market activities in West Bengal. In June 2018, the state government RTOs issued an advisory that anybody who does not possess a driving license cannot buy a two-wheeler. Due to this, the sale has collapsed by about 50 percent in that state.
Generally, scooters and motorcycles bought for college-going youngsters are purchased by the elders in the family. For example, if the grandfather wants to purchase a scooter for his grandson, should he then first get a license in his name to be able to make that purchase? Similarly, a large number of such customers are the mothers, who don't have a license of their own but finance two-wheelers for their daughters and sons. Consider another example. If I want to sell 300 two-wheelers as part of an institutional sale, then should I first arrange for 300 licenses?
This has adversely affected the state market by about 50 percent. West Bengal contributes about five percent of the total domestic two-wheeler industry sales. So about 2.5 percent of the market is wiped out because of such a rule.
The market has already been down there during July and August. Around this time every year, manufacturers build stock at their dealerships to cater to demand during the incoming festivals such as Durga Pooja. This time, there is a lot of uncertainty this year. From a dealer's point of view, why should he pick vehicles if he is not sure of liquidating his existing stock?
How are Honda's big bikes currently faring in the domestic market?
We are able to meet our planned targets, whether it is the versatile Africa Twin or the CBR 650F or even the Gold Wing. The orders for the Gold Wing are such that it is booked for the next three-four months. We normally get around 8-12 units per month. It is 100 percent booked in advance and then imported as a completely built unit (CBU).
We had sold out the entire first lot (80 units) of the Africa Twin. We have already sold out 50 units until now and we plan to do about 100 units this year. The plan is on track.
How do you evaluate the growing presence of new-age digital / e-commerce platforms in terms of contributing to the overall product bookings in at least the urban pockets?
Whenever there is a new phenomenon, which becomes the buzzword, everybody wants to talk about it. I think people involved in the digital platforms are only talking about the digital platforms (in the context of automotive-related sales). However, if it (product sale) is highly incentivised, there will be some customer traction. For example, you may get some buyback points/cash back. The question is if you do it without giving any cash back, how many customers will book it online? Is it sustainable (for auto sales)?
The fundamental difference between the brick-and-mortar (dealership) versus the online retail model is the deal of getting some cash back. This is nothing but a discount offered to customers (on the online format). Currently, the margins in the auto industry aren't so big that it can sustain such discounts for a long time.
Secondly, the registration of vehicles does not happen online. There is physical verification of the vehicles that happens in most of the states. Therefore, the customer has to visit the showroom for documentation in any case. So I believe that digital platforms are playing a bigger role for customers in terms of comparing vehicles, their specifications and prices, knowing their availability, learning about new models and their variants. However, for the customer buying, if there is no deal then there is no buying online. Why should I buy a two-wheeler digitally? Will I get the vehicle delivered at home if I do so? No. So this is not sustainable without subvention.
Let's assume if a vehicle is delivered at your address just like your shoes are delivered, who will take the responsibility if there happens to be a scratch on the vehicle? No logistics partner, in my view, would like to load and unload the vehicle on its truck several times. These are the basic challenges in my view. Globally also, the two-wheelers are sold via the traditional mode only.
HMSI plans to sell about 100 units of the Africa Twin in FY2019. It is Honda's first-ever litre-class superbike to be imported via the CKD route for the India market.
Nevertheless, there are things that are moving in such a direction. It is not that there is no possibility that an online retail model can work in the future. For example, there are activities happening from the manufacturer till the end-customers that can be identified such as which vehicle has gone to which customer and what is its registration number. In such a case, there is no requirement of physically visiting the RTO and the numberplates will be issued online. So, the value chain has to be established first before things move in a certain direction. Then, the game may change.
Lastly, how is the pre-owned two-wheeler business progressing for HMSI?
It has been good for us so far. We may end this year with a customer base of around 40 million (since HMSI' entry in India). That gives us an opportunity of retaining this massive customer base within the Honda family. To further build customer engagement, we plan to launch a very unique customer loyalty program very soon, around festival time. It would not be a run-of-the-mill kind of loyalty program. We will have around 250 outlets for our pre-owned Honda two-wheeler business by the end of this year. Currently, this number is close to 210. We are touching a volume of about 40,000 units per year from this network.
All the pre-owned Honda vehicles are refurbished with a very stringent checklist at Best Deal, HMSI's pre-owned two-wheeler business. We have all the Honda-trained mechanics across these Best Deal outlets. Through this comprehensive checklist, there are certain parts that are mandatory to be replaced and not repaired. We are offering warranty as well as free services on the pre-owned vehicles.
In future, we will also come out with a retail finance option, which is currently not available on the pre-owned vehicles (two-wheelers). We are doing a pilot on this in a couple of cities with a new partner. Going forward, the financing option on the pre-owned vehicles will be a unique offer to Honda customers.
(This interview was first published in the 15 October 2018 issue of Autocar Professional)
RELATED ARTICLES